200th Birthday Celebration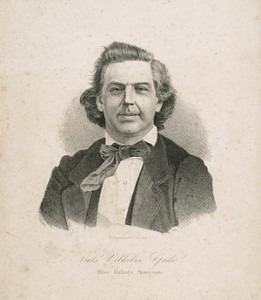 In terms of Scandinavian musical superstars, Finland has Sibelius, Norway has Grieg, and Denmark has Carl Nielsen! However, the most important figure in nineteenth century Danish music was the composer, conductor, organist, violinist, teacher, and administrator Niels Gade (1817-1890)! And in 2017, we celebrate the 200th birthday of this hugely talented and multifaceted musician.

The son of a cabinetmaker who turned to making musical instruments, Gade received no formal music schooling until the age of 15. But once he got seriously started, he quickly gave his debut as a violinist and became a junior player with the Royal Danish Orchestra. And his earliest composition Echoes of Ossian earned him a Copenhagen Musical Society prize. Gade issued his Symphony No. 1 at the age of twenty-five, blending essentially classical form and romantic expression with a hint of Nordic folk music. When it failed to win approval from the Copenhagen Musical Society, he submitted the work to Felix Mendelssohn, music director at the Gewandhaus in Leipzig. After rehearsing the symphony, Mendelssohn wrote effusively to Gade, "not for a long time has any piece struck me as more lively or more beautiful." And after the first performance in March 1843, he reported that it had aroused "the lively, undivided joy of the whole audience, which broke into the loudest applause after each of the four movements." Robert Schumann was slightly more cautious when he confided in his diary, "The Scherzo is probably the most original part of it all, otherwise a lot of Schubert, few own thoughts, with each movement turning around you until you grow tired of it." Schumann also noted the "strange sounds" in Gade's work, which he denoted as Nordic," yet the two men eventually became good friends and dedicated a number of works to each other.

Niels Gade: Symphony No. 1, Op. 5
With support from the Danish government Gade moved to Leipzig, taught at the Leipzig Conservatory and was engaged as assistant conductor of the Gewandhaus Orchestra. He conducted the premiere of Mendelssohn's Violin Concerto, and when Mendelssohn died in 1847, Gade became the chief conductor. However, when war broke out between Prussia and Denmark in 1848, Gade returned to Copenhagen. He quickly assumed directorship of the Copenhagen Musical Society, and founded an orchestra and choir that premiered many of his own compositions. He counted Edvard Grieg and Carl Nielsen among his students, and he quickly secured an international reputation. In all, he composed 8 Symphonies, a violin concerto, chamber music, and a substantial number of character pieces. He was widely known for his cantatas for soloists, chorus and orchestra, with many taking their themes from Danish folklore. On one hand, Gade attempted to strengthen international recognition of Denmark's musical culture through the creation of a national tone. On the other, his music pays homage to German Romanticism, and specifically to the aesthetic of Mendelssohn and Schumann. In addition, significant literary and philosophical underpinnings helped to forge his creative identity. As the most important musical figure associated with the Danish Golden Age, Niels Gade garnered more international admiration and respect during his lifetime than any other Nordic composer prior to Grieg.