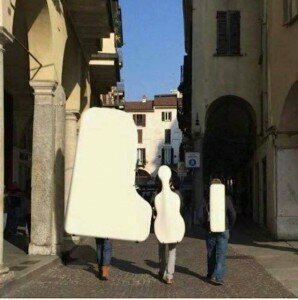 After three decades of music making, teaching, and advocating for the arts, my career has been an inspirational calling. As a young musician, I understood the hard work and dedication, which would be required, but I wish someone had prepared me for some of the challenges.

Your schedule will be nuts. Nights will be crammed either with concerts or late-night practicing; and mornings may start at 6 AM with a practice session before a double rehearsal because you've had no time to learn the day's music. Your calendar will be both predictable and unpredictable, which can be both a benefit and a curse, with concerts planned years in advance, yet no two days will be alike. You'll be unavailable on weekends when your friends are going to a party or the movies, and they'll get tired of hearing you say, "I can't, I have to practice!" You'll miss several milestones—your kid's baseball games or band concerts. You'll be asked to "play a tune" more times than you can count, but you'll feel honored to play for weddings, church services, and funerals, even if you have to sprint to your orchestra concert or opera, ballet, or chamber music engagement afterwards.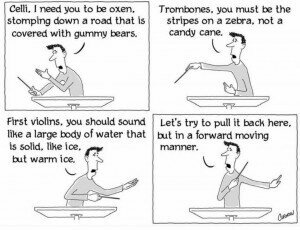 Carrying and loading instruments will become tedious, especially if you play a larger instrument like the tuba, or the cello. Your instrument becomes an extension of yourself. On the way to a doctor's appointment, you'll absent-mindedly load your cello into the backseat only to realize you won't be needing it at your destination. Or on the way home from a performance you have to stop at the grocery store. There is nothing in the fridge. Ignore the incredulous looks from other late-night shoppers when you enter carrying the cello and wearing full dress. Those of you who play smaller instruments, may think you've put your instrument in the backseat but actually you left it on the roof of your car. Pianists don't have to worry about transporting their piano but sometimes they'll arrive to the rehearsal and encounter not the Steinway Grand they expected, but a two-octave electric keyboard, or an upright with missing and yellowed keys.

You'll find it challenging to stay in shape and remain healthy on tour, and to deal with the unpredictable things that inevitably occur. Routines and schedules are disrupted, foods are unfamiliar, and sleeping is difficult.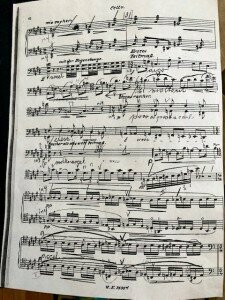 The sheet music thrown in front of you, often at the last minute, might be illegible, or unreadable or in a ridiculously complicated key or meter. You will be inundated with huge scores to learn. Sometimes a composer will write a pattern which repeats, and repeats, and repeats. You may lose your place in the music. Perfect the art of faking. Keep your bow and fingers moving as you frantically scan the music to find your place. Percussion players sometimes have endless bars of rests to count. Miscounting will result in a loud and embarrassing entrance during the concert. Develop poker-face. It will come in handy for such onstage situations and when the conductor loses his or her place.

Conductors will demand that you repeat the same three bars over and over without telling you what is wrong with it, or they expect you to interpret unintelligible metaphors. 'One more time' always means 10 more times. The maestro, enthusiastic, even overwrought in the concert, will forget the carefully rehearsed tempos. He or she will take an unplayably presto tempo oblivious to your red faces, and your fingers and lips falling off. Watch for flying batons, airborne mallets, (see video below) and dropped brass mutes. You might have to play on a broken reed, or on a horribly out of tune instrument with only three of the four strings because one has broken throwing the entire instrument out of whack.

Percussionist gets walloped with a flying mallet (third wallop)
Rehearsals will entail endless discussions of phrasings, dynamics and rhythm, and you'll make countless pencil markings—indications the conductor or concertmaster will ask for. You'll keep changing the bowings too. You may not always agree with the maestro's interpretation but you must play it that way.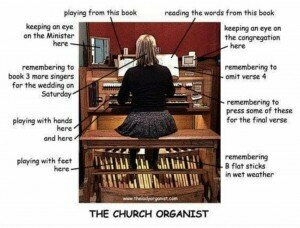 Tchaikovsky : The Nutcracker Suite, Op. 71a – III. Pas de deux
It's hard to imagine that after decades of performances you'll tire of Beethoven or Tchaikovsky, or Mozart, and Holiday music, even Tchaikovsky's Nutcracker will give you a headache. When I was associate principal cello of the Minnesota Orchestra we performed Nutcracker 13 times each season. If that wasn't enough to drive anyone batty, the particular choreography required us to play the Pas de Deux twice each performance. Strauss' Radetzky March, 1812 Overture, and other pieces might cause you to become jaded. It's essential to stay fresh, and to nurture the love you have of music. For me, this entailed performing lots of chamber music and recitals, writing articles about music and injury prevention, and advocating for the arts. Challenge yourself to sustain your inspiration. Teach young people, play in retirement homes or hospitals, share your love of music with people new to classical music.

Strauss: Radetzky March, Op. 228
Contemporary music will stretch the boundaries of what is possible on your instrument. I remember struggling with different techniques in Schöenberg's complex, lengthy score Gurre-Lieder. The cello part is divided in four—two players on a part, and the meter changes every few bars. Often these works require extra rehearsals. You may truly suffer a pain-in-the-neck, experience chewed up fingers, swollen or bruised lips, violin hickeys, or tendinitis. Avoid injury. Play with ease, and make certain you are aware of injury prevention strategies.

Schoenberg: Gurrelieder / Abbado · Berliner Philharmoniker
Prepare your spouse or partner for a musicians' peculiar idiosyncrasies. We tend to be protective of our arms, fingers, lips, ears, and shoulders. Some of us worry so much we quit sports, and avoid riding a bike, catching or throwing a ball, and using knives. We even shy away from firm handshakes.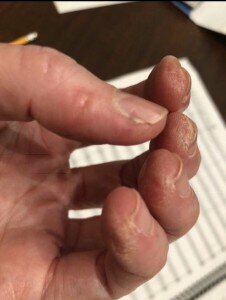 You'll find it impossible to ignore sounds around you. When you discover the vacuum is exactly one semitone higher than the sound of the washing machine you'll start cursing. You air-finger along with the music when you attend a concert. Patient explanation to your friends and family is in order.

After an awe-inspiring evening of music, you'll often hear, "Oh you're soooo talented!" The average listener has no idea how much we have to think about and master whether you're in an orchestra or playing solo. 'Playing' implies fun and games to most people.

Every profession has features that trigger a pain-in-the-neck. Felix Mendelssohn said it best, "Though everything else may appear shallow and repulsive, even the smallest task in music is so absorbing, and carries us so far away from town, country, earth and all worldly things that it is truly a blessed gift…" I know you aspiring musicians will forge ahead. The rewards of being a musician are simply too great.