Classics for Christmas
and more
modern songs for Christmas
what happens for other parts of the holiday?
We have lots of music that go up to Christmas Eve, take you through to Christmas Day, but then there's the week between: playing with your toys (both kids and adults), reading all your books, listening to all your music, matched with an phenomenal amount of eating, sleeping, and socializing.
All those endless Christmas carols blend together in your head, it's time to hear a winding-down of all that festivities. In his
Fantasia on Christmas Carols
, Ralph Vaughn-Williams combined four traditional English carols: '
This is the truth sent from above
', '
Come all you worthy gentlemen
', '
On Christmas night all Christians sing
' and '
God bless the ruler of this house, and long may he reign
' (tune: '
There is a fountain
'). All the songs had been collected all around England Fragments of other well-known carols appear from time to time as links or counter-melodies.
Vaughan-Williams: Fantasia on Christmas Carols. (Stephen Gaddm baritone; Guildford Choral Society; Royal Philharmonic Orchestra; Hilary Davan Wetton, cond.)
When we get to New Year's Eve, things get a bit more active. In the US, the traditional big band ending with Guy Lombardo's band playing
Auld Lang Syne
. Lombardo, who died in 1977, played his New Year's Eve Radio (and later TV) program starting in 1929 from the Roosevelt Hotel in New York before moving to the Waldorf Astoria in 1959.
By the mid 1970s, this was viewed as just too old-fashioned and a competing television station put up Dick Clark's New Year's Rockin' Eve. Despite Clark's death in 2012, the show continues on in his name.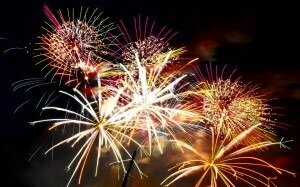 Once the morning comes, one of the great traditions is that of the Vienna New Year's Concert given by the Vienna Philharmonic. It's given on the morning of New Year's Day and broadcast to over 70 countries. One of the fixed rules is that the music performed must include works by the Strauss family and often, the second item on the program is Johann Strauss II's The Beautiful Blue Danube.

Strauss II: An der schonen, blauen Donau (The Beautiful Blue Danube), Waltz, Op. 314 (Vienna Philharmonic Orchestra, Zubin Mehta, cond.)
The Concert closes with Johann Strauss I's Radetzky March, and, traditionally, the audience, as directed by the conductor, claps along

Strauss I: Radetzky March, Op. 228 (Vienna Philharmonic Orchestra, Zubin Mehta, cond.)


For something very different for Christmas, New York composer Phil Kline wrote a more ethereal holiday work, entitled

Unsilent Night

. It began in 1992 as a public artwork and as his website (unsilentnight.com) describes:

Unsilent Night is an original composition by Phil Kline, written specifically to be heard outdoors in the month of December. It takes the form of a street promenade in which the audience becomes the performer. Each participant gets one of four tracks of music in the form of a cassette, CD, or Mp3. Together all four tracks comprise Unsilent Night. The fact that the participants play different "parts" simultaneously helps create the special sound of the piece. Participants carry boomboxes, or anything that amplifies music, and simultaneously start playing the music. They then walk a carefully chosen route through their city's streets, creating a unique mobile sound sculpture which is different from every listener's perspective.

I've participated in a couple of these in New York, and as you listen to the following track (only 4 of the four that would be played concurrently), think of these sounds wafting up the buildings and echoing around the streets – it makes for the most amazing holiday sound.

Phil Kline: Unsilent Night: I. Unsilent Night

The year ends with a bang and a roar, and perhaps a clink of raised glasses, at New Year. Now that we've looked at the