Dr. J. Clarence Chambers (1910–2006), in his studies at Amherst College, became the rehearsal pianist for the music department's operetta performances. He graduated in 1934 from Columbia University's College of Physicians and Surgeons and did his internship at Harlem Hospital. At the same time, he studied composition and music theory at New York University, The Juilliard School, and with Roy Harris as a private student. His works, both instrumental and vocal, were performed both in the US and around the world but only one work has ended up on record.
His 'satirical suite for two pianos', All American, was recorded by renowned dual pianists Jose and Amparo Iturbi and issued on RCA Victor in 1948. Billboard reports that Chambers had sent the work to Jose Iturbi out of the blue and Iturbi liked it so much that he recorded it with his brother – however, he actually performed it with his sister, Amparo. At the time, Chambers was deputy medical superintendent at Harlem Hospital.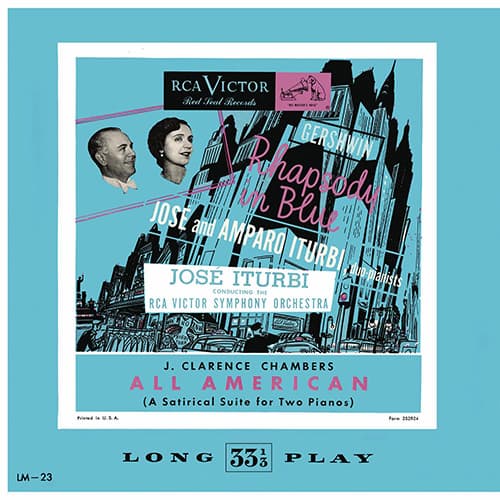 Each of the four movements has its own flavour: Chicken in the Hay, Lush, Bloozey Woozey, and Parade of the Visiting Firemen.
From the very beginning, we can tell this piece is going to be funny. Ostensibly starting with a country song, Chicken in the Hay (and not Turkey in the Straw), this downmarket fowl seems to have frequent escapes and runs around the yard.
J. Clarence Chambers: All American – I. Chicken in the Hay (José Iturbi and Amparo Iturbi, pianos)

The second movement, Lush, sounds like piano bar music. With 2 pianos, 4 hands, however, it comes across as slightly overwrought, with quick changes of mood, and, towards the end, a tiny hint of Gershwin's The Man I Love.
J. Clarence Chambers: All American – II. Lush (José Iturbi and Amparo Iturbi, pianos)

Bloozey Woozey seemingly starts with that piano basic, Heart and Soul and then continues with a blue-improvisation sound over a simple bass, and then, in the middle, we have rather more Gershwin, this time from Rhapsody in Blue. A bit of stride piano closes the movement.
J. Clarence Chambers: All American – III. Bloozey Woozey (José Iturbi and Amparo Iturbi, pianos)

The Parade of the Visiting Firemen seems to be depicting a well-watered bunch of marchers – distracted by the passing show, and stepping out occasionally from their lines. Their ending with 'shave and a haircut' is perfect!
J. Clarence Chambers: All American – IV. Parade of the Visiting Firemen (José Iturbi and Amparo Iturbi, pianos)

The music was reviewed as 'easy-to-digest' by Billboard magazine in 1950, failing to live up to Gershwin's Rhapsody in Blue which was on the other side of the RCA Victor Album.
However, it was also viewed as an inspiration for an 'All American Suite' created by interior decorator Karl Steinhauser and shown at Bloomingdales in October 1948. While visitors visited the 6 rooms, Chamber's music played in the background.
The Living Room / Dining Room was Chicken in the Hay and was filled with French Provincial reproductions, making an 'effect of hominess with a piquant touch'.
Lush was the drawing room, elegant and traditional but with modern materials. The walls are 'painted in the highly fashionable shade of cocoa' with a beige carpet, and drapery panels in grey, gold, and black.
The Sitting Room / Bedroom is Bloozy Woozey, done in colours of deep blue and a vivid shade of mauve-pink.
The Parade for Visiting Firemen room was a large double room with one dominant colour – the curtains feature red ladders, the storage pieces were red-stained, the Eames Chairs were red-stained plywood. The circular coffee table could be separated into 5 sections.
Two of the interiors were simply named 'All American' and had cabinets designed by George Nelson for Herman Miller, a brass light fixture from Finland, a specially built sofa with a center section that was shallower to accommodate those with shorter legs and a new coffee table in pink and grey marble with natural red mahogany legs designed by the sculptor Isamo Noguchi.
The second 'All American' room was the Bedroom / Library has a work table by Georg Nelson and a combination typewriter desk and file cabinet.
It all sounds very dated to us, but if you were a fan of mid-century modern, it may be just the place (and the music) for you!
For more of the best in classical music, sign up to our E-Newsletter