Johannes Brahms is better known as an instrumental composer than as a song composer, but there are still over 300 songs in his catalogue. In this recording, Karl-Heinz Schütz arranged one of the best known and best beloved of these songs into a 'song without words', taking Brahms' famous lullaby as his subject.
Brahms' Wiegenlied (Lullaby), Op. 48, No. 4, was written in 1868. It was dedicated to an old friend, Bertha Faber, to celebrate the birth of her second son. He had met Mrs von Faber when she was still Miss Porubsky, and a member of the choir he was helping organize in Hamburg. They carried on correspondence through her aunt but after Miss Porubsky returned to Vienna, she married Artur Faber. When Brahms was in Vienna, where he would stop while touring, he maintained contact with the von Faber family, with Artur Faber being Brahms' financial advisor.
The Faber's second son was named Johannes and when Brahms heard the news, he wrote the Wiegenlied as a gift to them, telling them that the song was good for boys or girls, so no matter what the baby was next time, the lullaby would still be appropriate.
Hidden in the piano part is a counter melody based on a duet about a shepherd and his lover. This song, "S'Is Anderscht", had been a favourite of Miss Porubsky when she was in Hamburg and would sing it to Brahms. In his letter to the family, Brahms suggests that Bertha sing the lullaby and Artur sing the countermelody.
The work had its premiere in Vienna with Clara Schumann at the piano and the singer Luise Dustmann. The original song had one verse, taken from Des Knaben Wunderhorn, and a later verse was added from an 1849 poem by George Scherer. Brahms also reused the theme in the first movement of his Second Symphony.
In the Romantic era, arrangements of music for other performing forces were very common. In fact, Brahms' complained about it to his publisher, sarcastically suggesting that he make a new edition in a minor key for naughty or sick children so that the publisher could take in yet more profits.
Johannes Brahms: 5 Lieder, Op. 49 – No. 4. Wiegenlied (arr. K.-H. Schütz for flute and piano)
The flautist on this recording is also the arranger, Karl-Heinz Schütz. He is a solo flautist with the Vienna Philharmonic Orchestra and has worked with some of the greatest conductors in music. His pianist, Maria Prinz, has had appearances with Vienna Philharmonic Orchestra and is also an international recitalist.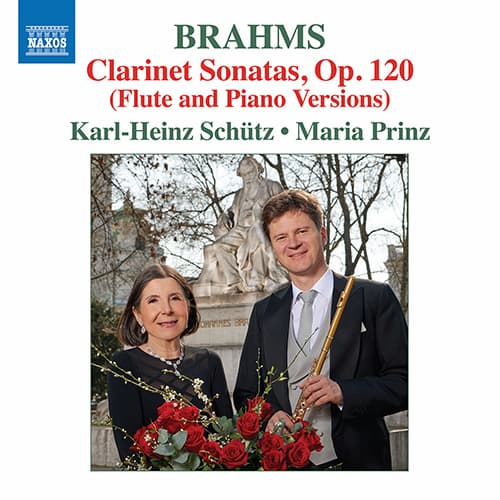 Johannes Brahms: 5 Lieder, Op. 49 – No. 4. Wiegenlied

Performed by

Karl-Heinz Schütz
Maria Prinz

Official Website
For more of the best in classical music, sign up to our E-Newsletter