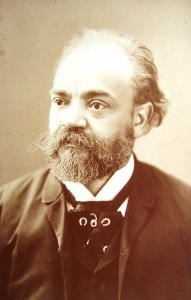 "Minors of the Majors" invites you to discover compositions by the great classical composers that for one reason or another have not reached the musical mainstream. Please enjoy, and keep listening!

The 19th Century witnessed a climate that was uniquely favorable to choral singing. It offered the masses, with the eager support of governmental authorities, an ideal outlet for their artistic energies. The repertory predominantly centered on the great choral heritage of the past. Nevertheless, if choral music was to remain a vital force, its literature had to be enriched by new works that reflected the spirit of the time. A list of composers active in this area includes Mendelssohn, Schumann, Liszt, Brahms, Verdi and Antonín Dvořák. For the consecration of a private chapel designed by the Prague architect Josef Hlávka, Dvořák composed his Mass in D major in 1887. Conceived for voices and organ, Dvořák's publisher Simrock twice refused to issue the work. And the London firm of Novello embraced it only on condition that the composer provided an orchestration of the organ part. Although Dvořák readily obliged, Novello never published the orchestrated score, but issued parts and a piano-vocal score based on the orchestral version of 1892.
Antonín Dvořák: Mass in D major, Op. 86
The "Kyrie" gradually builds from a lilting folk tune, and the contrasting "Christe" relies on a thoughtful and rhythmically uneven minor melody, which undergoes an expressive harmonic transformation. A triadic fanfare, constructed from a rhythmically distinct motive heads the "Gloria" movement. Paying close attention to the text, Dvořák intersperses gentle homophonic adorations with powerful and radiant contrapuntal imitation. The "Credo" is composed in the style of a lullaby and features a dedicated soloist. Unfolding antiphonally, the choir excitedly answers the urging calls of the soloist. This is followed by a gentle musical exchange among all voices and leads into a highly chromatic homophonic section. Diminished fortissimo chords exclaim the crucifixion, while a joyous antiphonal interaction and choral fugue musically depict the resurrection. Dvořák's folk inspiration emerges once more in the "Sanctus," as the chorus excitedly engages in a breathless call and response. A mysterious prelude opens the "Benedictus," with the chorus eagerly imitating this sentiment. The concluding "Agnus" features highly imitative, yet exceedingly contemplative music that is entirely sung by solo voices.