"An Authentic Genius"
A scholar writes, "the works of Lukas Foss (1922-2009) spring from a distinct personality: enthusiastic, curious, and receptive to every kind of musical idea…he was one of his era's most communicative and representative composer-performer." It's not surprising that his good friend Leonard Bernstein called him "an authentic genius." Lukas Foss was born Lukas Fuchs to the philosopher and scholar Martin Foss and his wife Hilde Schindler on 15 August 1922 in Berlin, Germany. He was precociously gifted and soon recognized as a child prodigy. He began studies in piano and theory in Berlin with Julius Goldstein at the age of six, and when the family moved to Paris, he continued his studies with Lazare Lévy (piano), Noël Gallon (composition), Felix Wolfes (orchestration), and Louis Moyse (flute). With German hostilities and aggression on the rise, the Fuchs family moved to the U.S. in 1937. They changed their family name on the advice of the Pennsylvania Quaker family that took them in when they arrived. Foss enrolled at the Curtis Institute of Music in Philadelphia at age fifteen, in the same year as Leonard Bernstein, and counted Isabelle Vengerova (piano), Rosario Scalero and Randall Thompson (composition), and Fritz Reiner (conducting) among his teachers.
Lukas Foss: Piano Concerto No.1 (Jon Nakamatsu, piano; Pacific Symphony Orchestra; Carl St. Clair, cond.)

Foss studied conducting with Serge Koussevitzky during summers at the Berkshire Music Center, and composition with Paul Hindemith as a special student at Yale University. Ultimately, Hindemith rejected him as a student because "he wouldn't do as he was told," and George Szell stopped speaking with him for twenty years after Foss criticized the way he conducted one of his pieces. Foss, in his own estimation, "was a terribly arrogant bastard." He would never earn a college degree but eventually received eleven honorary doctorates. Foss produced his first compositions at the age of seven, and during an initial period of creativity between 1944-60, he worked predominantly on neo-classical and eclectic works, such as his early concertos and various choral works. In addition, he also dabbled in American populism as in the setting of Sandburg's The Prairie and the comic opera The Jumping Frog of Calaveras County based on the story by Mark Twain. During his time at Curtis, Foss formed a lifelong friendship with classmate Leonard Bernstein, who he described as "the only friend I never argued with." Foss was the pianist in the Boston Symphony, and in 1945 he became the youngest composer ever to receive a Guggenheim Fellowship. In 1950–51 he was a Fellow of the American Academy in Rome and in 1950–52 the recipient of a Fulbright grant.
Lukas Foss: Time Cycle (Adele Addison, soprano; Howard Colf, cello; Richard Dufallo, clarinet; Lukas Foss, piano; Charles J. Delancey, vibraphone; Columbia Symphony Orchestra; Leonard Bernstein, cond.)

In February 1953 Foss was appointed Professor at UCLA, where in 1957 he founded the Improvisation Chamber Ensemble, consisting of clarinet, piano, cello, and percussion. Foss started to experiment with improvisation and formulated what he called "system and chance music," a kind of controlled improvisation. Foss abandoned tonality and fixed forms and concentrated on serialism, indeterminacy, and graphic notation. "A transitional work, Time Cycle for soprano and orchestra (1959–60), sets texts by W.H. Auden, A.E. Housman, Franz Kafka, and Friedrich Nietzsche that probe the nature of time; originally performed with improvised interludes by Foss' group, Time Cycle won the New York Music Critics' Circle Award of 1961 and has remained Foss's most performed and recorded work. Echoi marked the beginning of an extended experimental phase. The composer's point of departure is serialism, but used "in a free, willful manner, with the performers invited to skip back and forth between different pages of the score. Works from that period are based "on the idea of a score containing on every page a sum total from which a different selection is extracted for each performance. For the composer, Baroque Variations are "dreams in which the original music is fragmented and distorted."
Lukas Foss: Baroque Variation, "Phorion" (New York Philharmonic Orchestra; Leonard Bernstein, cond.)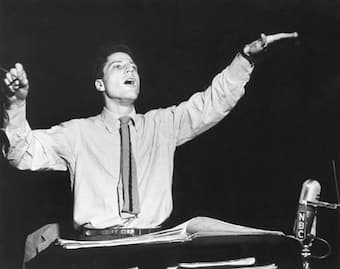 Foss was music director and conductor of the Buffalo Philharmonic between 1963 and 1970, the Brooklyn Philharmonic in 1971, and the conductor of the Kol Israel Orchestra of Jerusalem, and became a professor at Boston University in 1991. Throughout, Foss presented concerts of new music and discussions with composers. Foss worked intensely on electronic techniques, exploring tape compositions and hypnotic repetitions in the minimalist style. In the 1980s and 90s, "Foss revisited the neo-classicism and Americana of his first period, composing again in traditional instrumental and choral genres but not forgetting the experimental techniques of his second period." He attempted "to be as crazy as I was in my avant-garde music and yet tonal."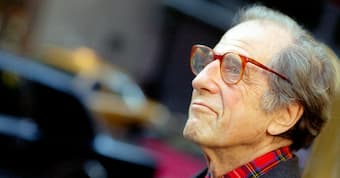 A scholar writes, "In his later works Foss presents music that is frank in sentiment, imaginative in an almost pictorial way, and yet refined and witty in execution." Foss once said that "I start from scratch with every work. It is as if I've never composed before." And he continues, "An artist who knows what he wants to do never said, 'I want to express myself.' He wants to do what he loves. Initially, that may mean imitation, but one day, it is like a door opening, and a new thought comes in. Why not try this instead? Suddenly he is doing something original, almost in spite of himself. Even at this point, he does not give up being influenced by what he loves, by the music that has made him a musician. Rather, he uses it in the light of his recent discovery. He makes it his own."
For more of the best in classical music, sign up to our E-Newsletter
Lukas Foss: American Landscapes (Sharon Isbin, guitar; Saint Paul Chamber Orchestra; Hugh Wolff, cond.)