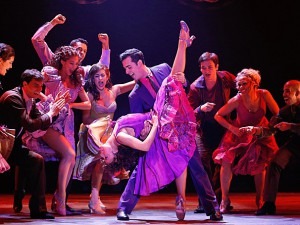 Leonard Bernstein had always longed to write the Great American Opera. Yet, as it happens, he ended up writing the great American musical! In 1949, the theater producer and dance choreographer Jerome Robbins envisioned a modern adaptation of Shakespeare's Romeo and Juliet. Set during the Easter/Passover season, it featured an ill-fated romance between a Catholic boy and a Jewish girl. As Bernstein was busy with various conducting assignments, nothing came of it initially. However, by the summer of 1955, urban gang warfare on the streets of New York City made headlines around the world. It prompted Arthur Laurents to develop a book, also based on the Shakespeare original that cast the romance between Tony, a retired gang leader and Maria, the newly immigrated sister of the head of a rival Puerto Rican gang. Stephen Sondheim penned the lyrics while Robbins designed the expressive and gripping ballet scenes. But it was Bernstein's music that captured the essential spirit of New York.

Leonard Bernstein: West Side Story
West Side Story opened on Broadway on 26 September 1957 and was an unqualified success! It played in the theaters for decades and even spawned a lavish movie version. Bernstein explained to the New York Herald Tribune, "the entire show was a tightrope between art and realism, carefully balancing audience expectations between the diverse demands of fantasy versus authenticity, entertainment versus drama." Despite his enormous popular success on Broadway, Bernstein struggled to be acknowledged as a composer of serious music. Aaron Copland once suggested, "Bernstein's music is merely conductor's music—eclectic in style and facile in inspiration." When Jacqueline Onassis asked Bernstein for a work dedicated to her late husband, he responded with "a Theater Piece for Singers, Players and Dancers." In its final form, the Mass of 1971 presents a kaleidoscope of musical styles that touches on themes of political protest, existential crisis, and religious faith lost and found.

Leonard Bernstein: Mass
The basis of the Mass is the Roman Catholic liturgical sequence amplified by inserting "tropes" and "meditations" which provide commentary. And of course, it features everything from bongos to kazoos as well! Critics called the work, "derivative and attitudinizing drivel," "sub-literate rubbish," "pretentious and thin," and "cheap and vulgar." Always vulnerable to criticism, Bernstein returned to Broadway with 1600 Pennsylvania Avenue in 1976. The musical focused on the occupants and troubled race relations of the White House, but was withdrawn after only 7 performances and 13 previews. Considered a legendary Broadway flop, Bernstein never wrote another original score for the theatre. However, coming full circle, in his last major work Bernstein returned to the religious themes that had sprung his career as a composer. Celebrating the 50th anniversary of the founding of the Israel Philharmonic, the Concerto for Orchestra blends religious and intellectual inspiration.

Leonard Bernstein: Concerto for Orchestra, "Jubilee Games"
Throughout his career, Bernstein wrote music in an eclectic, "American" style. Restlessly experimenting with contemporary musical techniques, his oeuvre always communicates his unique sense of music as theater, dramatic narrative and entertainment. Mirroring the character of 20th-century American musical life, Bernstein's impact on the listening habits of today's audiences will be felt for decades to come.