No instant results – and 'no shortcuts'


Iskandar Widjaja's most recent visit to Hong Kong saw him performing Tchaikovsky in a shopping mall to a total of half a million people. This time, it's a decidedly more intimate – yet incredibly varied – affair, giving a concert in the City Hall Concert Hall with Itamar Golan, playing works by Kreisler, Franck, Bach, Handel, Pärt, Schumann and Gershwin.

Iskandar is based in Berlin, and visits his 'second homeland' of Indonesia roughly twice a year, where he is received as a pop star. 'It's my little Disneyland!' he laughs.

'There are no traditions there in terms of classical music. It's great to play a whole night of solo Bach for people who have never encountered this music. People are so hungry for it – they listen with such a freshness. There's a huge potential to play in these countries, where the people have no preconceptions.

'It brings you back to the basics of why we do it. You want to reach people, reach them emotionally. In Indonesia, if you don't catch them on an emotional level you will never catch them. They will lose interest quickly, they will start eating!' he chuckles.'The reactions are very immediate, very direct and honest – and I like it.'

Indonesia Pusaka & Tanah Airku- Iskandar Widjaja
Iskandar is known for his distinct interpretations of the works of J.S.Bach, who is one of Iskandar's favourite composers. 'Bach is my religion, if I have any,' he states. 'He's my daily bread – it's so cleansing to practise Bach.

'I could survive just playing Bach for the rest of my life. It's possible to approach Bach from so many different angles – from a mathematical angle, a religious, a spiritual, an emotional point of view – and you cannot destroy his music. Even if it's played badly it sounds good!

'You can express every possible human nuance that is able to be felt, and it balances you. He was probably a very well-rounded person, and I think this is the key to becoming a great artist.'

So what does Iskandar do to stay well-rounded?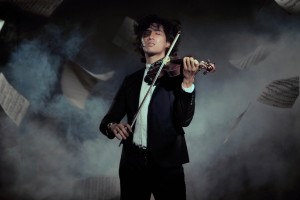 'I try to live,' he giggles. Speaking of the technical challenges faced by classical musicians, Iskandar claims that so much time is often spent striving for perfection that musicians forget to 'become well-rounded people, to interact socially, to get out of their comfort zone, meet people from other professions.'

'It's dangerous. We have to connect to our audiences, many of whom aren't musicians. We all have the same heart. We can all feel the same emotions, and so we all need to relate, and be relatable.'

Iskandar takes particular inspiration from the work of actors, whose jobs rely on forging instant personal connections with an audience.

'If a classical musician has similar expressive qualities, they're often criticised for being egocentric, for not putting the music first. But we have to communicate, or else we won't be happy people.'

When there's work to be done, Iskandar admits to becoming more asocial, locking himself away to 'focus on the very essential, basic things, think about every note, and go deep into the material.'

'You need to give yourself a lot of time to produce quality. For me, I don't believe in instant results. There's no shortcut.'

When he's not working, Iskandar is a self-confessed junkie of a certain YouTube addiction. 'I lie on my bed and watch actors accepting Oscars!' He howls with laughter. Talent shows are also a particular favourite – 'I love to watch talented people who produce something beautiful and work hard for it.'

Iskandar's musical interests also fall largely outside the classical realm. He cites Disney scores as particularly inspirational, 'beautifully crafted, refined, and honest'. Indeed, he is in Vienna as we speak, ready to play a Star Wars soundtrack in concert the next day.

Iskandar doesn't like to differentiate too much between different kinds of music – 'I think it's musical racism if you say 'this' and 'that'. I only believe in good and bad music'. He picks up his phone and flicks through his playlists: meditation, Beyoncé, Schumann, and Frozen – and, of course, Bach.

Chaconne (J.S. Bach) by Iskandar Widjaja
Iskandar will be performing in Hong Kong on November 21st 2016.