Daniel-François-Esprit Auber (1782–1871), working with the dramatist and librettist Eugène Scribe (1791–1861), was at the heart of 19th-century French opera. Auber and Scribe worked together for 41 years and through 39 operas. His specialty was grand historical drama, such as La Muette de Portici, but even more, opéra-comique, as in Fra Diavolo, his most famous opera. Opéra-comique was a long-established genre and they were usually in 3 acts with spoken dialogue. Grand opera, on the other hand, was usually in 5 acts, with recitative instead of spoken dialogue and, unique for France in opera, extensive ballet numbers.
Many of his operas were the predecessors of more famous later works: his Manon Lescaut of 1856 predates those by Massenet (1884) and Puccini (1893) by a generation but it is in listening to Auber's version that you can hear the influence he had on both composers' approaches. His Gustave III (1833) was a tremendous influence on Verdi's Un Ballo in Maschera of 1859; Verdi's work is much more sophisticated but some of the characterisations in Verdi's work have their basis in Auber's work. In addition, Verdi's libretto, by Antonio Somma, was based on Scribe's work for Auber.
Although his operas have largely vanished from opera stages, his brilliant and succinct overtures have found their place in the concert repertoire. They are not like the overtures by the Viennese composers, which were the predecessors to the symphony. They are generally not in the expected sonata form (Exposition – Development – Recapitulation), having the Development section either cut completely or replaced with sequential passagework. The build up to an exciting crescendo and a brilliant coda is one of the signatures of Auber's overtures, as is his use of dances of the day, such as the galop.
His 1842 opera Le Duc d'Olonne, an opéra-comique, was set in Spain and creates its story balancing amorous intrigues against political events. The overture takes the principal themes of the opera and presents them in quick succession. The overture opens with a military theme, before flowing into Bianca's prayer – the finale for Act II. There's a fast galop dance, and other sections in the opera in contrasting times and rhythms.
Daniel-François Auber: Le duc d'Olonne, S. 35: Overture (Moravian Philharmonic Orchestra; Dario Salvi, cond.)
This 2021 recording by the Moravian Philharmonic Orchestra under the leadership of Dario Salvi continues the series of Auber Overtures and Entr'actes that have been recorded by Salvi since 2019.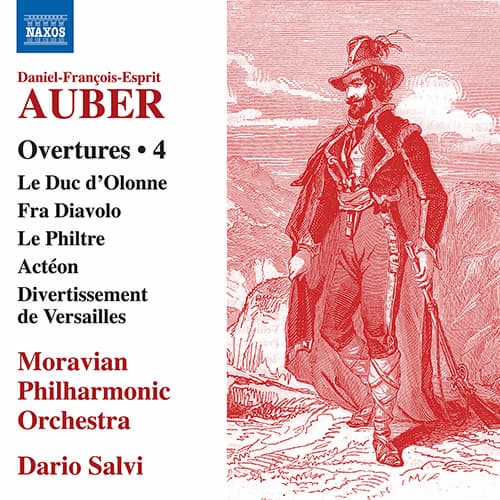 Daniel-François Auber: Le duc d'Olonne, S. 35: Overture

Performed by

Moravian Philharmonic Orchestra
Dario Salvi

Official Website
For more of the best in classical music, sign up for our E-Newsletter