The Original Barber of Seville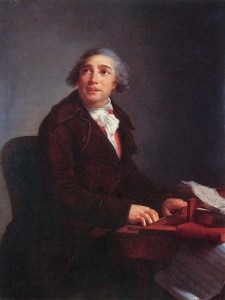 In 2016, we celebrate the 200th anniversary of Giovanni Paisiello's death (1740-1816). One of the most successful and influential opera composers of his time, he wrote music for 94 operas that cultivated a comic, simple, direct and spirited musical style. Paired with colorful orchestral scoring and a wealth of warm melodies, Paisiello greatly influenced the music of Wolfgang Amadeus Mozart.

Paisiello's career took him to the most important European courts at the end of the eighteenth century, and he enjoyed constant support from the most influential sovereigns of his time. Son of a humble veterinarian, his extraordinary musical gifts were quickly developed at the Conservatory in Naples. Initially, he primarily composed sacred music, but a short comic intermezzo was so successful that it led to a commission for an opera at the Bologna Theatre. Paisiello had clearly found his musical calling in the comic and semi-serious operatic genres, and over time he produced a long series of masterful and highly popular works. "Ready inspiration and an ease in melodic invention," it was suggested, "enabled him to compose scenes of delightful sentimental spontaneity."

After writing a series of operas for major theatres in Northern Italy, Paisiello returned to Naples as a musical celebrity. Although he quickly became embroiled in a number of professional intrigues involving his colleagues Piccinni, Cimarosa and Guglielmi, Paisiello produced a series of highly successful operas, including the controversial L'idolo cinese (The Chinese Idol). In 1766, the director of the imperial theaters in St. Petersburg invited Paisiello to replace Tommaso Traetta in the position of maestro di cappella. His contract at the court of Catherine II was renewed twice and Paisiello composed his undisputed masterpiece Il Barbiere di Siviglia (The Barber of Seville) based on Beaumarchais play. Written in 1883 it reigned supreme for three decades as one of Europe's most popular operas, before being overshadowed by Rossini's 1816 setting.

Eventually, Paisiello was lured back to Naples in 1784 by an offer from Ferdinando IV to become "compositore della musica de' drammi," the most important musical office at the Neapolitan court. On his journey home to Naples, Paisiello stopped in Vienna and once more encountered Mozart. Joseph II even commissioned an opera for the Viennese stage, and his Il Re Teodoro in Venezia achieved some memorable successes.


Liberal and generous employment terms in Naples translated into a seemingly endless succession of highly popular operas. Yet, the years of revolution eventually also engulfed the Naples kingdom, and Ferdinand was overthrown in 1799 and fled with his court to Sicily. Paisiello stayed in Naples and took the post as "National Music Master" of the newly formed republic. However, Ferdinand managed to raise an army and re-took Naples merely five months later. Accused of disloyalty to Ferdinand, Paisiello was unceremoniously fired. But lady luck smiled on the composer once more. A couple of years back, he had composed a little march for the funeral of General Louis Lazare Hoche, one of Napoleon's treasured generals in the Revolutionary army. As a result, Napoleon invited Paisiello to conduct the music of the court in the Tuileries. Professional intrigue and jealousies soon followed, and Paisiello never managed to connect with the French public. After an icy reception of his opera Proserpine, he obtained permission to return to Italy in 1803. Napoleon continued to shower him with expressions of admiration and in 1806 even awarded him the "Légion d'Honneur". Once the power of the Bonaparte family began to wane, Paisiello's fortunes fell with it. Paisiello died on 5 June 1816, and a brand new setting of The Barber of Seville by the young Rossini pushed Paisiello and his music towards obscurity. Paisiello's best-known tune is the duet "Nel cor più non mi sento" (My heart has lost the glow of youth) from La Molinara (The Miller-Woman); that tune formed the basis of a set of six variations by Ludwig van Beethoven, and it also featured in the works of Paganini, Sor, Bottesini, Hummel and Wanhal.

Ludwig van Beethoven: 6 Variations in G major on "Nel cor più non mi sento", WoO 70
Niccolò Paganini: Introduzione e variazioni sul tema "Nel cor più non mi sento"