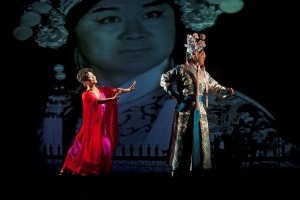 Feng Yi Ting on Luminato Fesival's 2013 playbill attracted me in a similar way that The Infernal Comedy featuring John Malkovich attracted me in 2010. The former was Canadian film and stage director Atom Egoyan's modern interpretation of the Chinese opera and the latter was a weird and shocking chamber opera featuring a 40-piece baroque orchestra. Both were quirky, edgy and innovative – all typical attributes of the Luminato Festival in Toronto, Canada, now in its sixth year.

Film and stage directors taking on opera projects have been very popular in the last decade – from Coline Serreau's Il Barbiere di Siviglia in 2002 to the late Anthony Minghella's Madame Butterfly in 2005 to Atom Egoyan's Salome last year, and his Cosi fan tutte next year for the Canadian Opera Company.

I was curious to see Feng Yi Ting because I've always liked Egoyan's constant pursuit to push his own creative limits. I also grew up watching traditional Peking operas in Hong Kong and the Romance of the Three Kingdoms is my most favourite Chinese classical novel. Historically and literally, Feng Yi Ting (The Phoenix Pavilion) was only a tiny segment of what led to Lu Bu's killing of Dong Zhou. But this particular interpretation of the opera focused on how Diao Chan, a beautiful courtesan of the Han Dynasty, used her beauty and wisdom to manipulate two powerful men by having one murder the other. Yes, there were two men on stage, but it's really an epic about a femme fatale trying to save the entire nation.

Guo Wenjing's (renowned Composer and Librettist from Chongqing, China) magnificent score combined Chinese traditional and Western classical styles. The highlight of four Chinese instruments – pipa, dizi, erhu and sheng – integrated with a Western chamber group conducted by Ken Lam (currently Education Conductor of the Baltimore Symphony Orchestra, Resident Conductor of the Brevard Music Center, and Artistic Director of the Baltimore Symphony Youth Orchestras) to form a moody, yet at times, uplifting piece of music.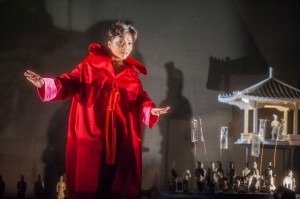 I liked Atom Egoyan's use of projection techniques based on the digital images of Hong Kong video designer artist Tsang Kin-Wah. The stage set with little puppet figures of soldiers and horses and the tiny model of the actual pavilion, where Diao Chan persuaded Lu Bo to plan for the murder of his godfather Dong Zhou, were powerful symbols of what's happening on a mega scale in history. The puppetry on stage also reflected the master manipulator of the era – it was courtesan Diao Chan who's holding the strings behind two of the most powerful warriors in the late Han Dynasty.

The use of contrasts dominated the entire production – close-ups of facial expressions versus the larger-than-life stage presence of the two protagonists; the traditional Chinese opera costume of Lu Bu versus the glamorous, contemporary haute-couture gowns (designed by Han Feng of Minghella's Madame Butterfly fame) of the diva Diao Chan; black and white shadows in the projections versus the strong colours on stage; and the tiny dolls mimicking the real battlefield.

The vocal lines of both Soprano Shen Tieme (Diao Chan), hailing from the traditional training of Sichuan opera, and Countertenor Jiang Qihu (Lu Bu), who's a third-generation disciple of the legendary Ye School of Peking Opera, were traditional Peking-Opera style. They were both visually and vocally stunning.

The only two elements I disliked in the entire production were the quality of the English translation on screen and Egoyan's use of distorted words and characters jumping on and off screen to represent the chaos and discord in history. The latter effort was creative all right, but just a tiny bit distracting.

When asked whether he's going to bring this production to China in the future, Egoyan replied, in a pre-performance talk, that although there's no shortage of state-of-the-art opera houses in key cities across China, what sells tickets seem to be the Western operas such as Wagner's The Flying Dutchman instead of local ones. Feng Yi Ting was created to make traditional Chinese music more accessible to the West – its artistic success accounted for all of us in the audience yearning for more than a 50-minute production. We also feel privileged that this Luminato Festival appearance was a Canadian premiere after performing to rave reviews at the Spoleto Festival, U.S.A., in Charleston, South Carolina, and the Lincoln Center Festival, New York City, last year.

Lina Ko is one of North America's pre-eminent marketing communications professionals based in Toronto, Canada. She is the author of http://www.boomerwatch.ca, a blog providing North American insights on marketing to baby boomers, and a regular contributor to the Canadian Marketing Association blog: http://www.the-cma.org/about/blog/contributors/lina-ko.

An English Literature major, Lina continues to pursue her passion for Shakespeare and other performing arts. Although a novice in the appreciation of classical music, she enjoys a wide range of other music, including jazz, R&B/soul and rock. As a film buff, Lina shares her reviews with friends on her blog at http://www.romancingtheflicks.blogspot.ca/.
Feng Yi Ting