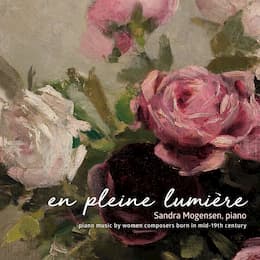 It seems extraordinary to us now, in these equality-conscious times, that women composers and musicians were, until fairly recently, sidelined, ignored or simply erased from music history. Now, women such as Clara Schumann, Amy Beach and Cécile Chaminade are recognised as significant pianist-composers, who also enjoyed international performing careers, but in the course of her research, Canadian pianist Sandra Mogensen discovered many other women composer-pianists who were well-regarded, but whose names and music are hardly known today. These include Mélanie Bonis (who composed under the male pseudonym of "Mel" Bonis), Helen Hopekirk, Agathe Backer-Grøndahl, Luise Aldopha Le Beau, and Laura Netzel. The piano music of these women composers was widely known and performed during their lifetimes, but for much of the 20th century, their works were rarely played. Through her En pleine lumière project, Sandra Mogensen shines a light on these once-forgotten composers and gives them the recognition they deserve.
The music I have found is again incredibly beautiful….and all of it is new to me
– Sandra Mogensen
Up to the nineteenth century, and indeed quite a long way into the twentieth, classical music was regarded as the territory of men. Women were expected to marry, keep house, have children and care for their husbands. Clara Schumann, who for years was eclipsed by her husband Robert's musical output, remarked that "a woman must not desire to compose – there has never yet been one able to do it", and one sense both her frustration at the social morals which frowned upon women who took up the composing pen and her sense of obligation to her family. But it was not just family commitments that discouraged women from composing: society in general regarding it as a highly questionable, even louche profession. There was also a pervasive myth which suggested that women simply did not have the creative abilities of men.
En pleine lumière, a multi-recording and concert project by pianist Sandra Mogensen, thoroughly debunks these outdated notions. The first CD was released in 2019, the bicentenary year of Clara Schumann's birth, and each volume in the series will focus on a 30-year period, right up to the present day (the final volume will include some specially commissioned works by living female composers). When circumstances permit, the recordings will be complemented by live concerts.
The first volume focuses on piano music by women composers born in the middle part of the nineteenth century (c.1840-1870). This was the height of the Romantic era and the music selected displays a richness of expression, invention and imagination and, perhaps more importantly, mastery which more than equal the piano miniatures of Liszt, Brahms, Tchaikovsky or Grieg.
These undeservedly overlooked pieces are unburdened by the tradition of performance practice or interpretation, and Sandra Mogensen has enjoyed considerable freedom in her approach to studying and playing them. Although primarily intended as salon pieces and album leaves, all the music featured is concert-worthy and elegantly presented by Mogensen, and a good deal of care has gone into the ordering of the works to create a recital on disc.
Each composer is represented by two short works and the entire project will have an international reach –Volume 1 features composers from France (Chaminade and Bonis), the USA (Beach), Scotland (Hopekirk), Norway (Backer-Grøndahl and Lærum-Liebig), Sweden (Netzel and Aulin), and Germany (Le Beau and Menter). The subsequent two volumes will include music by women composers from Canada, Russia, Australia, Austria, Croatia, Germany, Latvia, Estonia and the Netherlands. The entire project is being financed via crowdfunding and the recordings produced by an all-female team.
While some works are familiar – Cecile Chaminade's Feuilles D'automme or the Improvisation No. 4 from Amy Beach's Op. 148, for example – many are debuted on this recording, and each one is a miniature gem in its own right, from the intimacy of Juninat by Inga Laerum-Liebig to Helen Hopekirk's folksy Gavotte, the evocative Carillon Mystique by Mel Bonis or Sofie Menter's tender Romance.
Although spoilt for choice, pianists are always keen to be introduced to new music and this collection is a wonderful addition to the repertoire, with more delights to come in subsequent volumes. And for audiences too, it's a chance to discover these little-known gems.
The time has come for this music to be heard far and wide, and I aim to do my part to shine some light on these undeservedly overlooked gorgeous gems. That's where the project's title comes from: "en pleine lumière" (in full light). – Sandra Mogensen