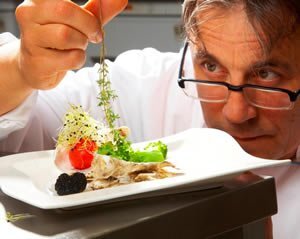 Composing a concert is like composing a menu…. If you start with light pieces and play a 45-minute sonata after the interlude, it's like starting dinner with hors d'oeuvres and dessert and finishing with a Châteaubriand and vegetables.
– Arthur Rubinstein
My son is a chef at a top London hotel and whenever he cooks for me, I am struck by his ability to create a delicious, well-balanced menu of food, serving just the right amount at each course so that one does not leave the table feeling over-fed but rather pleasantly sated.
As Arthur Rubinstein noted, concert programmes are a lot like menus (and concerts can be social and convivial too, like dining with others), and a programme of weighty, serious music can leave one feeling uncomfortably full, overwhelmed by the sheer number of notes; while one which contains the right quantity of music and is rich in contrasts, pacing and moods is satisfying and enjoyable.
Programme planning is, like cookery, a highly creative activity and an important skill for the performing musician. The choice of repertoire gives the audience a sense of who you are, as a musician, the composers who inspire you, the type of music which interests you, and what your passions (and not just musical passions) are. A good programme contains contrasts of mood, energy and character, and is an opportunity to demonstrate your musicianship and artistry.
Scarlatti: Keyboard Sonata in C Major, K.159/L.104/P.418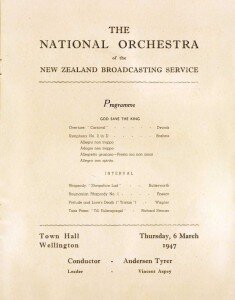 Audiences often need 'settling in time' at a concert and a short amuse bouche of a piece such as an impromptu or a handful of preludes can capture the audience's attention and excite their musical palate ahead of the entrée, which might be a longer work, a selection of short sonatas by Scarlatti or perhaps a multi-movement fantasy. The real 'meat' of the concert might come after the interval in the form of a more weighty or lengthy sonata, and the dessert might be a light encore to release the tension after the main course. In orchestral concerts, a short, introductory work such as an overture often opens the event, to be followed by a concerto in the first half, and then a longer symphonic work in the second half.
A good concert programme, like a menu of delicious food, has contrasts of mood, character and colour, different levels of energy and ebb and flow, to provide interest and variety for both audience and performer. (Very few people want to sit through 1.5 hours of music of a similar tempo or style.) Generous, sensitive performers also appreciate that for the audience a concert is a social as well as a cultural event, an opportunity to meet up with friends and enjoy and share music together. Ideally, one wants to leave a concert feeling satisfied and eager to return another day for more musical nourishment.
Chopin: Impromptu No. 1 in A-Flat Major, Op. 29
In contrast, I have been to a number of concerts where the performer has, for example, insisted on playing a long programme of last sonatas by Haydn, Mozart, Beethoven and Schubert without any applause nor even an interval. While the performer may be concerned to explore some kind of intellectual or philosophical premise by presenting such a programme, such concerts can feel overlong and over-indulgent, a surfeit of notes denying an audience a break to stretch legs and have some refreshments. The audience may leave feeling somewhat "overfed" on music, and tired from such a long period of concentration. Skilled performers know how to manage such programmes to retain a sense of through-narrative and flow, and hold the audience's interest and attention.
Beethoven: Piano Sonata No. 32 in C Minor, Op. 111 – II. Arietta: Adagio molto semplice e cantabile
There is nothing wrong in a programme consisting entirely of Châteaubriand (steak) and one of the most popular piano recitals of this kind contains Beethoven's last three piano sonatas, music which takes performer and listener to another place altogether. The otherworldliness of these sonatas, especially in the final movements in the case of Opp 109 and 111, prevents them from becoming too over-indulgent, and played well, the audience will feel they have joined the performer in an incredible, philosophical journey.