My conversation with Neeta describes international touring and some of the memorable incidents that invariably occur in Part I, and in Part II, her ambitious projects to effect social change.
Neeta, tell us about the touring aspect of Classical Movements.
Our Company has been the premier concert tour company for the world's great orchestras and choirs for 25 years. Travel arrangements can be complicated and concert arrangements create additional challenges, which we understand and negotiate. As a result, we have been able to create significant cultural experiences for musicians and audiences in 145 countries, on seven continents.
What was your inspiration to start this unique company?
I was born in Bombay and as a little girl I remember being quite stunned by a recording of the Philadelphia Orchestra. I always loved my piano lessons. My father was the chairman of the Delhi Music Society, which was the only music presenter of major western classical musicians in Delhi at the time. During the Cold War, on the way to Hong Kong, Japan, or Australia, many of the most famous artists and orchestras stopped in Bombay. We went to these concerts and they made a lifelong impact on me. Our awareness of the international music scene became more acute. During this time, those of us who were interested in classical music in India closely followed the career of Zubin Mehta. That also left a great impression.
I moved to New York in 1986 to work for a hotel group; when the Soviet Union broke apart in the early nineties, I was inspired to take people on cultural tours to the places that had been inaccessible for decades, to see the Bolshoi Ballet, the Kirov, the Hermitage Museum. It's my nature; I love adventure. I feel like,
Yes, we can do it!
Over the first 12 months in 1991/1992, we sent 3,000 people to Russia. Then we added other exotic places for adventurous travelers. Our reputation grew and orchestras began to approach us to do their travel.
I understand you organized an exceptional experience in 1993.
We arranged for the Choral Arts Society of Washington to accompany the National Symphony, conducted by Mstislav Rostropovich, the celebrated Russian cellist, for a historical concert in Russia's Red Square and four other concerts. Until then, only tanks and military parades had been allowed on Red Square! It was an inspirational musical occasion attended by over 100,000 people, who came together through music after decades of enmity. Millions more watched the live broadcast.
Rachmaninoff : All-night Vigil, op 37 "Vespers"
(Washington Choral Arts Society, Rostropovich conducting)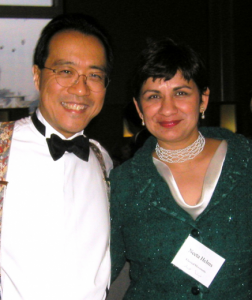 Despite the huge success of the concert, the tour was not without challenges. I had seen the magnificent treasures on display in the Kremlin and planned to take the choir there, but due to the fragile political state at the time, the Kremlin was closed to the public. Following a performance at the Moscow Conservatory, there was a reception at the US Ambassador's residence. I noticed an intimidating gentleman wearing a prominent sash, standing alone—the Commandant of the Kremlin. I approached him and said, "I'd like the Kremlin opened for my group." He wrote his permission then and there on a dinner napkin, which allowed the choir to tour the Kremlin!
After our success on this tour, which garnered international attention, more musical groups began to contact us including the NSO itself. We quickly expanded to include destinations such as the Baltics, Czech Republic, Croatia, South Africa, Vietnam, Turkey, and Cuba.
Can you tell us about some of the challenges you've encountered?
Coordinating travel for groups is always difficult, but we've had to negotiate some unique challenges: the outbreaks of SARS, Ebola, swine flu, and Zika all forced us to reroute tours. After September 11th and later the volcano that erupted in Iceland, virtually no planes were flying for days between USA and other countries. Political upheaval (like Russia occupying Crimea), and major international events (like a Pope dying), or tense relationships between countries has also forced us to reconsider our plans, often at the last minute. We try to solve these problems so the musicians never know about them and audiences are not disappointed.
The Minnesota Orchestra performs Mahler's Fifth Symphony conducted by Osmo Vänskä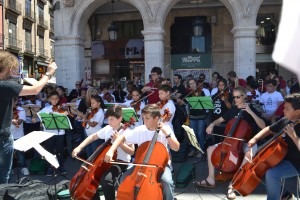 We played Mahler's 5th Symphony on one of our Minnesota Orchestra tours, in 2006. We had several extra players and carry-ons were forbidden at Heathrow in London.

Because of the liquid bomber scare, we had to improvise to get from city to city. There were three flights in and out of UK airports; because of union rules, the baggage had to be sent by truck the night before. We had one hour to get everyone checked in, through security and on the plane at Heathrow. But what about the liquids that everyone needs in the morning?
I purchased a large duffle bag, then I labeled plastic bags, for each musician. The overnight personal items were stuffed into the plastic bags in the morning, dropped into the duffle bag, and checked for the flight. We had to move very quickly. Instruments had to be shipped as cargo. Viktoria Mullova, the violin soloist, was playing the Sibelius Concerto in Helsinki. I sent her by train to Amsterdam and Brussels but for the last flight she insisted on carrying her 1723 Stradivarius onto the plane. Removing the violin from its case, she tucked it under her arm hidden beneath a large trench coat, and waltzed through security!

Sibelius: Violin Concerto – Viktoria Mullova

Upon our arrival those 100 plastic bags were spread all over the hotel lobby floor containing our underwear, nighties, toothbrushes and who knows what else. I waded through the sea of bags hoping not to step on someone's shaver. What I wouldn't give to have a photo!

At the time, many of these tours required constant planning and improvisation – and some remain serious even in retrospect. But there are several incidents that we can now laugh about: I retrieved a pair of underwear left in one musician's hotel room by another musician – who was married to someone else. Once, a maestro's pet mysteriously showed up on our charter plane; I helped ensure that it was allowed into Europe. I saved a 3 million dollar cello from being forgotten in a taxi in Frankfurt when the cellist and the maestro went out drinking after a concert.

Our conversation continues in Part II with Neeta's passion to build bridges between cultures, teach the next generation of musicians, her commissioning projects, musical collaborations, festivals, and other ambitious projects.

Official Website

Have you ever wondered how entire orchestras and their staff are seamlessly moved from country to country when they are on tour? Neeta Helms and Classical Movements are the behind-the-scenes wizards who organize 55-70 symphony and choral tours each year. This past March for example, Neeta's company arranged eight tours for orchestra and choruses across four continents. But Classical Movements has a much larger mandate. The business allows Neeta to fund exceptional cultural interchanges through music, bringing people from widely diverse cultures and backgrounds together to promote cultural diplomacy through classical music.