Prague Summer Nights: Young Artists Music Festival
Neeta, you believe that the joy of making music acts as a catalyst for social transformation. Tell us how you bring that to fruition.

Arranging tours for famous artists and the resultant fees associated with that part of the music business will always be a strong focus. But there's an entire world of unique ensembles officially considered amateur that don't have management, but are equally passionate about making music at a high level. These musical groups whose members might be lawyers, doctors, writers, teachers, or accountants, also need help to tour the world. They take leaves from their jobs and families to share their music with the world. Classical Movements is dedicated to conservatories, youth orchestras, and adult and children's choruses that come from all income levels and backgrounds. We make the trips as affordable as possible while still offering amazing performing experiences in exciting spaces and venues, packing their days with music, sightseeing and interactions with the local community.

I believe musical collaborations help us learn from one another.

We deliberately expand the boundaries as much as possible not only to 145 countries but also within those areas, to places many refuse to go. We do what we can to help impoverished communities. Beautiful music is made and appreciated by rich and poor. We have sponsored three choirs from Cuba to make US tours. The only way they could afford the visas, travel and lodging was if we invested in them. Fortunately we were able to do it. In late June we are taking both the Minnesota Youth Symphonies (MYS) and Stanford University's Orchestra to Cuba and our biggest challenge, believe it or not is is finding and renting the timpani.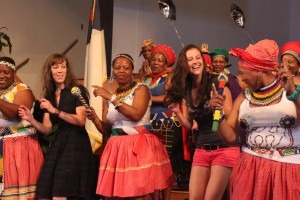 You have several events scheduled very soon. Tell us about them.

This year our Prague Summer Nights Young Artists Music Festival takes place June 12 through July 10. During the festival, participants will work with an internationally distinguished faculty of teachers, coaches, orchestral players, chamber musicians, conductors and stage directors. Located in the historical cities of Prague, Salzburg and the south Bohemian town of Tabor, the participants will perform orchestral concerts, chamber music and voice recitals, and two fully staged operas, directed by operatic legend Sherrill Milnes, this year Mozart's Die Zauberflöte (Magic Flute) and Le Nozze di Figaro (The Marriage of Figaro). In addition to rigorous individual instruction for orchestral and voice students, there will be opportunities for mentorship of conductors, arts administrators, stage directors, and coaches.

Serenade! Washington D.C. Choral Festival 2016 (intro 1'30 secs)
Classical Movements has been busy preparing for The 2017 Serenade! Washington D.C. Choral Festival June 27-July 4th, our annual international choral festival, which features 16 choirs in 18 concerts, this year, in celebration of John F, Kennedy's 100th birthday as well as the Peace Corps. We have choral groups from Ireland, India, Mongolia, Spain, Panama, Zimbabwe, Latvia, Kenya and we have a refugee chorus coming—singers from 21 countries including Somalia, Cambodia and Sudan. I'm paying for them. You see we hope to build bridges between cultures.

Our other choral extravaganzas include Melodía! South American Music Festival founded in 2006 and Ihlombe! South African Choral Festival initiated in 2009, the largest annual International choral gathering in South Africa. All told, a total of 61 tours this year.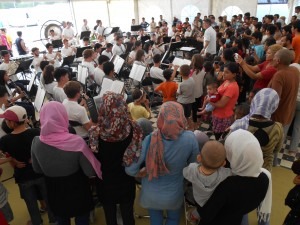 I have heard about two unusual endeavors, even for you!

We enjoy doing difficult things or those that have great impact and we are blessed with many clients who think the same way. For example, Tom Duffy Professor (Adjunct) of Music and Director of University Bands at Yale School of Music wanted to perform for refugees in Greece so we approached the largest refugee camp in Athens, recruiting our local agent George to approach city officials. They said no repeatedly for safety and logistical reasons but George and we persevered. Finally they agreed. The extraordinary, uplifting, experience for the refugees as well as the students occurred last May 2016.

I believe that music should be made in places and between people where it would not normally happen— supporting unusual ideas like a You Tube Symphony Orchestra, enabling the Iraqi National Symphony Orchestra to tour the USA in 2003, taking Americans to Cuba for 20 years, leading the way for ensembles to tour such places as Myanmar, and South Africa after Nelson Mandela was elected, or travel to Vietnam. A plan for a choral trip to Antarctica came about because of an April Fool's Joke which turned real when singers started making enquiries.

The sheer number of commissions Classical Movements has undertaken is quite staggering.

Classical Movements has commissioned a long list of works for various clients from a variety of composers, who represent a range of different cultures and backgrounds. In 2015 ten American composers were commissioned for The Baltimore Symphony Orchestra's 100th season and their conductor Marin Alsop, composers such as Christopher Rouse, Joan Tower, and Libby Larsen. Also in 2015, we commissioned five works for the American Choral Directors Association High School Honors Choir. Previously we have commissioned distinguished composers John Corigliano and Stephen Paulus among many others. This year we have 11 commissions for our JFK Centennial/Peace Corps theme at the Serenade, Washington D.C. Choral Festival.

And you have begun a composer-in-residence program with the incomparable Syrian clarinetist Kinan Azmeh. If all this isn't enough you volunteer!

I am taking over as the President of the Board of the American Youth Philharmonic Orchestras based in Washington, which has 5 full orchestras and 6 ensembles and serves 400 young musicians. My son plays in one of the groups. Long, long ago we took them on a tour to Russia.

I am quite impressed by your energy and the sheer breadth of your activities. To what do you owe your success?

I love it. We have had so many overwhelming experiences. I believe in investing in people, honoring them and to never be afraid to take calculated risks. It helps that we are independent. We don't ask for donations and we are our own people without a board of directors. It's a balancing act. Our first obligation is to the clients who pay us. But with everything we do, we ensure that our standards are high. We strive to make sure the venues are full, and that they are always consequential events with a strong societal impact.

Ihlombe! South African Choral Festival

Through the efforts and vision of Neeta Helms, Classical Movements has become an organization of altruism. A large part of the profits, which the organization earns moving orchestras and choirs on their tours, are devoted to Neeta's pursuit of global reconciliation. Lovers of classical music, her small staff of 15 is fluent in 14 languages, and accomplished in all facets of the music business. With a flurry of activity they bring to fruition choir festivals, the "Prague Summer Nights Young Artists Festival", a commissioning program, and this year, a composer-in-residence program.