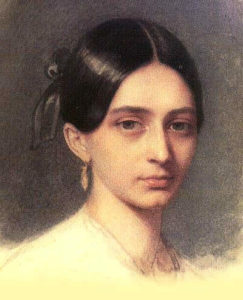 All too frequently, women composers in history have been made invisible by societal conventions and by unspoken gender bias. Barred from key opportunities and educational chances, female composers have firmly remained in the shadows of their male counterparts. In the world of concert pianists, Clara Wieck-Schumann considered herself an equal to male musicians. Yet, when it came to composing, Clara remained ambivalent about her creative work and was easily discouraged. "Societal attitudes and pressures toward women composers, especially as revealed in newspaper reviews—which Clara did read—played a large part in her feelings of discomfort about composing." Audiences and reviewers acclaimed her improvisations and compositions, but the praise was almost always for the work of a woman composer, with critics expressing surprise that a female could compose with such skill. In addition, some musical genres were considered more appropriate than others for female composer, and that included the German Lied. Requiring only the piano and voice, two instruments prevalent among female musicians, such compositions were considered more suitable for domestic settings.
Clara Schumann: "Der Wanderer in der Sägemühle" (The wayfarer in the sawmill)
As a young and successful pianist, Clara Wieck composed almost exclusively for her instrument. Although vocal compositions initially played a secondary role in her creative efforts, she customarily inserted a number of song compositions to lend variety to her concert programs featuring virtuoso piano pieces. On 13 December 1831 a concert in Kassel announced several song compositions by the then 12-year-old Clara Wieck. While these settings of poetry by Justinus Kerner are considered lost, it is interesting that Friedrich Wieck published two musical setting by Kerner in 1875 under his name. Clara had already dedicated one of these songs to her composition teacher Heinrich Dorn, inscribing it "28 July 1832, Your grateful student/Clara Wieck." It is entirely possible that Clara composed these Kerner songs with assistance of her father. But it is entirely in line with Mr. Wieck's attitude that he took full credit. But Clara did start to attract attention as a composer, and the influential and one of the most enthusiastic contributors to the Neue Zeitschrift fur Musik—under the editorial control of Robert Schumann—was the deaf painter and journalist Johann Peter Lyser. Apparently Lyser commissioned a number of compositions from Clara, and "Der Abendstern" appears to have been part of that effort.
At the time Clara became engaged to Robert Schumann, he tenderly wrote to her "Clara dear, don't you have anything for my music supplements to the Neue Zeitschrift für Musik?… Come on, write a song. Once you've begun, you won't be able to pull yourself away. It's entirely too enticing." Clara rejected Robert's demand to provide her with a song the next day with the words, "But I can't compose. At times it makes me quite unhappy, but it is really and truly impossible. I don't have the talent for it… And then a whole song, this I can't do at all. Composing a song, grasping a whole text, that requires intellect." It took several more requests from Robert before Clara was finally ready to take up her husband's suggestion. "Whenever Robert goes out, I spent my time trying to compose a song, and finally was able to complete three which I intend to give him for Christmas. They may be of no value whatsoever, that I admit, only a very feeble effort, but I'm counting on Robert's leniency and that he'll think that I meant well in fulfilling this wish for him, as in fulfilling all his wishes."
Clara Schumann: Am Strande
Ihr Bildnis (first version of 6 Songs, Op. 13: No. 1. Ich stand in dunkeln Traumen)
Volkslied
Schumann liked the songs very much indeed, and the couple came up with the idea for a joint publication. Within one week, Robert had completed 9 songs from Friedrich Rückert's "Liebesfrühling," and urged Clara to contribute her settings. Clara, pregnant with her first child, made little progress. "I have no talent whatsoever for composition," she writes. "Sometimes I'd like to give my thick skull a good whack!" Somehow, Clara did find the time and proudly reported that she had finished "four songs by Rückert." In the end they decided on three of her settings, and Robert identified Breitkopf & Härtel of Leipzig as the publisher. The songbook was issued in time for Clara's 23rd birthday on 13 September 1841 under the title "Twelve Poem from Rückert's "Liebesfrühling" by Robert and Clara Schumann. It was her Op. 12 and his Op. 37. Clara continued the tradition of presenting her husband with her own compositions on his birthday and on Christmas. For his birthday in 1841 she presented him with a number of songs, which Robert described as "The best she has written yet." After Robert's death, and despite her obvious talent, Clara made a conscious choice to stop composing. It was an entirely practical decision, but we should nevertheless lament the fact that Clara did not contribute many more expressive and powerful contributions to the lied genre.