You might be surprised of just how many unique Christmas traditions you can experience in Germany. A big part of the Christmas season starts at the end of November or early December with Advent celebrations in preparations for the arrival of the birth of Jesus Christ. Homes are typically decorated with Advent wreaths, a ring of fir branches decorated with four red candles. On each Sunday in Advent, one more candle is lit until all candles are alight and Christmas is imminent.
Particularly popular with children is the tradition of the "Advent Calendar." Filled with sweets or chocolates, the first door is opened on 1 December, and the last and biggest door is opened on 24 December. The feast day of St. Nicholas falls on 6 December, and often the "real" Saint Nicholas, dressed in a red coat and hat and wearing a white beard comes to individual homes. On occasion, he will knock on the door and the children will sing a song or play an instrument. He will ask the children if they have been good all year and he brings small presents. In some parts of Germany St. Nikolaus is accompanied by a big horned monster clothed in rags and carrying chains. Called "Knecht Ruprecht," or "Krampus" or other regional names, he is meant to punish the children who have been bad.
Johannes Brahms: 2 Motets, Op. 74, No. 2 "O Heiland, reiss die Himmel auf"

Christmas season in Germany would not be complete without traditional Christmas markets. These outdoor markets usually open at the beginning of December and are located on town squares throughout Germany. A tall and beautifully decorated Christmas tree is placed in front of city hall, and the lights are switched on in early December. Christmas markets and stalls sell traditional German delicatessen such as the "Christmas Stollen," hot and sticky sweet roasted almond and chestnuts, gingerbread hearts and other traditional Christmas sweets.
Christmas markets also sell festive Christmas decorations, including various hand-blown glass ornaments. Used to decorate Christmas trees in homes and shops, these delicately painted glass baubles come in all sizes and colors. Maybe the most famous Christmas market takes place in the city of Nuremberg, and the "Nuremberg Christkind" opens it. A young girl is chosen every year to participate as the Christkind, and dressed like an angel she wears a long white and gold dress, a golden crown and sometimes angel wings.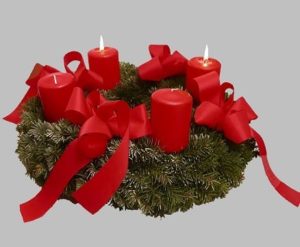 And during Advent, the "Nuremberg Christkind" is busy with over 150 official duties, ranging from TV interviews to visits to hospitals, care home and children's nurseries. Christmas markets also offer steaming mugs of mulled wine, often fortified with an optional shot of brandy. Also on offer is the "Feuerzangenbowle" (Fire Tong Punch), consisting of hot mulled wine, high alcohol-percentage rum and open flames.
Max Reger: 4 Cantatas, No. 1 "Vom Himmel hoch, da komm ich her"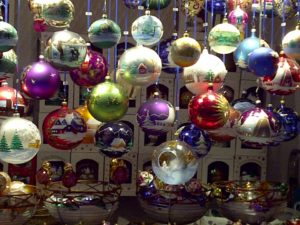 Some German homes also display a traditional wooden Christmas pyramid. One of the oldest Christmas traditions dating back to the middle ages, this pyramid is a little carousel with Angels and a nativity scene. The carousel spins with the help of lit candles, with the heat of the flame setting the mechanism in motion. Germans celebrate the birth of the Baby Jesus on 24 December, on Christmas Eve. And the main part of the decoration, the Christmas tree, normally a freshly cut fir, or spruce or pine tree is only placed in the living room in the morning of Christmas Eve.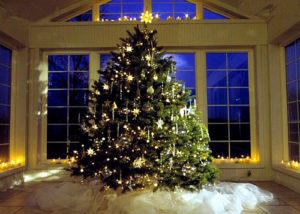 According to tradition, the Christ child brings the presents, neatly wraps them and places under the Christmas tree. Younger children are generally not allowed to see the tree before the evening celebrations, when it is festively lit by candles or lights. Many younger children had already written letters to the Christkind asking for specific presents. Once the Christmas tree is lit and gifts have been exchanged, families read the Christmas story together, sing Christmas carols and enjoy a meal. Traditional meals featured duck, goose, rabbit, carp or a roast accompanied by apple and sausage stuffing, red cabbage and potato dumplings or salads. Dessert typically includes the famous Christmas Stollen and a seemingly endless variety of Christmas cookies.
Families will generally attend midnight mass at their local church, and 25 December is called the "Erste Weihnachtstag" (first Christmas Day). People spend Christmas Day with family members or close friends, attending church services and enjoying a sumptuous Christmas lunch. 26 December is known as "St. Stephen's Day" or "Zweiter Weihnachtsfeiertag." Many people attend church services, and then spend time with family and friends, preferably in the outdoors. This is quiet day to recover from the Christmas celebrations and prepare for the winter sales, which typically begins on 27 December.
There is one more unique aspect of the Christmas season in Germany. On 6 January, children and teenagers dress up as the "Three Wise Men," and go from house to house to collect money for a good cause. These "Sternsinger" carry the symbol for the Star of Bethlehem, sing carols and bless the houses by writing a signature with chalk over the main door. Germany around Christmas time is always a great destination, and if you go there don't forget to wish people "Frohe Weihnacht."
Felix Mendelssohn: 6 Sprüche, Op. 79, No. 1 "Weihnachten: Frohlocket, ihr Völker auf Erden