American Christmas celebration range from small town exhibits to world-famous events and sights. From light displays and firework shows, to month-long holiday markets and snowy train rides, these festivities have been shaped by a multitude of different cultures. Traditionally, however, the Christmas season starts just after the Thanksgiving holiday on the fourth Thursday in November.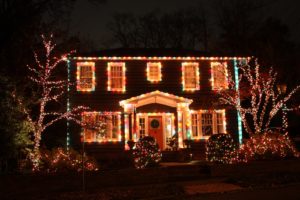 "Black Friday" is an important shopping day, and on the Saturday following Thanksgiving, a spectacular parade is held in New York City welcoming Santa Claus and signaling the official beginning of the Christmas shopping season. And you are just in time for the tree raising and eventual lighting of the Rockefeller Center Christmas Tree.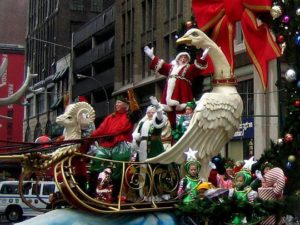 In 2019, it is scheduled for December 4. Various performers singing Christmas classics in support of the annual tree lighting, and it is packaged into a lengthy TV special. This serves as the starting point for families around the country to decorate their homes for the holiday season by beautifying the outside of their houses and gardens with a multitude of colored lights. Christmas, in the Christian tradition, is celebrated on 25 December to commemorate the birth of Jesus of Nazareth. However, Americans blend religious and secular customs with their own family traditions, often incorporating food, rituals and decorations from the places of their ancestors.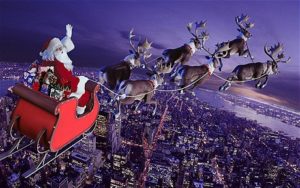 Christmas shopping has become of vital importance to retailers, and Christmas has therefore expanded into a "Season" of its own. This includes the non-Christian holidays "Kwanzaa" practiced predominantly by African-Americans, and the Jewish "Hanukkah." But Christmas season is also a time of goodwill and charitable works.
Seasonal entertainment sees countless productions of Tchaikovsky's "Nutcracker," school holiday pageants, and carolers roaming the streets. Television broadcasts favorites like "A Miracle on 34th Street", "It's a Wonderful Life," and numerous animated classics like "Charlie Brown Christmas."
The original religious meaning of Christmas nevertheless is still an important element. Congregations create manger scenes with figurines representing the infant Jesus and those present at his birth. Christmas Eve candlelight or midnight services are held across the country. And it is Santa Claus on his reindeer-drawn sleigh who brings the gifts. A number of departments store also feature a "Hired Santa," who is all dressed in red robes and sporting a huge white beard, listens to the Christmas wishes of young customers.
Charles Ives: A Christmas Carol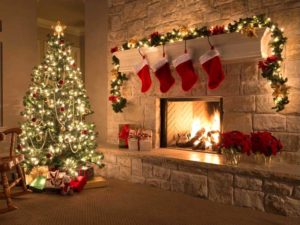 Christmas cards are a cherished tradition that took hold in the last quarter of the 19th century. Frequently they depict religious scenes or secular, often humorous messages. Although electronically transmitted Christmas cards are increasingly popular, it is estimated that Americans mail some 16.6 billion Christmas cards, letter and parcels over the holidays.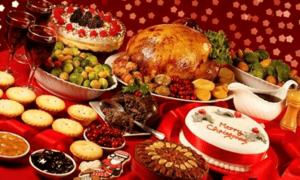 Christmas trees of all shapes and varieties are an important feature in many American homes. Elaborately decorated with light and ornaments, and sometimes with chains of popcorn and cranberry, Christmas presents appear under the tree or in hung stockings on the morning of 25 December. Santa Claus coming down the chimney delivers them.
In the American Southwest "luminarias"—lanterns made from brown paper bags and illuminated by a lit candle—are displayed on Christmas Eve. As Mexican Americans celebrate "Las Posadas," a procession reenacting Mary and Joseph's search for lodgings in Bethlehem, these special lanterns signal a place for Mary and Joseph to stay.
In the southern state of Louisiana, families in small communities along the Mississippi River light bonfire along the high river banks to help "Papa Noel" find his way in the nighttime. In Hawaii meanwhile, "Kanakaloka" is not necessarily wearing the traditional red and white suit, but exchanged it for flowery Hawaiian clothes.
Samuel Loboda: Christmas Medley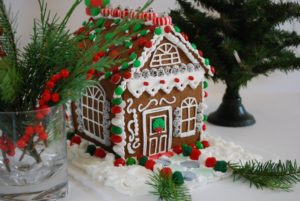 And for a guaranteed "White Christmas," simply head to Alaska and "North Pole," the home of Santa Claus and his reindeer. Popular dishes throughout the country for Christmas dinner include roast turkey or ham with cranberry sauce.
You will probably also find candy canes, pecan pies, Brussels sprouts, festive eggnog, Christmas cookies and probably a gingerbread house or two. Depending on area and region, your Christmas dinner may include "tamales," a corn-based dough steamed in a cornhusk or banana leaf. They are frequently filled with meats, cheeses, fruits, vegetables and chilies.
Other areas specialize in roast goose or pork with red cabbage, or a spicy crawfish jambalaya with andouille sausage. Also popular in some parts of the country is the "Seven Fishes" seafood salad brought over from Italy. And if you travel to the United States during the holiday season make sure you use the neutral "Happy Holidays."