The most famous and recognized violin competition with the highest prize money in Taiwan, "Professor Shu-Te Sylvia Lee Violin Competition" (the Competition), will return at the end of December 2022. The Competition is sponsored and organized by Chiun-Teng Cheng Rare Violins Co. Limited every two years and this year marks the 4th. The founder of the company, Mr. Chiun-Teng Cheng, said that Professor Shu-Te Sylvia Lee is his teacher and mentor who has dedicated all her life to violin education she loves.
The Competition, following Prof. Lee's teaching concept and method, requires all contestants to play some pieces of classic music which should be learned in a lifetime. Chiun-Teng Cheng said "The process of the competition focuses on the correct learning method, which is in line with the repertoire and scale of the international music competition". At the same time, he also expects these outstanding young contestants to go out to compete at international level and fully grasp the opportunity not only to compete but also observe each other."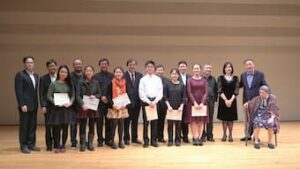 And as always, the Competition will invite a number of well-known domestic and foreign violinists to form a "heavyweight jury" and hopes that it will provide a platform for the contestants to play in a simulated international violin competition environment. "Take from the society and use it for the society" Chiun-Teng Cheng said. Learning and benefiting so much from this process, he feels obligated to organize such competition for as long as he could. The past 3 violin Competitions have actually received enthusiastic support from the public and has become an "indicative" stage for Taiwan domestic violin competitions! What is even more gratifying is that recently many young violinists who have participated in this Competition have emerged in Europe and the United States and gradually exerts their influence in this music world.
Henryk Wieniawski: Violin Concerto No. 2 in D minor, Op. 22
Enya Yang (violin), Wen-Chuan Wang (piano)
If you like to learn more information regarding this Competition, please click the following link to their website: https://www.ctcrareviolins.com/zh-TW/News/Detail/763/2022
Chiun-Teng Cheng was born in Taiwan and went to the United States in 1986 and was recognized as a vigorous and gifted player. He pursued his Master's degree as a pupil of legendary pedagogy Dorothy DeLay, Eric Rosenblith, and Matsuko Ushioda at the New England Conservatory. His chamber music teachers included Leonard Shure, Eugene Lehner, and Louis Krasner. He graduated with the highest honors (Master of Violin Performance and Graduate Diploma), and is an outstanding alumnus of the school and a member of the "PI KAPPA LAMDA" honorary society.
In 1993, he stood out from the competition of hundreds of applicants and was admitted to the famous "Cincinnati Symphony Orchestra" in the United States. He became the first musician from Taiwan in the 100-year history of the orchestra, and has been a tutti violinist in the orchestra since then until 2018 he early retired.
Proclaimed highly by Cincinnati Enquirer for his rich carrying sound, deep musicality and artistic superiority, all of which made his performance unforgettable. Michael Tilson Thomas, conductor and director of the famous "San Francisco Symphony Orchestra" in the United States specially liked Chiun-Teng's performance and praised him as "a first-class violinist with full of talent". Chiun-Teng has appeared on concert stage almost all over the world, including United States, Europe, Japan, Hong Kong, Singapore and China. Except for extensive orchestral performances, Chiun-Teng has also dedicated to chamber music for the past 30 years and enjoys collaborating with talented musicians. Recent highlight recitals with leading artists include Menuhin Violin Competition winner Kun Dong, violinist of Dallas Symphony Orchestra Shu Lee, and pianist Amy I-Lin Cheng. In 2019 and 2020 Chiun-Teng took his distinctive view on Bach's six sonatas and partitas for solo violin, and his performance was highly recognized and appreciated.
J. S. Bach: Violin Partita No. 2 in D minor, BWV 1004, Giga and Chaconne
Chiun-Teng said "Art is discovering, not searching". "Bach's music, like Mozart, requires extremely careful thinking, the processing of perfect musical structure, and the control of timbre, which can be considered as musical performance at the highest technical level". "If you are not very well prepared, it will show your weakness on stage instead. This is a challenge of worth facing in the lifetime." Chiun-Teng also said, with the increase of age, social experience, accumulation of knowledge and different life experiences, the presentation of Bach's partitas always changes each time when I play on stage. "I think Bach was sent by God to compose this set of six sonatas and partitas, and any musician should play it with devotion and respect". In 2019, Chiun-Teng played the Sonata No. 1, Partitas No. 2 & 3, and in 2020, the Sonatas No. 2 & 3, and Partita No. 1. He has the courage to play Bach's work unlike others, with his real life experience and his unique insights into Bach's music. His playing is, of course, remarkable, with the beauty and maturity of its emotional response, something which has definitely deepened in decades of his playing career.
Besides being a professional musician, he has also a great love of collecting rare violins and bows. He had the privilege to study string instrument identification under the famous connoisseur Jacques Francais in 1990s.
In addition to organize the Competition, he regularly grants string scholarships to different music classes, and sponsors and assists a number of organizations to hold concerts and other musical activities.
For more of the best in classical music, sign up to our E-Newsletter
Written by Taichi Chen, violinist of the Minnesota Orchestra.