Franck's Symphonic Variations (1885) for piano and orchestra takes the piano and orchestra relationship out of the typical concerto contest of piano versus orchestra and places the two as equal partners. We're used to the piano as a soloist, but as a concertante instrument, its application is much rarer.
Critics variously describe the work "one of Franck's tightest and most finished works" and "a flawless work and as near perfection as a human composer can hope to get in a work of this nature". It is considered only of the most important works in the piano literature but seems to be rarely performed today.
The work is built in three parts: introduction, theme and variations, and finale, like a concerto's three movements, but this work is played without interruption. The work is built around 2 minor-key themes, one ascending and the other descending. The number of variations in the variation section, which is built around the ascending theme, vary from six to 15, depending on who's counting! The last variation takes up the descending theme – creating a novel situation of a theme and variations movement with two themes. The work ends in the major key, with both themes making appearances.
The work has a unique confidence and breeziness, with Franck bringing his virtuosic piano composition skills to the piano (as he had done earlier in two variation sets he had written in 1834) but now the piano and orchestra are interlined – the piano doesn't always have to show off, sometimes it operates more as a commentator, an accompanist, or a decorator to the orchestra's music. Franck broke new ground in this work that would later be taken up by other composers, such as Vincent d'Indy in his Symphonie sur un chant montagnard française (1886) and Ferruccio Busoni in his five-movement Piano Concerto (1904).
Franck: Symphonic Variations for piano and orchestra
Austrian pianist Eva Wollmann (b. 1927) studied first with her mother from age seven and then at the Conservatory of the City of Vienna and then at the Academy of Music, graduating with honours. She played in public and on the radio from her childhood but only had a recording career from 1954 to 1957. This recording, with Hans Swarowsky leading the Vienna Symphony Orchestra, was made in 1955.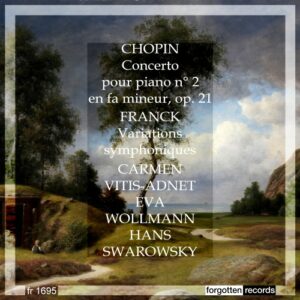 Performed by
Eva Wollmann
Hans Swarowsky
Vienna Symphony Orchestra

Recorded in 1955

Official Website