Giacomo Meyerbeer
completed his opera
Le Prophète
in 1849. Based on the Anabaptist seizure of power in the 16th century, it details the elevation of John of Leyden as "the Prophet," and culminates in a final cataclysm when John and his followers perish as his palace is destroyed by gunpowder that he himself has prepared. It premiered at the Paris Opéra in April 1849 and immediately attracted the attention of Franz Liszt.
In fact,
Illustrations du Prophète de Meyerbeer
unfolds in three movements, and quotes themes found throughout the opera. Initially we hear the sound of the Coronation March for the crowning of John in the Cathedral as Emperor, followed by the prayer of the people and the Anabaptist Hymn of Triumph from Act III. The second movement is entitled "Les Patineurs" (The Skaters) and originates with the obligatory French ballet from Act III.
Spectacular glissandi and other technical monstrosities mimic the skating entertainment for the soldiers. The concluding movement reflects the pastoral opening of the opera, as shepherd pipes answer each other. This pastoral idyll is broken by the appearance of the Anabaptists, with their call for a rebellious uprising.
Franz Liszt: Illustrations du Prophète de Meyerbeer
Antonio Pasculli (1842-1924) was arguably the greatest oboe virtuoso of all time! He toured throughout Europe at the age of 14, and his phenomenal ability as a performer was praised for his "light and effortless bravura style." At the age of 18 he was appointed professor of oboe and cor anglais at the Palermo Conservatory, and when he took over the Palermo municipal music corps, he demanded that all the wind players learn a string instrument. With his eyesight deteriorating, Pasculli ended his active performing days in 1884. His phenomenal ability as a performer is exhibited in a number of dazzling operatic fantasies he wrote for his own use. His fantasies on themes from popular operas include Donizetti's
La favorita, Poliuto
and
L'elisir d'amore
, Verdi's
I vespri siciliani, Un ballo in maschera
and
Rigoletto
, Bellini's
Il pirate
and
La sonnambula
and Meyerbeer's
Les Huguenots
.
Antonio Pasculli: Fantasia sull'opera Les Huguenots di Meyerbeer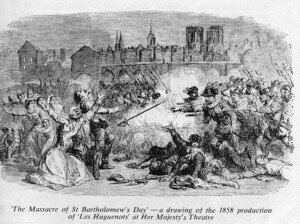 Les Huguenots
, with a libretto by Eugène Scribe and set to music by Giacomo Meyerbeer, immediately captured the public's imagination. Entire generations would applaud this lavish historical production, and it became one of the greatest triumphs in the history of French opera. The action plays in 1572, during a religious war between Catholic and Protestants. The Huguenot Raoul de Nangis has met a mysterious woman, who he has rescued and fallen in love with. He has no idea that Valentine, the daughter of St. Bris, is a Catholic and Marguerite de Valois' lady in waiting. Valentine is engaged to marry the Count of Nevers. Marguerite de Valois hopes to bring the two religions together, and orders Raoul to marry Valentine. Convinced that Valentine is still engaged to Nevers, when in fact the engagement has already been broken off, Raoul refuses to comply. Outraged the Catholics take up arms and the young Huguenot dies in the St. Bartholomew Day Massacre. Meanwhile, Valentine has converted to Protestantism in order to marry Raoul, and her own father kills her. Sigismond Thalberg took themes from the opera and further embellished them in his exciting piano fantasia and variations.
Sigismond Thalberg: Fantasias and variations on Les Huguenots, Op. 20
With a score of Giacomo Meyerbeer's opera
Le Prophète
in hand, Franz Liszt arrived at the spa town of Bad Eilsen in November 1849. He was joined by his young assistant Joachim Raff, and in a letter to his publisher Hermann Härtel, Liszt takes up the topic of publishing a number of operatic transcriptions. In the event, Liszt went to work and completed 3 movements under the title
Illustrations du Prophète
in 1850. We don't know exactly whether it was the impression of a Dresden performance in February 1850 or a commission from the young organist Ferdinand Breuning that stirred Liszt to continue his work on
Le Prophète
. The fourth in his series of "illustrations" is based on the short chorale "Ad nos, ad salutarem undam" from the first Act of the opera. The resulting Fantasy and Fugue for organ is a massive work that is neither a direct transcription nor an operatic fantasia or paraphrase. It is an entirely independent composition, first premiered on 29 October 1852 and published in the same year.
Franz Liszt: Fantasy and Fugue on the Chorale Ad nos, ad salutarem undam by G. Meyerbeer