As I have written before on this site, pianists with small hands often struggle with more virtuosic repertoire because of the physical demands it puts on the hands, mostly big, awkward stretches for which a larger hand span and greater flexibility are necessary.
Being physically limited in what one can play can be disheartening for the pianist, especially young pianists who have progressed to intermediate and advanced levels at a relatively young age. While baroque and early classical pieces are generally feasible (due to the smaller size of the keyboard for which composers of these eras were writing), late classical and especially Romantic repertoire, with its much larger tonal range utilising the capabilities of the modern piano – the big, powerful chords, deep bass sonorities and complex textures which make Romantic music in particular so rich and dramatic – may be out of bounds to young players with smaller hands. Yet these young players may have spent many years practising their technique only to be denied this type of repertoire.
Pianist and composer Béla Hartmann has a solution to this. His new volume of piano pieces for intermediate to early advanced young pianists, devised while accompanying his daughter Eliska's journey on the piano from a young beginner to a still young advanced player, is a collection of six short, contrasting pieces, Romantic in style and each individual in character. From an imposing chordal Prelude to a sparkling Etude and a lyrical Song Without Words, each piece explores various areas of technique and musicianship in ways which reveal the composer's deep understanding of both the instrument and the capabilities and ambitions of pianists with small hands.
'When a young player has spent years improving technique, speeding up those scales and getting a good grasp of the keyboard they deserve to be rewarded with pieces that are hard to learn but exciting, pieces that make the most of the instrument.' – Béla Hartmann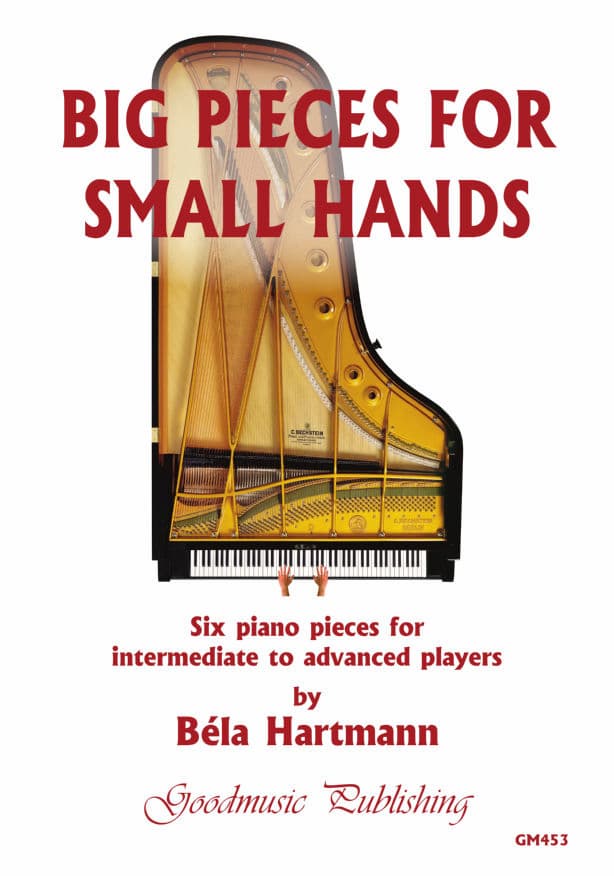 Large stretches and jumps are limited in these pieces, but there are plenty of vivid textures and sonorities, beautiful melodies, and much scope for expression in these delightful miniatures. They are sufficiently technically advanced to offer useful teaching/learning opportunities and utilise techniques such as legato pedalling, voicing (within individual hands and between the hands), and many varied expressive effects. The finale Étude is reminiscent of Chopin at his most heroic and heartfelt, and indeed the entire collection provides a wonderful bridge to the music of Chopin, Liszt, Rachmaninoff, and Ravel, and explores many of the techniques, textures, and idioms found in these composer's repertoire.
Béla Hartmann: Big Pieces for Small Hands (2023)
Indeed, these pieces need not be confined to the younger player. They are sufficiently engaging and challenging to be of interest to adult pianists with small hands, who may yearn to play Liszt or Rachmaninoff but who are limited by technique or smaller hands.
Big Pieces for Small Hands is available from Goodmusic Publishing, as a physical score or digital download.
For more of the best in classical music, sign up to our E-Newsletter