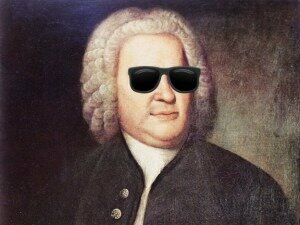 When people see the name Anton Webern on a concert bill, they habitually run for cover! But Webern would not be Webern if he hadn't studied the old masters during his student years at Vienna University. In fact, he studied with the renowned musicologist Guido Adler and wrote his thesis on the Choralis Constantinus of Heinrich Isaac. And when he graduated from his composition studies under Arnold Schoenberg, he characteristically wrote his Passacaglia, Op. 1. Webern's interest in early music, and specifically the works of J. S. Bach, would greatly influence his compositional technique in later years. His orchestral transcription of the "Ricercar" from Bach's Musical Offering dates from 1935. In preparation for its first performance in the hands of Hermann Scherchen, Webern writes, "The orchestration is intended to reveal the motivic coherence of the piece. Beyond that, it is supposed to set the character of the piece as I feel it. What glorious music it is!

Johann Sebastian Bach/Webern: Musical Offering, BWV 1079, "Ricercar a 6"

Astor Piazzolla is famous for incorporating elements from jazz and classical music into the traditional tango. He also introduced new forms of harmonic and melodic structure into the traditional tango ensemble, and integrated novel instruments, such as the saxophone and electric guitar. However, Piazzolla also included a wide range of recognizable Western music elements. And when it comes to counterpoint and passacaglia techniques, all paths lead to Johann Sebastian Bach. Juxtaposing the traditional tango with the music of Bach produced a new and unique musical style that transcended all earlier forms of expression. And of course, the majority of his Bach remakes feature the bandoneón, a type of concertina popular in Argentina and Uruguay.
Johann Sebastian Bach/Piazzolla: Prelude No. 16 in G minor, BWV 861
Blandine Ollivier was the first daughter of countess Marie d'Agoult and Franz Liszt. At age 26, Blandine gave birth to her first child. Although there were no immediate post-natal complications, an ominous swelling quickly developed on her left breast. Without effective anesthetic or antiseptic, a surgeon carried out a crude operation. Nevertheless or because of it, Blandine's condition deteriorated rapidly, and she was unable to eat or sleep, and also ran a high fever. On 11 September 1862, Blandine quietly passed away. Her father was devastated and turned to the music of Johann Sebastian Bach for solace. His Variations on
Weinen, Klagen, Sorgen, Zagen
(Weeping, Wailing, Mourning, Trembling) originates from the Bach cantata by the same name. The work passes through various moods of grief, despair and anger, and culminates in a great cry of anguish before finding consolation in a final chorale.
Johann Sebastian Bach/Franz Liszt: Variations on Weinen, Klagen, Sorgen, Zagen, BWV 12
Without doubt, Oscar Peterson was one of the giants of jazz piano. His illustrious career spanned almost seven decades, and he played with some of the biggest names in jazz, including Ella Fitzgerald, Count Basie and Herbie Hancock. Duke Ellington called him the "Maharajah of the keyboard," while Count Basie remarked, "Oscar Peterson plays the best ivory box I've ever heard." Born in a poor neighborhood of Montreal, Peterson became a piano virtuoso at an early age, and credits his sister Daisy Sweeney with expanding his musical horizon. Under his sister's tutelage, Peterson mastered the core classical repertory, including the preludes and fugues by Johann Sebastian Bach. Bach's continued influence inspired the composition of the
Bach Suite
, first released on the 1986 album "Oscar Peterson Live!"
Oscar Peterson: "Bach's Blues," Bach Suite
Please join me next time for a listen to some thrilling Bach arrangements for clarinet, and for vocal swing. Also featured is a refined and stylish Bach interpretation by Jacques Loussier and a "BACH" work by Rimsky-Korsakov.