Beethoven's incidental music to Goethe's play Egmont, being given at the Royal Imperial Court at Vienna was late. The play opened on 24 May 1810 and the only mention of the incidental music comes at the time of the third performance on 15 June.
Beethoven's incidental music included an overture, 2 songs, background music for a spoken 'melodram' by Egmont, music for the entr'actes, music for Clara's death, and a final Allegro Symphony of Victory. Of all that music, it is only the overture that still holds a place in concerts.
The play is about the historic revolt by Count Egmont against the Spanish in The Netherlands in the 16th century. Egmont trusts his judgement blindly even when his passion transcends reason. Although traditionally loyal to the Spanish king, Egmont opposed their repression of the Dutch whose country they occupied. Modern parallels to Beethoven's time, as Napoleon became master over large parts of Europe, were not missed by his audience. Beethoven's music for a work that praised that heroic, if futile, stand of an opponent to oppression fed the same feelings that led him to rededicate the Symphony No. 3 from Napoleon to 'to celebrate the memory of a great man.'
The Egmont Overture opens with a slow and solemn introduction, functioning as much to get the audience's attention as to show the serious nature of the drama that will unfold. The rest of the overture, in a brisk Allegro, carries us forward in a style like that of his Fifth Symphony, written two years earlier.
Ludwig van Beethoven: Egmont Overture, Op. 84

The work was important for conveying Beethoven's radical thoughts about freedom even while the victorious Napoleon swept all before him. October 1809 saw the defeat of the Austrians and the signing of the Treaty of Schönbrunn where Austria lost the Duchy of Salzburg to Bavaria and had to give up all her Adriatic ports. The net result was the weakening of what had been one of the greatest of the European powers. And a knock-on result was that the Austrian Army had to join Napoleon for his ill-fated invasion of Russia in 1812 (see Tchaikovsky for the musical victory of Russia).
In this 1950 recording, conductor Robert Heger leads the Munich Philharmonic Orchestra. Robert Heger (1886-1978), from Strasbourg, Alsace-Lorraine, was born into German Strasbourg, which became French Strasbourg after WWI, another kind of relic of Germany's occupation by the French under Napoleon. Heger made his debut in 1908 in Ulm and over the next 30 years, led orchestras in Nuremberg, Munich, Vienna, and Berlin, as well as at the Royal Opera House, Covent Garden, London.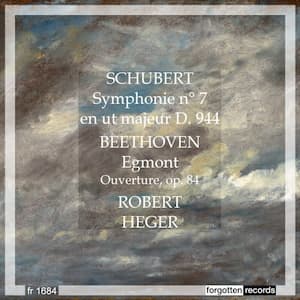 Performed by

Robert Heger
Orchestre Philharmonique de Munich

Recorded in 1950

Official Website
For more of the best in classical music, sign up to our E-Newsletter