Reputed to be the hardest work for piano, Balakirev's 1869 work Islamey saved many a pianist's weary wrists when it was orchestrated in 1907 by Alfredo Casella. Its reputation ensured that both Rubinstein and Liszt had the piano work in their concert repertoire.
The first theme, known as Islamey, was collected by Balakirev during a trip to the Caucasus in 1860. He also collected the second theme there. The third theme comes from an Armenian song that the composer heard, sung by the Armenian baritone Konstantin de Lazari, at Tchaikovsky's house in the summer of 1869.
The work as a piano piece is important in Russian musical history because it was the first Russian work to become established in the mainstream repertoire other than as a salon piece. Putting it on the European stage under the fingers of Liszt made the work one of the stars of the new exoticism coming out of Russia. Making it into an orchestral piece extended its reach.
In the late 19th century, as Russia was beginning to find its own musical voice, it took advantage of the breadth and culture of the country to present some of its more remote areas to the world in a musical fashion. This resulted in works such as Rimsky-Korsakov's Scheherazade and Tale of Tsar Sultan; Tchaikovsky's fantasy ballets such as Swan Lake and The Nutcracker, and Glinka's Ruslan and Lyudmila that carry this exotic orientialism.
Islamey, taking its themes from the Caucasus and Armenia, again brings the remote reaches of Russia back to its main cities. The dedicatee of the piano work, Nikolai Rubinstein, gave the premiere of the work in St Petersburg in late 1869. It is thought that it was the work's combination of 'oriental' vitality and languourousness that made it appeal to Liszt.
In the work, Balakirev combines the energy of the first theme with a contrasting change of expression in the Andantino second theme, which brings us the sensual and bewitching orient. At the end, the opening dance reappears.
Mily Balakirev: Islamey, Fantaisie orientale, op. 18 (Orchestration : Alfredo Casella)
In this 1956 performance, the Bamberg Symphony Orchestra is led by Ionel (Jonel) Perlea. Romanian conductor Perlea (1900-1970) is known best for his opera work, primarily in German and Italian opera. After WWII, he conducted at La Scala and was guest-conductor at the Metropolitan Opera in New York.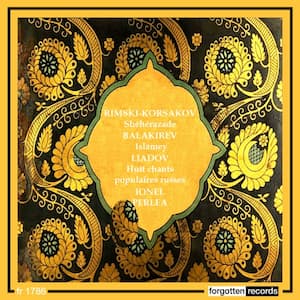 Performed by

Ionel Perlea
Orchestre Symphonique de Bamberg

Recorded in 1956

Official Website
For more of the best in classical music, sign up to our E-Newsletter