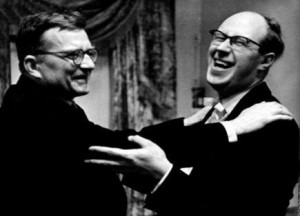 Together with Igor Stravinsky and Sergei Prokofiev, Dimitri Shostakovich (1906-1975) unquestionably represents the pinnacle of 20th-century Russian music. Contrary to his famous compatriots who sought employment in the West, Shostakovich was educated entirely under the Soviet system. Even at times of personal disfavor, his loyalty to country and government was unquestioned. According to Boris Schwarz, his musical personality, deeply rooted in tradition, emphasized "high-spirited humor, introspective meditation and declamatory grandeur." Carefully balancing these three elements of his compositional style, Shostakovich produced some of the most compelling music written in the 20th century.

All too frequently, his compositions are exclusively placed within the political context of the unprecedented suffering inflicted by the ruthless state-sponsored bureaucracy of Stalinist Russia, and he indeed produced a number of propaganda works to placate his masters. Finally, following Stalin's death in 1953 Shostakovich could openly give musical expression to his artistic urges. "Without party guidance," he later said, "I would have displayed more brilliance, used more sarcasm, I could have revealed my ideas openly instead of having to resort to camouflage." As a composer, Shostakovich "thought long and wrote fast," suggesting that an entire piece had been completed in his head before he would write it down. He developed a hybrid compositional voice, combining a variety of different techniques into his music. Sharp contrasts, elements of the grotesque, and ambivalent tonality characterize a musical style that was heavily influenced by the neo-classical style of Igor Stravinsky and the post-Romanticism associated with Gustav Mahler.

Shostakovich wrote his first Cello Concerto, Op. 107 for his close friend and cello virtuoso Mstislav Rostropovich, who memorized the piece in four days and gave the premiere on 4 October 1959. Considered one of the most difficult concerted works for the cello, it apparently takes its bearing from the Sinfonia Concertante by Sergei Prokofiev. Shostakovich openly acknowledged, "the impulse for the piece was provided by his admiration for that earlier work." Lightly scored for double winds, piccolo, contrabassoon, a single horn, timpani, celesta, and string, the composer nevertheless is able to unfurl his musical imagination through the inspired combination of instrumental timbres. Shostakovich himself wrote a short preface for the published score, explaining that "this four-movement concerto is divided into two large parts: the opening movement, and then three more movements played without pause. Together, they form an integral whole with unified themes and images."

An aggressive four-note theme sounded in the solo cello—derived from the musical pitches contained in Shostakovich's own name (DSCH in German musical notation)—is accompanied by an almost comical march in the woodwinds. This highly personalized and memorable musical theme is immediately and continuously reshaped and distorted, with the composer freely altering the intervals and the rhythm. A thunderous timpani stroke introduces us to the second thematic area. The solo cello grievously declaims an invented Russian folk tune, with the orchestra taking up the four-note theme. The ensuing "Moderato" opens with a restrained and mournful orchestral introduction, with the solo horn nostalgically preparing for the entrance of the solo cello. Although rooted in an essentially tonal language, Shostakovich infuses his melodies with dissonances and a sense of atonality, underscoring not only the expressive abilities of the solo instrument, but also emphasizing a sense of isolation. An ethereal and ghostly dialogue between the Cello and Celesta proceeds to an extended "Cadenza" movement. This cello monologue contrapuntally combines aspects of the four-note theme from the first movement with the elegiac melody of movement two. The driving forces that will guide the concluding "Allegro" gradually replace the overall lyrical mood. Utilizing two folk song quotations, the concerto concludes with a forceful and somewhat ironic musical synopsis.