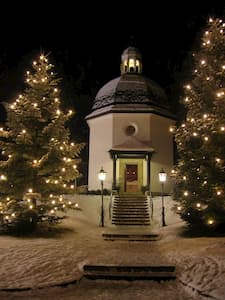 The best thing about Christmas, besides getting nice presents and spending quality time with family, is to sing Christmas carols. And one of the most popular carols worldwide is "Silent Night," a song written in a small village near Salzburg in Austria. The story goes that the young priest, Father Joseph Mohr brought the words to the schoolmaster and organist Franz Xaver Gruber on Christmas Eve 1818. Apparently, something was wrong with the organ, since Father Mohr asked Gruber for a melody with guitar accompaniment. The tune and the words, simultaneously referencing the silence of a snowy winter's night and the birth of Christ, really caught the imagination of people around the world.
Silent night, holy night
All is calm, all is bright
'Round yon virgin Mother and Child
Holy infant so tender and mild
Sleep in heavenly peace
Sleep in heavenly peace
Believe it or not, the text has been translated into 300+ languages and dialects, and this famous carol celebrated its 200th anniversary in 2018. Over the years, it has attracted a huge number of beautiful interpretations and arrangement. As we celebrate Christmas in 2020, I have selected some of the best versions of "Silent Night." So let's get started with a quiet video introduction that takes us into a veritable Winter Wonderland.
The first classical songs I can clearly remember did not come from the concert hall, but from a football stadium. It is true, as I got a recording of the "Three Tenors" Plácido Domingo, José Carreras, and Luciano Pavarotti as a Christmas present. All three had come together to sing at the 1990 soccer World Cup Final to a global audience of about 800 million people. It really was a sight to see, as the three tenors stood in the sports arena in formal evening dress. The recoding of that concert did become the Guinness World Record for the best-selling classical album of all time, and the tenors sang at the next three World Cup Finals as well. It became a huge global phenomenon, and naturally involved some financial controversies. As you can imagine, this kind of crossover did not make everybody happy. Domingo once responded to critics, "The purists, they say this is not opera. Of course it's not opera, it doesn't pretend to be an opera. It's a concert in which we sing some opera, we sing some songs, and we do a medley of songs…" You'll forget all about the controversy, I am sure, when you hear "Silent Night" sung by these vocal giants in one of the best version of this carol, ever.
When we are talking about unbelievable performances of "Silent Night," we absolutely have to include the version sung by Mahalia Jackson (1911-1972). She was the undisputed "Queen of Gospel," and she once said: "I sing God's music because it makes me feel free, it gives me hope. With the blues, when you finish, you still have the blues." Her voice was all magic, mystery and majesty, "moving with the power of a tornado and soothing with the tenderness of a spring rain." She simply was a force of nature, and she had a huge impact on Civil Rights in America. She sang for President Eisenhower and John F. Kennedy, and travelled with Dr. Martin Luther King Jr. throughout the South. As a gospel historian wrote, "through her voice and personality Jackson enlightened people worldwide to respect gospel music as a distinct idiom… It is hard to imagine contemporary music without the influence of Mahalia Jackson. Her interpretation of "Silent Night" is one of the most emotional and best versions in the universe.
I don't know about you, but to me every melody sounds better if a cello plays it. The only way to improve on that is to use 2 cellos. And the two cellos I have in mind belong to the Croatian musicians Luka Sulic and Stjepan Hauser. They have soared to worldwide fame as "the most electric and dynamic instrumental duo, taking the cello to unimagined heights with their incredible talent and undeniable passion." 2CELLOS became world-famous with their version of Michael Jackson's "Smooth Criminal." That YouTube video became a massive viral hit and led to a massive recording contract. As you can tell by now, 2CELLOS are at home in all different genres of music, ranging from classical to film music to pop and rock. They don't simply perform Bach and Vivaldi, but are equally at home playing AC/DC and Iron Maiden. To my ear, this is one of the best instrumental versions of "Silent Night."
Born Harry Lillis Crosby in Tacoma, Washington, Bing Crosby (1903-1977) was the most influential media star of the first half of the 20th century. He was the biggest box-office draw of the 1940s, and as the most popular radio star of all time, he had over half a billion records in circulation. Bing Crosby wasn't just immensely popular; he was highly influential in terms of musical direction. He blended contemporary pop hits with a wide range of theme-oriented songs. His repertoire covered show tunes, film music, country & western, patriotic standards, religious hymns, ethnic ballads, and patriotic standards. To his listeners, he represented the "American everyman—strong and stern to a point yet easygoing and affable, tolerant of other viewpoints but quick to defend God and the American way." Several years before his biggest hit "White Christmas," Crosby recorded this version of "Silent Night." Crosby's warm, natural and manly baritone is truly comforting, and that's why it is one of the best versions of "Silent Night" for me.
Canterbury Cathedral is one of the oldest Christian structures in the world. Founded in 597, St. Augustine became the first Archbishop of Canterbury, having been sent by Pope Gregory the Great from Rome. The church was a place of worship during the Roman occupation of Britain, and it is the oldest church in England still in use. The cathedral is still one of the world's most important pilgrimage sites in Europe, and the function of the Cathedral as a monastery came to an end in 1540. Now here comes the interesting part; choral musical worship has been part of the cathedral ever since its founding. Today, the Canterbury Cathedral Choir consists of 25 boy choristers, 12 lay clerks, and a fabulous girls' choir of about 20, established in 2014. The Girls' Choir performs twice a month at Evensong, often with the lay clerks. And their performance of "Silent Night" sound downright angelic, don't you think?
To me, Jonas Kaufmann is one of the hottest tenors today. Ever since his sensational debut at the MET in New York, he has been one of the top stars of the operatic world. In fact, some critics named him the "New King of Tenors." Kaufmann originally hails from Munich, and he spent his first stage years at various theaters in Germany. Once he joined the Zurich Opera in 2001, his international career really took off. He sang at Salzburg, Chicago, Paris, Milan, Vienna, Covent Garden and eventually Bayreuth. He's been described as amalgamating "German expressiveness with Italian voice leadership." He certainly is a most versatile performer, and he was voted "Singer of the Year" on several occasions. Critics write, "His intensity and his elegance, the suppleness of his voice and his body language, combined with his musicality and his radiant appearance make him the epitome of the opera star in the 21st century." And in this beautiful version of "Silent Night", Kaufmann teams up with José Carreras and the Boy's Choir of Regensburg Cathedral.
Mariah Carey has been called "The Queen of Christmas." She got that name after the release of her first holiday album, "Merry Christmas" in 1994. That album was a hit, but the single "All I Want for Christmas Is You" became one of the most successful tracks of all time. It had definite nostalgic appeal, and all the charming musical qualities we demand of Christmas. In her new memoir "The Meaning of Mariah Carey," she wrote about her lifelong love of Christmas and the celebration in her childhood home. I guess things weren't always very festive in her house growing up. "I always wanted the holidays to be the best, but dysfunctional family members and lack of funds sometimes made it a dismal affair. But no matter what, I would try to be festive." And that's the feeling Mariah wants to pass on to her family, even during the corona pandemic. "Christmas in my house is never not going to happen. I'm not just saying this to promote something. In my house, Christmas is over the top. No matter what's happening in the world, Christmas will never be canceled at my house." We can definitely see and hear how important Christmas is for Mariah Carey by listening to a very early version of "Silent Night," recorded at St. John The Divine in New York City in 1994. It's a vocal Winter Wonderland and one of the best ever versions of "Silent Night."
I wonder if you can guess the best-selling crossover artist of all time? It's not really a difficult guess, as that title belongs to the Italian pop tenor Andrea Bocelli. He is called the "King of Classical Crossover," and he is certainly one of the most famous tenors in history. Bocelli suffered from congenital glaucoma since early childhood, and he became completely blind at age 12, following a soccer accident. Despite that enormous challenge, he showed great passion for music and learned a number of instruments before pursuing a singing career. Actually, he studied to be a lawyer, but the great Luciano Pavarotti urged him to take up singing seriously. Bocelli has never looked back, and he was even voted as one of People's magazine's 50 Most Beautiful People in 1998. Bocelli's recording cover all manner of styles, and he recently started to compose his own songs as well. I guess, some people aren't happy with his vocal technique, but "his emotive performances and pleasing tone make him the perfect crossover singer." And he has certainly brought classical music to the masses more effectively than any other performer. So it's only fitting that we conclude this little survey of the best versions of "Silent Night" with a highly emotional performance by Andrea Bocelli. Please enjoy, and Merry Christmas!
For more of the best in classical music, sign up to our E-Newsletter