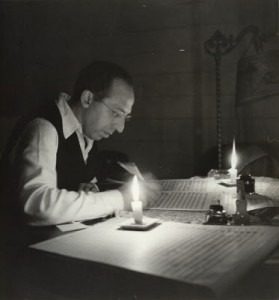 Aaron Copland (1900-1990), widely regarded as one of the most respected American classical composers of the twentieth century, conducted his "personal life with the characteristic modesty, tactfulness, and serenity that marked his professional life as well." Copland was described as a carefully balanced and tactful individual. Never aggressive, he always knew the right thing to say in the right circumstances. "The United States could send him abroad with full confidence that he would represent it well because he has an extraordinary sense of justness." From an early age, Copland understood and accepted his sexual orientation, and he was neither ashamed nor tortured by his homosexuality.
He described himself as a bachelor, but Copland lived a relatively open homosexual life. According to his biographer, "Copland never tried to pass nor did he ever seriously entertain the idea of a marriage of convenience, a commonplace among homosexuals of his time. Instead, Copland became one of the earliest homosexual composers of prominence to cohabitate with his romantic partners."

Although Copland closely guarded his privacy, his affairs with mostly younger men—usually musicians or artists—were well known. Frequently, his romantic interests grew directly from within his inner professional circle, and included composers Leonard Bernstein and John Brodbin Kennedy, music critic Paul Moor, painter Prentiss Taylor, pianist Paul Moor, dancer Erik Johns, artist Alvin Ross, and most prominently the photographer Victor Kraft. Copland's love affairs seemingly followed a recurrent pattern that "involved a year or two of intense intimacy, a year of drifting apart, and the settling of the friendship on a stable but cooler footing." Copeland strongly believed that "in love relationships, every man was either a father or a son." He was described as shy, warm, fun-loving, and invariably loyal, a caring and dependable friend and in his love life "sexually candid and uninhibited…a gentle, sensitive lover." Predominantly monogamous, and only rarely promiscuous, Copland was "very understanding of his partners need for open, nonexclusive relationships, in which he might be the primary but not the sole lover."

Aaron Copland: El Salón México
The single constant romantic relationship in Copland's life was the child prodigy Victor Kraft, a 16-year-old violinist who became Copland's student. When Copland accepted an invitation to travel to Mexico City for two months, he informed his host that he would "bring along a 17-year-old student for the duration of his stay." In the event, the couple stayed for five months, and inspired by his young lover, Copland composed a series of simple scores that reflected his holiday lifestyle. El Salón México was an actual popular dance hall with a sign on the wall that read "Please don't throw lighted cigarette butts on the floor so the ladies won't burn their feet." Copland's musical portrayal proved to be an immediate success with critics and audiences alike. Upon their return to New York, Kraft moved into Copland's Manhattan apartment and took care of the household. He gave up music altogether and eventually became a respected photojournalist.

Copland's newly-found celebrity status necessitated a good deal of traveling, with Victor staying behind in New York City. With Copland playing the field away from home, Victor had an affair with Leonard Bernstein. And when Copland failed to take notice, he married the female writer Pearl Kazin in 1951. Predictably, the marriage turned out to be rather short-lived, and within a couple of months, Victor went back to Copland. He took on secretarial and managerial duties for the composer, with Copland continuing to blaze through numerous relationships with younger men. Eventually, Victor was unable to take the emotional strain and married once more, settling into a house only a few miles from the Copland residence. When Copland refused to reenter into a relationship, Victor kidnapped his own son—who was severely handicapped—and took him out of the country. Unable to make a clear break, Copland would nevertheless maintain sexual relations with Victor until his untimely death in 1976.