I spend most of my time at Cambridge involved in activities that are almost entirely self-serving. I work towards a degree; I engage in musical projects to practice conducting; I seek work either to earn money or to gain valuable professional experience. There is I hope nothing shocking about this – apart from those of a religious bent or the small group who engage with the university's numerous charitable schemes, this is not, I imagine an unusual position.

It is wonderful, therefore, to break this pattern of self-obsession and introspection by taking part in the Turtle Song Project, a scheme run by English Touring Opera and Turtle Key Arts and supported by Clare College, Cambridge. This is my second year of involvement with Turtle Song, and it operates as follows: every week, a group of three or four Clare students spends about two hours in a room with a composer, director-animator and twenty or so citizens of Cambridge. The composer and director work with these people to create a series of songs around a common theme (this year, the theme is simply that of walking or journeying) with instrumental or vocal support from us students, culminating in a performance of a full song-cycle in the West Road Concert Hall in Cambridge.

It sounds simple enough – until you realise that those citizens suffer from Alzheimer's Disease or other forms of dementia. Most are elderly (last year, the concert fell on one participant's 94th birthday) and many have difficulty either with social interaction or with recalling memories and images from their past. Yet the process by which songs are created in the Turtle Song workshops tackles both of those problems head on. The participants split into small groups of about 6 or 7 people, and, aided and prompted by a Clare student or member of the Turtle Song team, spend time coming up with ideas and images centered around a subject related to the central theme – last week, for example, we came up with ideas for a song about holidays, resulting in a number of participants waxing lyrical about childhood holidays on Margate Pier or in the Scottish Highlands, memories that they thought had vanished.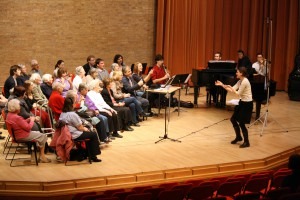 This method can lead to some slightly surreal narratives (in the first week, for example, my group went on a stroll along the River Cam in Cambridge, cooked the fish we caught on a barbeque and then took the bus to India for a cup of tea before bed) but its true power is shown when those ideas are collected and collated by the director and set to music by the composer, with the resultant song taught back to the very individuals who had created its images and phrases.

In a very real way, Turtle Song allows dementia sufferers not just to invent a few words and phrases, but compose and perform an entire song cycle. The benefits are extraordinary, and remarkably visible. The biggest change I see is the increased creativity in daily life that this sort of thinking and interacting brings about. Each session begins with a cup of coffee and a chat, and each week each participant's conversation is more alive, more varied, more creative. One individual now brings newly-penned poetry to each weekly session, for example; another brought some sort of Tibetan singing bowl which she proudly showed and demonstrated to the whole group.

The whole project is a powerful reminder for us ambitious, self-orientated students seeking to engage with music at the highest possible level (I've been fitting sessions round concerts in London with the Clare College Choir) of the power of even the simplest music to change people's lives at whatever stage of life they find themselves. For us academic musicians, it is a reminder of the importance and extraordinary benefits of real, physical music music-making, especially singing. Why am I telling you all this? Well, the virtues of a project like Turtle Song should be shouted from the rooftops – but even if I can't inspire you to make something like it happen where you live, I hope you might feel the urge to join in with some active music making community. It's fun and good for mind and body– and if you're as fortunate as I am, it might also be humbling, moving and profoundly inspiring.