American composer John Harbison (b. 1938) had a family connection with F. Scott Fitzgerald (1896-1940) through his uncle who had been a member of same club at Princeton as Fitzgerald. After his first 2 operas failed, Harbison took up Fitzgerald's most famous work, The Great Gatsby, and did sketches for it on the side, as he wrote other works.
Fitzgerald's story based on the rich on Long Island in the fictitious towns of West Egg and East Egg. The mysterious millionaire Jay Gatsby wants to reunite with his married ex-lover Daisy Buchanan but, in this tale of the decadence and extravagance of the roaring 1920s, all ends in sorrow. Some of the key elements of the book are the cars that race between Long Island and New York and between West and East Egg, the new-fangled telephone that keeps the news moving, and the dance parties. As pictured in the recent film by Baz Luhrmann, Gatsby's attempt to capture the illusion of his past collides with the realities of the life around him. He could buy the world for Daisy but society and her own obligations claim her first.
In his 1985 work Remembering Gatsby, Harbison starts by placing us out on Gatsby's dock, as he looks across the water to the green light on the end of the Buchanan dock. Next, the foxtrot starts, placing us in the middle of yet another wild party on Long Island. At the end come the sound of a telephone and a car horn – the two instruments of Gatsby's ultimate fall.
Behind the melody in the soprano sax, we can hear a few problems in the percussion and the brass occasionally, signifying the inherent chaos of the age. From the beginning, there's a troubled undertone that comes to realization in the closing coda. In this brief picture of what would become a full opera, Harbison shows how he can convey not only the party mood but also the disturbances that will ultimately break up the greatest parties of their time.
John Harbison: Remembering Gatsby (National Orchestral Institute Philharmonic; David Alan Miller, cond.)

John Harbison is recognized as one of American's prominent composers – he has been recipient of the MacArthur Foundation's "genius" award and the Pulitzer Prize for his work. In addition to his compositions, he's also a noted poet and wrote the libretto for The Great Gatsby. The opera had its premiere at the Metropolitan Opera in New York in 1999.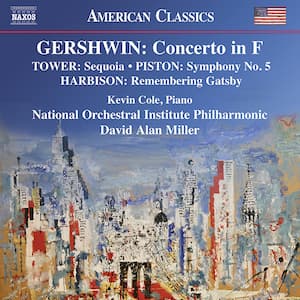 John Harbison: Remembering Gatsby

Performed by
National Orchestral Institute Philharmonic
David Alan Miller

Official Website
For more of the best in classical music, sign up to our E-Newsletter