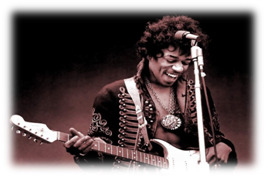 Left-handedness does not only affect one's writing, it can also bring about problems when playing music. The truth is that most instruments are designed for right-handed people, making lefties seem disadvantaged in comparison. However, the elasticity of the human brain has proven that these challenges can be overcome with hard work and discipline.

Jimi Hendrix was known for playing a right-handed guitar with his left hand. It is said that his father forced him to play right-handed because left-handed playing was believed to be a sign of the devil. Hendrix thus took right-handed guitars and restrung them for left-handed playing, and would only play right handed when his father was around. Similarly, blind singer Geoffrey Gurrumul Yunupingu plays a right hand-strung guitar left-handed because it was hard to find a left-handed guitar.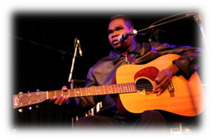 While left-handed guitarists are not uncommon, the reverse seems to be true when it comes to the violin. Ryan Thomson, author of the world's first book on playing the violin left-handed, was originally right-handed. However in 1990 he developed focal dystonia, a neurological condition that affected the muscles in his right shoulder and arm. Although initially overwhelmed with frustration and depression, Thomson defied over 400 years of tradition by converting his violin to a left-handed one and teaching himself to bow with his left hand instead of his right. In overcoming this disability, he discovered that left-handed musicians are usually forced to play right handed by their teachers, making him literally the one and only left-handed violinist at the time.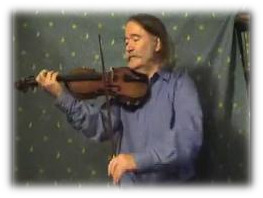 In discovering that many lefties achieve faster progress by following their natural inclinations to bow left-handed, Thomson became one of the first violinists to give students the choice of playing with their dominant hand. The left-handed violin is generally constructed as a mirror image of a right-handed violin. He reflects that teachers who allow their students to play with their dominant hand tend to experience better progress. As a result of learning the instrument twice, he has not only helped many lefties improve their playing, he has also inspired many righties with disabilities to regain their love for music. "To know that sometimes you can make yourself a happier person by moving forward in a different direction than what you can formally do…hopefully other folks will be able to find ways that they can regain and learn some new skills or find new ways of doing something that they used to be able formally do well and bring some happiness into their lives," he says. Lefties may have to fight for the right to play left-handed, however, as they may seem out of place in an orchestra.


Paul Wittgenstein (1887- 1961) was an Austrian-born pianist who commissioned new piano concerti for the left hand alone, after his right arm was amputated during the First World War. However, he and other similar left-handed pianists still resorted to playing the traditional piano designed primarily for righties. What if the piano was changed to suit lefties instead?

British pianist Christopher Seed thought of this. As a natural leftie, he recognised that his left hand had greater power and agility and would logically be better suited for playing the melody. This was especially since most piano music, such as those by Chopin and Mozart, are characterized by an imbalance of left and right-hand notes. Thus in 1997, he commissioned the Dutch firm Poletti and Tuinman Fortepiano Makers to build him the world's first left-handed piano. A complete mirror-image of a 19th century fortepiano, the high notes begin on the left and move down in pitch towards the right. The lid likewise opens from the opposite side, and the pedals are reversed. He says he can now play more of the melodic and elaborate parts with his dominant hand. Not only does this give him a physical advantage, he also claims it is a more instinctive way of playing. The instrument has since received widespread media and public interest, and was exhibited at the International Early Music Festivals in Bruges (1998) and London (2001).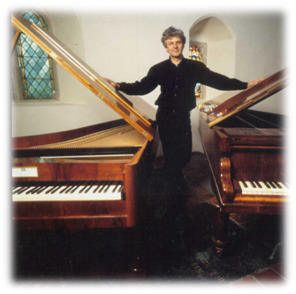 In order to test Seed's theory about left-handed playing, Laeng and Park carried out a study to see whether a group of left-handers, approaching the piano for the first time, would show better performance in playing a reversed keyboard. Although they did perform better, it was also found that the observed preference of naive left-handers for the reversed keyboard can in fact disappear with a few years of practice on a normal keyboard. This initial preference shown by left-handers also appeared to be specific for this handedness group, as right-handers were found to perform better with the regular keyboard regardless of experience. Based on these results, it was hypothesised that left-handers would encounter considerable frustration in learning the "right-handed" piano. However, an informal demographic study of piano students enrolling at a music school did not reveal a substantially low prevalence of left-handed pianists.

Does this mean that reversing the instrument is in fact of little artistic value? To answer this question, Jäncke et al used functional magnetic imaging techniques and neuropsychological test to study a young male musician (CS) who performs at a professional level on both the regular and reversed keyboard (it is probably easy to guess who CS is). It was reported that CS was left-handed with left dominance for language, but displayed right dominance for the control of piano playing for both keyboards. With respect to music perception, CS showed left-sided activation dominance within the left superior temporal sulcus, which is associated with higher order auditory processing. The results suggested that CS's pattern of functional asymmetry could be a factor in his exceptional piano-playing ability on both keyboards.

Photo credits:

http://www.zimbio.com/photos/Geoffrey+Gurrumul+Yunupingu/AIR+Awards+2008/akw4BVIzz5c
http://yustech.blogspot.hk/2011/08/my-up-is-you-down.html
http://www.violinonline.ru/index.php?key=violon_violinist_left_handed_jig&page=1

Videos:
The World's First Left-Handed Piano: Christopher Seed plays Chopin
Geoffrey Gurrumul Yunupingu – Wiyathul
References

Jäncke L, Baumann S et al (2006). Neural control of playing a reversed piano: empirical evidence for an unusual cortical organization of musical functions. Neuroreport , 447-51. http://www.ncbi.nlm.nih.gov/pubmed/16514374

Laeng B, Park A (1999). Handedness Effects on Playing a Reversed or Normal Keyboard. Laterality , 363-397. http://www.sv.uit.no/seksjon/psyk/pdf/laeng/LaPa.pdf

The Left Handed Piano. (n.d.). Retrieved from Lefthandedpiano.com: http://www.lefthandedpiano.com/chris_seed.html