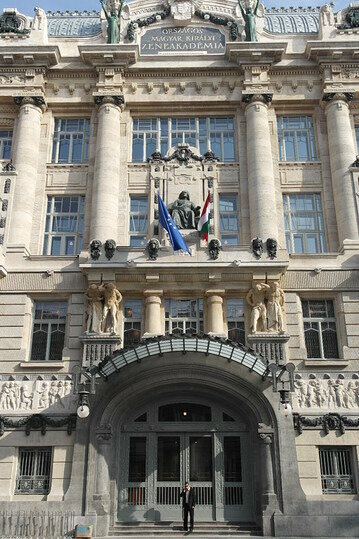 Based in Budapest, the Liszt Academy is one of the most renowned music colleges in Europe, and the world. Founded in 1875 by the composer-pianist himself, it has gone on to become a centre of musical excellence. I talked with Beáta Furka, the head of International Affairs and Development, to see what life is like at the Academy, and what the future holds.

How does your selection process work? Is there a quota to fill, and does this hold even if there are no suitable applicants?

After the successfully completed entry examinations (including tests on performance and music theory) students can start their studies at the Academy. There is a quota set by the state in terms of the 100% state funded places available for Hungarian and for EU students, but the quota is filled only if applicants pass the audition, so at the Liszt Academy talent comes first. The proof of this concept is that more than 99.5% of students finish their studies here, thanks to the highly carefully built selection procedure.

What's the most important thing that students should come away from music college with?

Besides developing the students' technical skills to the highest possible level, the basis of our teaching method is the understanding of the meaning of music. Here, our students are carefully selected based on their musical skills.

However, we are aware of the fact that talent on its own is not sufficient for a successful international career, so we have initiated certain programmes to help our students in self-management skills, including opening a kind of a student impresario unit which manages our most talented students.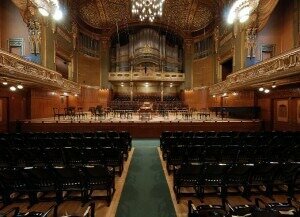 Do you maintain links with your ex-students? Who are your most famous alumni?

From this year we have an alumni secretary whose primary mission is to maintain a close relation with our former students. We also plan to create a channel for possible donations from our alumni – we also have an Alumni Office for this purpose.

Our most prestigious alumni were – or still are – beacons in every musical field, whose contributions to the world's cultural heritage are immeasurable:

– Conductors: Frigyes Reiner, Jenő Ormándy, Antal Doráti, Ferenc Fricsay, István Kertész, György Solti
– Pianists: Béla Bartók, Ernő Dohnányi, Géza Anda, György Cziffra, Andor Földes, Annie Fischer, György Sebők, Péter Frankl, Tamás Vásáry, András Schiff, Zoltán Kocsis, Dezső Ránki
– Singers: Szilvia Geszty, Éva Marton, Júlia Hamari, Ilona Tokody, László Polgár, Andrea Rost
– String players: József Szigeti, Zoltán Székely, Ede Zathureczky, Sándor Végh, Loránd Fenyves, Dénes Kovács, György Pauk, János Starker, Miklós Perényi
– String quartets: Léner, Magyar, Végh, Tátrai, Bartók, Kodály, Takács, Keller
– Composers: Béla Bartók, Zoltan Kodály, György Ligeti, György Kurtág, András Szőllősy, Péter Eötvös, Zsolt Durkó, Emil Petrovics, Sándor Szokolay

Is there anything about your teaching method that you believe to be unique about your School? In addition, do you have any courses about stress or stage fright management?

The most unique feature of the teaching method used at the Academy is the strong focus on teaching conducted on a one-to-one basis by highly passionate teachers. The professors of today are usually the 4th generation of direct descendants of the founders of certain faculties, meaning that there is a tangible continuity of the founders' teaching style, the famous example being the piano faculty which was established by Liszt himself.

By practicing the art of performing, students develop stage fright management skills and learn how to cope with the on stage stress. We also have courses on performance skills and psychology, covering special techniques for stage fright and stress management.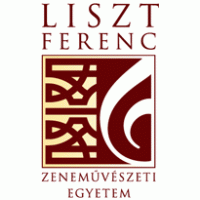 How many opportunities do your students have to gain performance experience and/or contact with the profession whilst studying?

Stage experience is essential in the process of becoming a professional musician. The module 'Performance Practice' means every student puts on at least one concert per term. Students can also gain experience in engagements outside the Academy, including playing at museums, ceremonies and festivals.

The students also have the opportunity to participate in the concert life of the Liszt Academy, making use of one of the most beautiful concert halls in Europe.The concert management centre attached organises hundreds of concerts per year, both within the academy and with international artists.

How different do you believe the varying career paths (solo player, chamber and orchestral musician) are, and how does your teaching reflect this?

We do not believe in a sharp line between the varying career paths. Excellent solo players are usually also excellent chamber musicians, and they often play in orchestras, too.

We have had a long discussion in-house about launching a specific chamber music MA education programme leading to a diploma, but for the time being the idea was dropped.

As far as the orchestral focus is concerned, the curricular program of today seems to be in a need of a reform. Though we have orchestral practice with many concerts, we must transform our education programme to focus more on orchestral playing.

Do you encourage your students to participate at international competitions?

Appearing at the international scene and adopting the achievements of international streams has always been part of our credo. Introducing students to the experience of performing on stages of different countries has a huge role in our curriculum. However, we do not believe in the absolute 'authority' of competitions, so we try to select the most appropriate ones.

Official Website