Austrian composer and pianist Joseph Marx (1882-1964) started his life under his mother's piano, listening while she practiced. When she noticed his own musical gifts, she sent him off to music school and he developed his pianistic skills. His talents were enough that his teacher declared that he would be a second Rubinstein, although this was not to be. In addition to piano, he also was an accomplished violinist and cellist. As a young composer at the turn of the century, he was influenced by composers as diverse as Debussy and Scriabin. He met the composer Max Reger and impressed him with his knowledge of even Reger's most obscure works.
He wrote and performed many piano works, many of which remain unpublished, and, between 1905 and 1912 wrote about 150 songs for piano. Finally, around 1930, he started to publish his first orchestral works.
Castelli Romani (Roman Castles) was inspired by a trip to the region, which is about 20 km southeast of Rome. A volcanic region, it has about a dozen towns and many lakes and now is a major wine-producing area close to the capital. The Pope has his summer residence in the area at the Castel Gandolfo and many families from Rome starting in the Roman era have used the area as a cooler place than the hot city in the summer.
Marx's second piano concerto Castelli Romani had its premiere in 1931, with Karl Böhm conducting and Walter Gieseking as soloist. In the work, Marx paints broad pictures of the Mediterranean area. The first movement, Villa Hadriana, refers to Hadrian's Villa, a Roman ruin in Tivoli, Italy. The original villa had been constructed around 120-130 AD as a retreat for the Roman Emperor Hadrian.
A villa, in the Roman Imperial sense, was more a small village than a house, particularly when, around 128 AD, Hadrian used the villa as his official residence and led his court from outside Rome. The villa was abandoned in the 500s and was used to build other residences in the neighborhood.
In his musical imagery of the villa, Marx captures the glories that were Rome. Hadrian used the villa to display his collection of treasures from all over the world and Marx gives us some of that imagery. You can even hear a Roman legion stomp through at one point (not unlike Respighi's evocation of them in his Roman pieces).
Joseph Marx: Castelli Romani – I. Villa Hadriana: Allegro (ma non tanto) (David Lively, piano; Bochum Symphony Orchestra; Steven Sloane, cond.)

Pianist David Lively (born 1953) was born in the US but makes his career in France, where he heads the Saint-Lizier festival and is the Director of the École normale de musique de Paris competitions.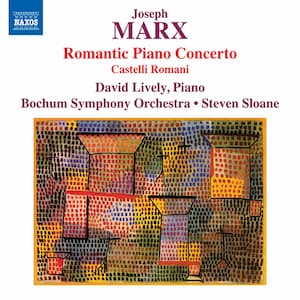 Joseph Marx: Castelli Romani

Performed by
David Lively
Bochum Symphony Orchestra
Steven Sloane

Official Website
For more of the best in classical music, sign up to our E-Newsletter