I debated whether I should go to the Beijing Music Festival or not, as I had just returned from over four weeks of traveling in Europe, which included the Queen Elisabeth Musical Voyage, and was looking forward to some peaceful rest time at home.

Nevertheless, I decided at the last minute that if I missed the opportunity to go this time, I would have to wait another year before the next festival, therefore, even if it is only for two days, it's still worth the effort.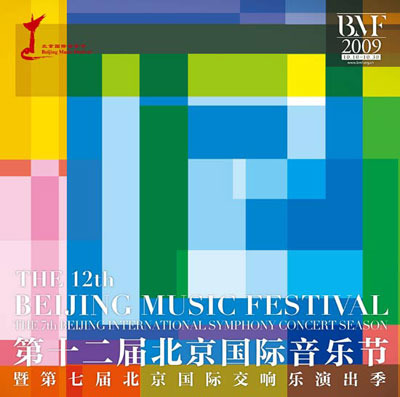 The BMF has a very well-designed website that is clear with all programme details, but is absolutely useless in terms of tickets sales for non locals – I ended up having to go through friends and connections in order to get tickets for concerts.

My unique first BMF experience was held at the Poly Theatre, a venue with no charm or character, or for that matter, acoustics fit for any decent classical music concert.

On that evening's program was the violinist Sarah Chang with the Academy of Saint Martin in the Fields.

Sarah Chang has always been one of my favorite violinists. My first encounter with her talent was through the DVD Spanish Night, filmed when she performed with the Berliner Philarmoniker under the baton of Placido Domingo. At the time, I remember thinking: what a charming, delicious young lady, and the playing was pure delight.

A few years later, I heard her live with the English Chamber Orchestra in Shanghai, and again I was completely under her charm.


Unfortunately, in Beijing, I had a complete different experience. Chang was extremely aware of her good looks, and was more engaged with rearranging her tight evening gown than Mr. Bruch's violin concerto. The playing was plain, the sound was off and the overall experience was lukewarm.

I was expecting something a bit more uplifting after the intermission, but Symphony No. 3 by Mendelssohn, performed by the Academy of Saint Martin in the Fields with Gerard Korsten at the helm, was again pretty flat. There were no surprises, good or bad, a most disappointing effort from such a renowned orchestra.

The next day, I decided to go for an entirely different experience, buying a ticket for Xi Shi, an opera produced by NCPA (National Centre for Performing Arts), staged at NCPA, or the National Grand Theatre,  known affectionately as The Egg.

Designed by French architect Paul Andreu, who also designed the Paris Roissy Charles de Gaulle airport, The Egg is extremely impressive from the outside, and especially in the evening; it is stunning with all the lights on.

Once inside, the atmosphere is pretty close to Roissy airport – cold and impersonal. It's very unfortunate as no effort was deployed to make the whole venue more sophisticated and more in line with the dramatic façade.

Don't bother looking for a champagne bar during the intermission, like you would in London or Paris (though admittedly, even in Hong Kong, we only started seeing champagne very recently). The so-called bar was basically a small coffee and tea machine counter with a few soft drinks.

But onto the main event. Xi Shi, a brand new opera composed by Lei Lei and written by Zou Jingzhi, is a story about one of the four famous Chinese beauties, Xi Shi.

The design of the programme was quite sophisticated and gave sufficient explanation about the work and the cast.

The music was nothing to write home about, with some Hollywood-style musicals bits and pits, and the libretto was more then boring. All opera lovers are used to having sentences repeated at least twice, in order to fill the music, but here, we are talking about multiple repeats such that audience is made to feel like they are supposed to be deaf or stupid.

Nevertheless, I must say that there is one highlight amid these disappointments, and that is really the cast. I have never heard so many talents and great voices concentrated in one opera. Zhang Liping in the title role was mesmerizing, the tenor Dai Yuqiang has a most intense yet lyrical voice; the baritone Yang Xiaoyong was excellent; and the coloratura soprano Wu Bixia was amazing, especially in how powerful her voice can be for such a petite frame.

I had a most enjoyable evening just listening to these wonderful voices, and will be watching for more of their performances in the near future.

Zhang Liping

Dai Yuqiang
Wu Bixia
More information about the event could be found
here
.
Beijing
I have always preferred Beijing to Shanghai, for the city is more cultural and less stressful than my hometown.
And probably for the above two reasons, the dining options are less extensive and sophisticated, as Beijing people are much more casual and less demanding.
This time I chose to stay at the Grand Hyatt because of its convenient location. The hotel is decent, but the rooms do need some revamping. I visited the hotel's in-house Chinese restaurant, Made in China, which purportedly serves the best duck in town, but I must say it was quite a disappointment. The duck was very oily and quite tasteless, and moreover, for such a high-end restaurant, the service was close to non-existent.
Happily, I had few better experiences: one is Xiao Wang Fu, located in the Ritan Park,  a perfect venue for dinners when the weather is warm, featuring simple and tasty local fare at very reasonable price.
Ding Ding Xiang is also great place to go with a group of friends. Each person is provided with his own hot pot, and you can order a huge variety of meat, vegetables and fish, choose your own sauce and start cooking for yourself at your own pace. It is fresh, good, hearty and fun.
Apart from the must-see landmarks such as the Forbidden City or the Great Wall, the 798 Dashanzi Art District is also worth a half-day excursion, an ex-factory compound that was converted into a contemporary art centre, where one can stroll along the galleries and chill out in some avant-garde cafes.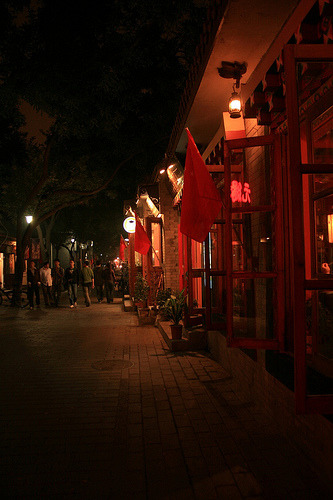 Conversely, go to Nanluogu Xiang, an old hutong filled with hip eateries and designer boutiques.
The day I left Beijing was a most memorable one; it started snowing quite early in the morning, and by the time I was heading to the airport, the whole city was covered in white. The scenery was just so beautiful, pure and serene.
This is one of very rare moments that I regret not having an iPod (no, I don't have one, have to learn how to download first…) It would have been great to listen to some Mozart piano sonatas while sitting back and being driven through the almost-empty wide avenues. Nature and music intertwined, what more could I ask for?
Perhaps a glass of champagne as an accompaniment?
Photo credits:
flickr.com