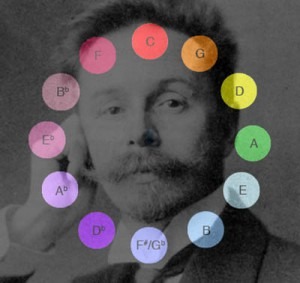 There is a fine line between genius and madness. Given the current zeal for psychoanalyzing dead composers, Alexander Scriabin (1872-1915) would seem to be a perfect subject. He showed serious mental instability during the early stages of his life, and eventually believed that the world could only be saved through his art. He certainly had hallucinations, and saw the end of the world culminating in a grandiose sexual orgy. Vladimir Ashkenazy has lauded Scriabin's greatness and suggested that the composer can only be understood in his homeland, with pianist Vassili Safonov calling him "Russia's Chopin." Yet, Sergei Prokofiev had nothing nice to say whatsoever, and Rimsky Korsakov found Scriabin to be "self-opinionated, warped, strange and distorted." When Scriabin published his Piano Concerto in F-sharp minor, Op. 20, the famous pianist Alexander Glazunov once said, "this piece proves without the shadow of a doubt that Scriabin has lost his mind," to which Rachmaninoff replied, "He never had a mind to loose!"

Alexander Scriabin: Piano Concerto in F-Sharp Minor, Op. 20
During his lifetime, Scriabin was primarily known as a pianist, with Igor Stravinsky marveling at his phenomenal playing. Yet Scriabin also had the uncanny talent of making enemies, including his composition teachers. Sergei Taneyev was not impressed, and Anton Arensky failed Scriabin in his examinations. And you don't even want to know what Rimsky Korsakov was saying about him! Abrasive and narcissistic personality aside, Scriabin had a unique and rather unusual compositional voice. The Fantasy for two pianos was composed in 1892, but not published during his lifetime. Although steeped in the romantic stirrings of the youthful composer—who was possibly trying out an early version for a planned concerto for piano and orchestra—the music is full of idiosyncratic twists and turns.

Alexander Scriabin: Fantasy for 2 Pianos
One of the great revelations in Scriabin's life was his association with Helena Blavatsky, one of the founding members of the theosophic society. Theosophy espoused to find hidden knowledge or wisdom in all faiths, philosophies and cults, and offered individual enlightenment and salvation. Scriabin was at a crossroads. He had left his wife, his four children and Russia for Tatyana Schloezer, and made his home in Western Europe. The discovery of a new spiritual realm coincided with a new direction in music. He created his own surreal universe by elevating decorative or passing chords to a central position in his compositions. Time and space seemingly disappear, as this music is filled with color, perfume, fantasy, dance and illusion.

Alexander Scriabin: Deux Poèmes, Op. 32
Scriabin suffered from the natural condition of synesthesia, which made him associate musical notes and keys with colors. For example, the pitch "D" represented bright yellow, while "A" looked like dark green, and "D flat" felt like deep purple. In addition, in his late works traditional tonality is replaced by a set of unique harmonic spaces that inhabit a world of polyrhythmic uncertainty. In his quest to transfigure the word, Scriabin thought it necessary to confront the forces of evil. His Ninth Sonata is aptly nicknamed "The Black Mass," and Scriabin tellingly regarded the performance of this work as "practicing sorcery." Whatever the case may be, it is certainly a work of great musical concentration and extreme emotional intensity.

Alexander Scriabin: Piano Sonata No. 9 in F Major, Op. 68 "Black Mass"
Scriabin was controversial during his lifetime, and he remains provocative even today. Whether one agrees with Scriabin's philosophy or not—he did at one point believe that his own power was greater than God's—there is no denying that his compositions are a musical force to be reckoned with. It all comes down to whether one is willing to accept a degree of separation between biography and artistic expression.