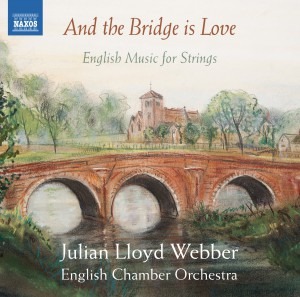 We forget how much the English contributed to the beauty of orchestral music through their lush pastoral string writing. And the Bridge is Love, a new recording by the English Chamber Orchestra led by Julian Lloyd-Webber, brings all of this back to us. The recording is centred on music by Elgar, with excursions into Vaughan Williams, Delius, and up to modern composers such as Howard Goodall. And, because this is led by cellist Lloyd-Webber, the cello sound comes through beautifully.

Elgar, who really only achieved his breakthrough with the success of the Enigma Variations, begins the recording with two early 20th-century works: Introduction and Allegro for Strings, Op. 47 (1905) and 2 Sospiri, Op. 70 (1914), but later in the recording are arrangements by W.H. Reed, Elgar's friend and biographer, of Elgar's two Op. 15 works: the Chanson de nuit, Op. 15, No. 1 (1897) and the Chanson de matin, Op. 15, No. 2 (1899). Reed made these arrangements in 1939, but the works had originally been violin pieces, the second, written in 1897, dedicated to an amateur violinist in Worcester, and the first, written as a companion piece in 1899. The works were originally orchestrated by Elgar and performed in London in 1901, and these 1939 editions by Reed have never been recorded. They have a lighter feeling than Elgar's arrangements and there's a great deal of style in this performance.

The composer William Lloyd-Webber, father of Julian and Andrew, was a student of Elgar's and his influence is evident in the work here. The song, 'The Moon,' setting a text by the Welsh poet William Henry Davies (1871-1940) appeared in 1950. Soon after, the composer arranged it for strings and it has never been recorded until now, a century after his birth.

Frederick Delius, quietly suffering in Paris from partial paralysis, had, as his amanuensis, the young composer Eric Fenby. Fenby made arrangements for string orchestra of two songs 'to be sung of a summer's night on the water,' written for Charles Kennedy Scott and his Oriana Choir. The first performance of the a cappella work was in 1921. Fenby made his arrangements in 1932 and Delius' wife, Jelka, sent them to Sir Thomas Beecham. Fenby's arrangements gave a new life to the little works and they remain in the repertoire as orchestral, rather than choral works.


Other works on this recording include selections from Vaughan Williams'
The Charterhouse Suite
, which itself is an arrangement of the
6 Short pieces for Piano
; two works from William Walton's music for the 1944 movie
Henry V
; and a selection from John Ireland's
A Dowland Suite
(1942).
One notable work on the recording is the title work, Howard Goodall's
And the Bridge is Love
, written in 2008. The title comes from Thornton Wilder's novel
The Bridge at San Luis Rey
, and was written in honor of a young cellist who died in 2007. The work was commissioned by the Chipping Campden Festival and was given its première in 2008 with Julian Lloyd-Webber as soloist. This performance is carefully crafted and the work is beautiful and fits in well here, despite dating from some 69 to 80 years after most of the other works in this collection. Julian Lloyd-Webber has said that this performance of Howard Goodall's work is his final recording as a cellist.
Chanson de Nuit & Chanson de Matin – Op. Nos 1 & 2 – Elgar