Solitude….suffering….and the supernatural. Yes, we're in the middle of Romanticism and when one of the most romantic of composers, Robert Schumann, takes up the romantic tale of Count Manfred as told by the most romantic of poets, Lord Byron, we have a work that encompasses two worlds of Romanticism.
Schumann wrote a complete set of incidental music to a German translation of Byron's verse drama, completing it in 1849. It is rarely performed today but the Overture continues to feature on the concerto stage.
In his poem, Byron tells the story of Count Manfred, son of a Swiss noble family. He lives in the Bernese Alps and he suffers from internal torment related to the death of his beloved, Astarte. He casts a spell and summons 7 spirits from whom he demands forgetfulness about Astarte. Unfortunately, the spirits cannot control the past and cannot help him. He eventually seeks death, but defies both heaven and hell in the end and gives his soul only to death, not to religion.
In his Overture, Schumann has managed to encapsulate the principal ideas of Byron's poem. From a slow prologue, we are swept up into Manfred's mountainous world where the principal theme emerges. The main body of the work continues to pull from Manfred's internal agitation but at the end, the elusive elements of the prologue return and the final feeling is resigned and tragic.
Robert Schumann: Overture to Manfred, Op. 115

Bamberg Symphony Orchestra under German conductor and composer Robert Heger was recorded in 1960. The Bamberg Symphony Orchestra, from 1993 also known as the Bavarian State Philharmonic, was founded in 1946 by German musicians who had been expelled from Czechoslovakia after the war. Heger conducted a number of important premieres, including Paul Wittgenstein's performance of Maurice Ravel's Concerto for the Left Hand with the Vienna Symphony Orchestra.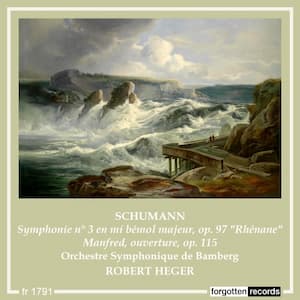 Performed by

Robert Heger
Orchestre Symphonique de Bamberg

Recorded in 1960

Official Website
For more of the best in classical music, sign up to our E-Newsletter