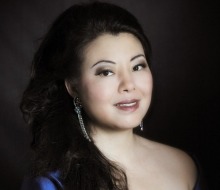 Born in China, soprano He Hui won the 2nd prize at the International Competition 'Placido Domingo Operalia'. After the competition, she was immediately invited by Placido Domingo to perform with him in Shanghai in 2001. Nowadays, she is regarded as one of the most famous interpreters of the title role in Puccini's Madama Butterfly. You may catch her performance in Minghella's production of Madama Butterfly on the 21st and 23rd September, in the Guangzhou Opera House.

JL: Jenny Lee
HH: He Hui

JL: You made your international success as Cio-Cio San in Puccini's Madama Butterfly at L'Opera de Bordeaux. Now you are bringing this role back to your country, at the Guangzhou Opera House. How do you feel about this production by Anthony Minghella?

HH: It is the fist time for me to perform in Minghella's production and I'm looking forward to it. This production has a good reputation and has been staged in many important theatres. And I have seen some pictures and videos, they are magnificent. In addition, Guangzhou Opera House also invited Daniel Oren this time. I think Oren is the best opera conductor in the world. He and I have worked together for many years and we understand each other very well.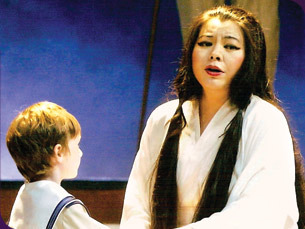 JL: You were chosen to perform in the Italian production of Madama Butterfly which celebrated the centenary of its performance. It toured around Italy. What is your secret in getting into the heart of the role of Cio-Cio San?

HH: Cio-Cio San in Madama Butterfly depicts the psychology of a little girl to a married woman. As a Chinese, I can fully understand her being faithful to Pinkerton till her death. Butterfly has a strong character.

JL: Would you consider winning the 2nd prize at the International Competition 'Placido Domingo. Operalia' in 2000 as the turning point in your career?

HH: After I won the 2nd prize at the International Competition 'Placido Domingo Operalia' in 2000, an Italian manager contacted me. My first contract was with Teatro Regio di Parma to play Tosca. The city of Parma is home to Verdi, and the audience there is very critical. Many world-famous singers wouldn't panic in La Scala Opera House but get nervous in Teatro Regio di Parma. One could possibly be driven off the stage by local audience if the performance is not good enough, regardless how famous they are. So having my debut in Italy at Teatro Regio di Parma was a big challenge for me. I achieved great success in that performance and soon, other Theatres started to offer me contracts, like The Teatro Regio in Turin, Arena di Verona and other theatres in France. I was under high pressure at the beginning. Because I have to work on a different opera every month and they were all debuts. There were all kinds of things to learn and it was really challenging. However, I made an enormous progress by working with so many different conductors, singers and orchestras in different theatres. These experiences are most important in my life.

JL: How and when did you start your musical path?

HH: Before I went to study abroad, I have an inborn passion for opera. But later I found out that having passion and a good voice are not enough. When studying abroad, I had four art instructors and they taught me about the tradition and styles of Italian operas. I made huge progress in Italian and the way I interpret the music. I'm very grateful to my instructors.

JL: Singing requires not only musicality, but also acting and language skills. How have you conquered the latter?

HH: I think for Chinese singers, apart from training our voices, we should focus more on learning western opera culture, understanding the culture that lies behind the language and grasping the operatic styles. An actor has to be very sensitive to director's conceptions; they have to be clear about what the director wants to present.

JL: You excel in performing in Madama Butterfly, Tosca and Aida. Is there anything else you would like to explore in the future?

HH: I'm looking forward to the debuts of many opera productions, for example, Norma and Don Carlo. I also want to try Wagner in a few years.


Madama Butterfly – Un bel dì vedremo – Hui He
Hui He soprano: Morrò, ma prima in grazia