"No sooner had the warm liquid mixed with the crumbs touched my palate than a shudder ran through me and I stopped, intent upon the extraordinary thing that was happening to me. An exquisite pleasure had invaded my senses, something isolated, detached, with no suggestion of its origin…. And suddenly the memory revealed itself. The taste was that of the little piece of madeleine which on Sunday mornings at Combray (because on those mornings I did not go out before mass), when I went to say good morning to her in her bedroom, my aunt Léonie used to give me, dipping it first in her own cup of tea or tisane. The sight of the little madeleine had recalled nothing to my mind before I tasted it. And all from my cup of tea." – Marcel Proust, 'In Search of Lost Time'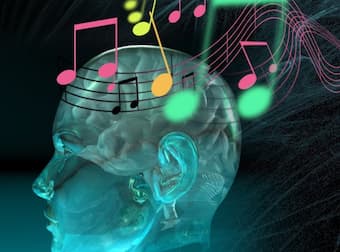 It's one of the most quoted passages in literature, in which Proust perfectly explains the effect of the "involuntary memory" – the way in which a sensory experience, such as eating a madeleine, can suddenly bring back a hidden recollection.
Music also has an extraordinary power to summon memories. You can be quietly sitting at your desk, listening to the radio, when a piece or song plays and you're immediately transported back to another time or event. Sometimes, even a single phrase is enough. We all have pieces or songs like this, tucked away in the recesses of our memory, which, on hearing, can take us back to a certain place or significant point in our lives (I'm no fan of the music of 1980s pop sensation WHAM! but their song 'Club Tropicana' will immediately, and very powerfully, take me back to a student party in 1988, where I met my future husband.)
WHAM! Club Tropicana
We listen to music because it has meaning: it can offer solace during tough times, raise the spirits, or simply provide relaxation. Music can take us back to earlier times, good times, sad times, strange times…. Henceforth, I will never hear 'Ghost Town' by The Specials without recalling those monotonous, soul-sapping days of lockdown; it was on one of my son's Spotify playlists, a compilation of reggae and ska tracks which we listened to repeatedly during the months when he was out of work and moved back in with me.
Ghost Town, The Specials
Curiously, it's pop music rather than classical music which evokes the strongest "sonic madeleines" for me, perhaps because most of my pop music listening days were my teens and 20s, a time when one is finding out about relationships, falling in and out of love, leaving home to go to university, forging new friendships and beginning to carve one's path in life. I was a student in the mid-1980s and songs by Spandau Ballet, Ultravox, Heaven 17, Madonna, Simple Minds, Talking Heads and, yes, Wham!, formed an important soundtrack to those years.
But there are classical works too which also induce a Proustian rush for me, perhaps most powerfully the opening movement of Beethoven's 'Spring' Sonata for violin and piano. The first subject takes me straight back to September 2006, the days lit by warm autumn sunshine and a Sunday afternoon drive to the grand, stately house of Petworth, in Sussex, with the sonata playing on a CD in the car. It was the autumn of my 40th birthday, a difficult period in my adult life, when I realised, with a shock, that the boundaries of one's emotional life are not completely impermeable, and that being married does not make one immune to another person's attention and admiration.
Ludwig van Beethoven: Violin Sonata No. 5 in F major, Op. 24 "Spring" – I. Allegro (Renaud Capuçon, violin; Frank Braley, piano)

Another piece takes me much further back is Handel's Concerto for Lute and Harp. The opening measures are enough to transport me to my godfather's flat in Hampstead. He was cultured man who enjoyed classical music, literature, good wine and food, and I loved visiting his flat with its book-lined walls and its special smell of his citrus cologne mingled with the aroma of Sunday lunch. He always had music playing on the hi-fi in his flat, and he often took me to concerts at the Royal Festival Hall. The ultimate treat was a ride in a London black taxi back to his flat after the concert.
George Frideric Handel: Organ Concerto No. 6 in B-flat major, Op. 4, No. 6, HWV 294 (arr. T. Dart for harp, lute and orchestra) – I. Andante – Allegro (Desmond Dupré, lute; Osian Ellis, harp; London Philomusica; Granville Jones, cond.)

On a more serious note, music can help people with memory loss, dementia and Alzheimer's. It can trigger memories in people with even very advanced cognitive impairment, enabling them to recall past times and connect to their previous life. Memories of songs or specific pieces of music are linked to one's personal and cultural identity, history and life events.
Music can enliven, stimulate and enable people to express themselves and help keep them connected to loved ones when the power of speech may be lost through the disease, and the ability to appreciate and engage with music remains remarkably intact even as cognitive functions deteriorate. Music is unquestionably a welcome source of comfort to many people with this devastating illness.
"Music imprints itself in the brain deeper than any other human experience. Music evokes emotion and emotion can bring memory. Music brings back the feeling of life when nothing else can." – Dr. Oliver Sacks
For more of the best in classical music, sign up to our E-Newsletter
Nikita Vladimirovich Bogoslovsky: Dark Night: Two Soldiers (arr. K. Cséki and R. Lakatos for chamber ensemble) (Till Bronner, trumpet; Roby Lakatos, violin; Laszlo Boni, violin; Oszkar Nemeth, double bass; Attila Rontó, guitar; Kálmán Cséki, piano; Ernest Bango, cimbalom)