"all these works have rarely been recorded…..most people don't know about them, and I would like to bring them to the forefront. I am always interested in great works that deserve more attention."
Sheng Cai, pianist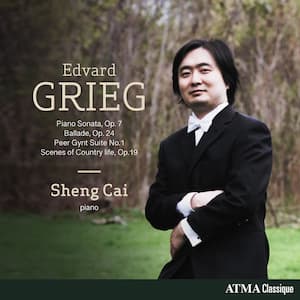 A leading composer of the Romantic era and an icon of Norwegian music, Edvard Grieg (1843 –1907) is perhaps best known for his Peer Gynt Suite, his Piano Concerto in A minor and the Lyric Pieces for solo piano. In his new release, Chinese Canadian pianist Sheng Cai introduces listeners to lesser-known piano music by Grieg, which he feels merits more attention.
Championed by earlier piano legends Alicia de Larrocha and Glenn Gould, Edvard Grieg's only piano sonata is the main work on Sheng Cai's new recording on the Atma Classique label. Written when the composer was just 22, Sheng Cai feels this youthful but sophisticated sonata, rich in contrasting expression and pianistic textures, is an unfairly neglected masterpiece that deserves more attention. He makes a persuasive case for it in an authoritative account which captures the myriad drama and intensity of this work and reveals Grieg as a master of sonata form.
Grieg: Piano Sonata in E Minor, Op. 7 – II. Andante molto
Grieg's Peer Gynt Suite is more usually heard in the orchestral version and this arrangement is most familiar to listeners. However, in the piano transcription we hear new subtleties, textures and effects not always obvious in the orchestra writing. 'Morning Mood' has an appealing naiveté and freshness, as befits its title, while 'The Death of Aase' is a simple, sombre hymn. 'Anitra's Dance' provides a quirky, foot-tapping interlude before the rambunctious 'In The Hall of the Mountain King', in which Sheng Cai combines gusto, pacing and bravado to create a dramatic finale to this suite of pieces.
Grieg: Peer Gynt Suite No. 1, Op. 46 (trans pour piano) – IV. In The Hall Of The Mountain King
The other rarely-heard work on this disc is the Ballade in G minor, a piece which Rachmaninoff held in such high regard that he modelled his Corelli Variations on it. The work is unusual in that it is structured as a series of contrasting variations on a haunting Norwegian folk song. Yet despite its tight organisation, it has an appealing spontaneity which is fully realised in Sheng Cai's performance: lightness of touch in the more delicate passages contrasts with grand sonorities, and an acute sense of the music's mercurial qualities.
This is further confirmed in his performance of the shorter pieces on this disc. 'Scenes of Country Life', a set of three miniatures which elevate simple folk melodies to the status of salon pieces, display in microcosm all the characteristics which make Grieg's larger-scale and orchestral works so appealing. And Sheng Cai handles these pieces with sensitivity and aplomb, with nuanced dynamics, sprightly rhythms and supple tempi.
Recommended.
For more of the best in classical music, sign up to our E-Newsletter