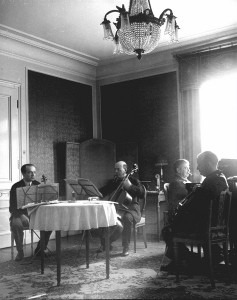 During summer holidays they engaged a personal trainer who coached them in shot put and gymnastics. They also went on extended hiking tours through the Black Forest and the Eifel mountain range that lasted several weeks. In October 1928 the couple moved into a large apartment at Sachsenplatz, and Paul wasted no time in erecting a gigantic model railway. A student remembers, "At that time he possessed 300 meters of track and the most sophisticated electric equipment with remote-control track switches and signals. On Sundays he could sit down and work out a meticulous timetable that would have done honor to any station manager. The hours in normal operation were represented in minutes, and minutes in seconds. When the participants were together, the railroad was built up for a half a day through three rooms. Operation started in the afternoon; each person received a timetable and stopwatch, and had to operate a train that was required to adhere exactly to the indicated stops and passing places and arrive precisely at the right second. Mrs. Hindemith said that the men would often appear pale and exhausted at 2 or 3 in the morning and ask for schnapps, especially if Artur Schnabel, another railway fanatic, was present." When the boys were not playing with their toys, the Hindemiths arranged for musical evenings at their home. A whole host of artists, composers and authors, among them Igor Stravinsky, Walter Gieseking, Bert Brecht, Gottfried Benn and Carl Zuckmayer enjoyed their hospitality. On occasion, Hindemith composed short pieces, which he performed together with his wife.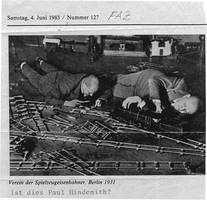 Darius Milhaud
Viola Concerto No. 1, Op. 108

Besides holding regular employment in Berlin, Hindemith was increasingly asked to appear as soloist and conductor in concerts around Europe. In October 1929 he premiered the Viola Concerto by William Walton, and only two months later the Viola Concerto by Darius Milhaud, which was dedicated to him. In May 1933 he appeared together with Schnabel, Huberman and Casals in several concerts at the Vienna Brahms festival! Without fail, Gertrud accompanied her husband and increasingly took over the role as his personal secretary, arranging and organizing concerts, and taking care of all professional correspondence. Just when the Hindemiths comfortably settled into an incredibly busy and hectic routine, nationalist voices began to direct vehement attacks against the composer. It all cumulated with Joseph Goebbels labeling him "an atonal noise maker" in 1934. Hindemith took infinite leave from the Berlin Music Academy and accepted projects in Turkey and the USA; having a child was probably the last thing on their minds!

In most cases, prenuptial agreements or matrimonial regimes include provisions for division of property and spousal support in the event of divorce or breakup of marriage. However, these contracts rarely regulate issues relating to the children of a marriage, particularly, custody and visitation rights. It gets even murkier if a couple decides not to have children in the first place! I don't believe that Paul Hindemith and Gertrud Rottenberg ever signed a prenuptial agreement, but they certainly decided at some stage in the relationship to forgo the pitter-patter of little feet for the experimental sounds of Paul's music. Initially, however, the newlywed couple was simply too busy! In 1927 Hindemith accepted a professorship in composition at the Berlin Music Academy joining the likes of cellist Emanuel Feuermann, violinist Georg Kulenkampff and the pianist Artur Schnabel. The Academy was under the direction of Franz Schreker, who initiated classes in the new media of film and radio, and inaugurated the performance of Early Music on original instruments. The Hindemiths absolutely adored living in Berlin and soaked up the wide possibilities of cultural life offered by the metropolis. They regularly went to the movies and watched the newest films with Charlie Chaplin and Buster Keaton. With equal regularity, they went to the Cabaret and the newest productions of the Kroll Opera under the musical directorship of Otto Klemperer. He took boxing lessons and studied Latin and mathematics, she took gymnastics and swimming lessons, and both went to football matches.