Incoming Artistic Director sees Dartington International Summer School as a "laboratory" for musicians and composers to experiment and explore
Since its foundation in 1947, Dartington International Summer School (DISS) has been a place where musicians, professional and amateur, come together to create and innovate, support one another and gain expert tuition from some of the world's leading artists and teachers. It has been host to some of the greatest musicians and composers, including Arthur Rubinstein, Igor Stravinsky, Imogen Holst, Benjamin Britten, Peter Maxwell Davies, Ravi Shankar, amongst many others, and continues to attract top artists from around the globe.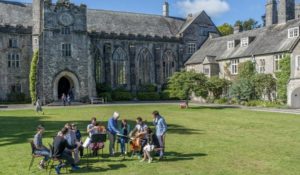 When it moved from its original home at Bryanston, a progressive school in Dorset, UK, the Summer School arrived at a place which was already rich in experiment and vision. In the 1920s Dorothy and Leonard Elmhirst purchased the neglected 14th-century Dartington estate and set about restoring the buildings and regenerating the land. Their pioneering 'Dartington Experiment' saw the creation of a wealth of farming, forestry and education projects, and early initiatives included the progressive Dartington School, Dartington Tweed and later Dartington Glass. The place quickly became a magnet for artists, writers, poets, architects and musicians, and was a hub for creativity, innovation and learning. The Elmhirsts believed that people thrive best in an environment which nourishes the whole self and Dartington Hall Trust continues to promote this ethos with a broad learning programme, including the summer school, with an emphasis on cooperation, collaboration and 'learning by doing'.
Purcell: Gentle shepherds, you that know, Z. 464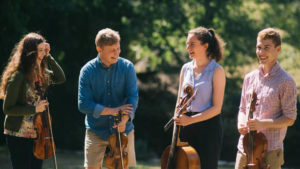 Today, DISS sits very comfortably with the original philosophy of the Dartington Experiment: in the idyllic tranquil surroundings of Dartington Hall, musicians hungry to explore new musical landscapes come together to collaborate, create and learn by doing. Since its foundation, thousands of participants have shared in Dartington's magic, from renowned musicians such as Peter Maxwell Davis, Nadia Boulanger, Richard Rodney Bennett, Anne-Sophie von Otter, Alfred Brendel, Natalie Klein, and Tamara Stefanovich (to name but a few) to keen amateur musicians who go to learn, be inspired to play at the highest possible level, mingle with other musicians and like-minded people, and thoroughly immerse themselves in Dartington's compelling and diverse community of performers, composers and thinkers. The summer school is unique in that it brings together amateur and professional musicians, particularly young professionals. Music is a great leveller and at Dartington there is little sense of demarcation between amateur and professional players, no "them and us", for we are all equal in the face of the music. There is also a very palpable sense of common purpose and intent, a desire for self-improvement, to learn, and forge friendships, the unifying thread of course being music. The opportunity to explore other music is also a hugely important part of the DISS experience. One is not confined only to one's chosen course and all the classes are open so that one can drop in on conducting, chamber music, percussion and singing, if one so desires. Learning from other instrumentalists is so important and gives a broader, more informed approach to one's own music making.
Ravel: Gaspard de la nuit: I. Ondine
Incoming Artistic Director Sara Mohr-Pietsch is fully aware of Dartington's reputation and heritage, and is keen to remain faithful to the original concept of DISS while building on what Joanna Macgregor has put in place during her five-year tenure as AD and introducing fresh initiatives. These will include public masterclasses in the Great Hall, opportunities for conversations about music, including concert presentation and programming, and audience engagement, and the creation of a daily 'open space' session within the course programme to give participants time to step back and reflect on what they have been doing, to generate new work, create taster sessions and curate their own time. With Sara's own keen advocacy for new music, there will be a new course on composition, with Nico Muhly as composer in residence. Sara feels this will also reflect DISS as a "laboratory" where attendees can experiment, explore and collaborate in a safe space. In addition to some 90 public concerts by leading artists, there will be a greater emphasis on participatory projects to bring people from the local community together, including listening clubs, family-friendly workshops and open choirs to ensure those outside of the wonderful enclave of Dartington feel included.
With artists such as Iestyn Davies, Stile Antico, Dunedin Consort, Rachel Podger, Joseph Middleton, Tom Poster and Aidan O'Rourke on next year's roster of artists, DISS 2020 promises to be busy, vibrant and inspiring.
Click here for further information.