Daniel-François-Esprit Auber (1782–1871) became a serious composer when he hit his 40s. His first grand opera, La Muette de Portici (1828) was also the start of his success. His discrete and nuanced operas, set to the librettos by the dramatic Eugène Scribe, created their own kind of Parisian elegance on the opera stage. After that beginning, his career just rocketed up: In 1829 he was appointed a member of the Institut Française; in 1839 was Director of Concerts at Court; in 1842 was appointed Director of the Paris Conservatoire; in 1852 Musical Director of the Imperial Chapel; in 1861 Grand Officer of the Légion d'Honneur.
His opera Zanetta, ou Il ne faut pas jouer avec le feu (Zanetta, or one must not play with fire), was given its premiere at the Opéra-Comique in Paris on 18 May 1840. Set in the Kingdom of Naples in the mid-18th century, the opera sets King Charles VI against the German nobleman Rodolphe de Montemar because he's too attentive to his sister. Princess Nisida, his sister, sets up a plot where Rodolphe will pretend to court Zanetta, the Sicilian daughter of the royal gardener. Rodolphe falls in love with Zanetta, leaves the Princess, who then is left to marry the Elector of Bavaria. The work was a success at its opening and then travelled around Europe, with productions in Amsterdam, Prague, Hamburg, Copenhagen, Brussels and London.
The overture opens with a mysterious intertwining of descending triplets before a bright dance lightens the atmosphere. The second theme changes from a serious passage in a minor key before dance ideas take it over and the brilliant figuration changes its character completely. The work closes with a passage of hunting horns before returning to the main themes and a brisk coda ending.
Daniel-François Auber: Zanetta, S. 33 – Overture (Janáček Philharmonic Ostrava; Dario Salvi, cond.)


The Janáček Philharmonic Ostrava, founded in 1954, prides itself on 'its unique softness of the strings and the sharp sound of the brass section'. Conductor Dario Salvi has been an important researcher and performer in the study and rebirth of important operas of the 19th-century French repertoire.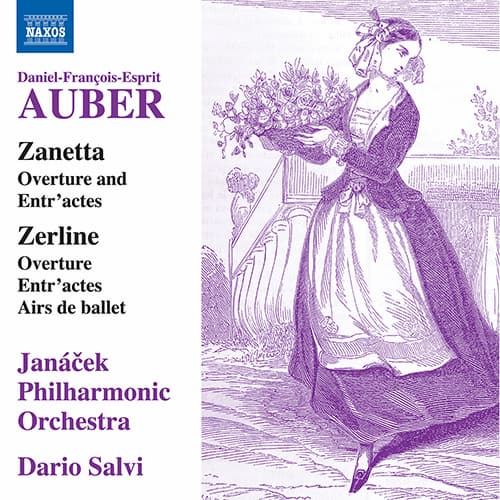 Daniel-François Auber: Zanetta, S. 33 – Overture

Performed by
Janáček Philharmonic Ostrava
Dario Salvi

Official Website
For more of the best in classical music, sign up to our E-Newsletter