"Fyn," also known as "Funen" is the third-largest island of Denmark. Sometimes known as the "Garden of Denmark," this predominantly flat island hosts a mainly mild climate. It is also the birthplace of pop singer MØ, a footballer named Christian Eriksen, the prolific author Hans Christian Andersen, and the composer Carl August Nielsen.
Born on 9 June 1865, Nielsen was the seventh of twelve children of the house painter and amateur musician Niels Jørgensen and his wife Maren Kirstine. As he later wrote, "If, from a lofty mountain in the middle of Fyn, we could look down over the whole island, tracing its outline against the blue sea, we should make the delightful discovery that Fyn is one of the fairest of lands. But, there is no mountain. The land of Fyn never changes; it lies safe and sound where, after gentle but firm reflection, it resolved to cast anchor." It is often asserted that Nielsen came from a poor peasant family, however, his mother was the outcast daughter of a wealthy family of sea captains, and his father was an accomplished fiddler and cornet player, "in strong demand for local celebrations."
Carl Nielsen: Piano Trio in G Major
In his charming autobiography My Childhood on Funen, Nielsen portrays an idyllic childhood that smoothed over details of his parents' struggle for survival. As a small child, he recalled the first time he heard music. "When my mother sang," he remembered, "she had a voice, that, while not strong, was clear and firm. When she sang to herself there was a wistful note in her voice, as if she longed for something right over the farthest trees."
His introduction to music took place during a bout of measles, as he wrote, "I had heard music before, heard father play the violin and cornet, heard mother singing, and, when in bed with the measles, I had tried myself out on the little violin." His uncle Hans, the blind organist of Dalum Church near Odensee, introduced the boy to the piano. It was an ordinary upright, mahogany piano, "but it would be useless for me to attempt to describe the experience it was for me to touch the keys and gradually pick out tunes with one or two fingers… I had heard music before, but this was something quite different. I made one discovery after another."
Carl Nielsen: 5 Piano Pieces, Op. 3 (Elisabeth Westenholz, piano)

Nielsen could not remember whether he found chords or triads, "but with one finger of each hand, I played a long succession of sweet thirds." And soon thereafter, Nielsen started to invent his own tunes. He writes, "It was a great trouble to find out how to write them down. Before I learned notation I employed various symbols and words in order to fix my tunes." His earliest compositions, from about the age of eight or nine, are a "lullaby" (now lost) and a "polka" he notated in his autobiography.
As a scholar writes, "Alongside these fundamental contacts with song and dance, he developed a fascination with the underlying animating forces of nature and human character. These were to become constant sources of inspiration for his own music, as archetypal embodiments of oneness and conflict respectively." Initially, however, his parents did not believe that he had any future as a musician and apprenticed him to a shopkeeper in a nearby village when he was fourteen.
Carl Nielsen: Violin Sonata No.1 in G Major (Germana Porcu, violin; Sara Costa, piano)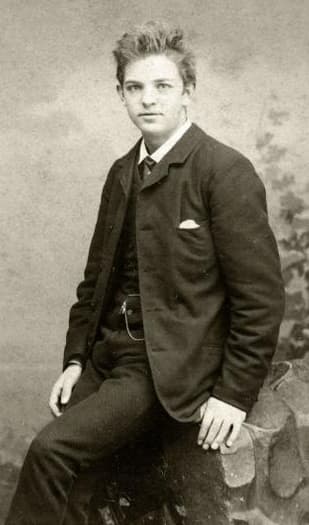 After a brief and seriously unhappy apprenticeship to a grocer in 1879, Nielsen returned home and learned to play brass instruments. "On 1 November 1879, he became a bugler and alto trombonist in the band of the army's 16th Battalion in Odense." He also started to take his violin studies more seriously, taking private lessons from Carl Larsen, the sexton at Odense Cathedral. Apparently, he continued to dabble in compositions, possibly writing some trios and quartets for brass instruments. However, his musical career took a definitive step forward when he was asked to present himself to Niels W. Gade, the director of the Royal Academy in Copenhagen. A biographer writes, "Nielsen was ushered in by a maid. He then presented one of his own compositions, a string quartet. Gade agreed to examine one movement, and Nielsen retrieved the Andante… The professor turned the score towards the window, showing neither approval nor contempt, but his lips pursed as if to whistle silently or hum the tunes. He said that the movement showed Nielsen's good sense of form and that he could be admitted to the Conservatoire." As such, Nielsen entered the Copenhagen Conservatory at the beginning of 1884 and would remain with the institution until December 1886.
For more of the best in classical music, sign up for our E-Newsletter
Carl Nielsen: String Quartet in D minor (New Hellenic Quartet)