Iphigénie en Tauride has always been one of Willibald Gluck's most frequently performed operas. It was the sixth of his seven operas for Paris, and premiered on 18 May 1779 by the Paris Opéra at the second Salle du Palais-Royal. The subject was a popular one, having already been used for several French and Italian operas.
Scholars have suggested "Gluck took his operatic reforms to its logical conclusion with Iphigénie." He had knowingly provided the spark for a full-out culture war, claiming that the principal Italian operatic genre had become unnatural. Gluck wanted opera to return to its roots by focusing on human drama and passion and by giving equal importance to words and music. In Iphigénie the recitatives are shorter and accompanied by strings and other instruments instead of the common continuo accompaniment. In addition, the dance movements usually found in French tragédie en musique are almost entirely absent. It goes without saying that Gluck's operas on dark and dramatic Greek themes, and a general lack of light melody did not sit well with aficionados of Italian opera.
Gluck: Iphigénie en Tauride, "Act I"
The Story Plot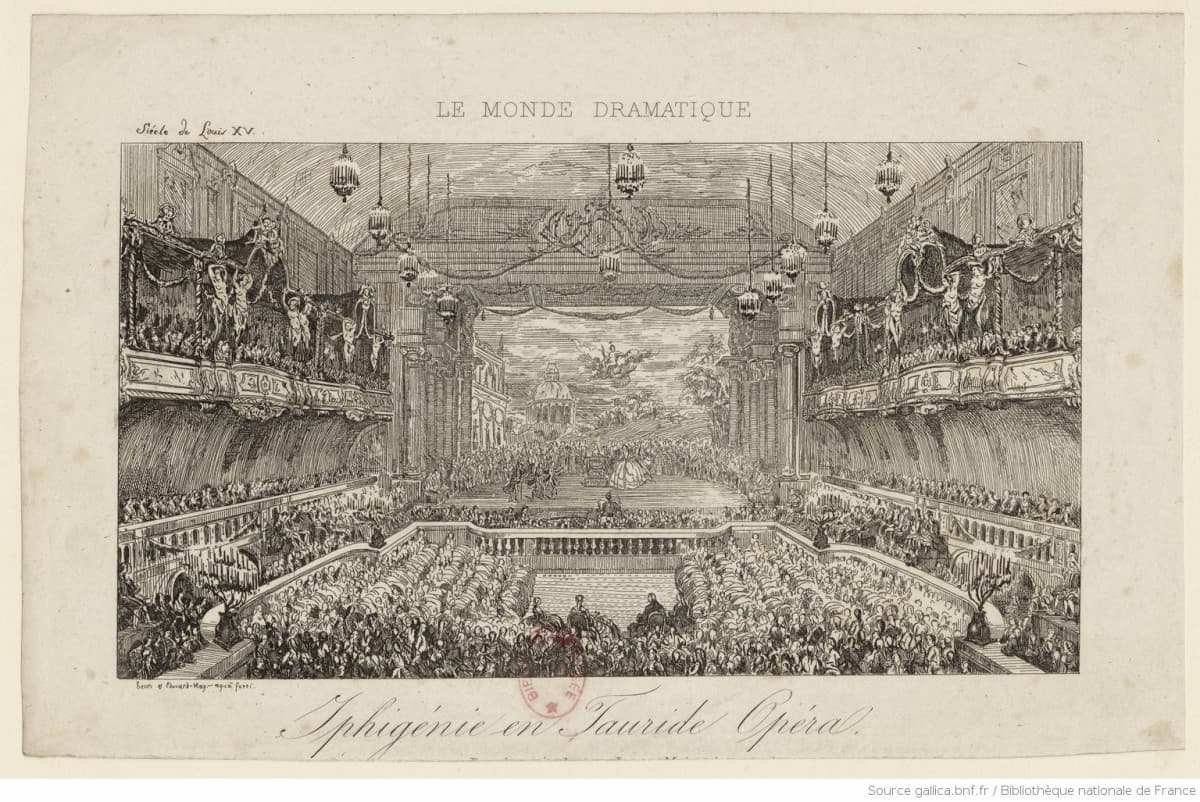 The drama is based on a play by the ancient Greek dramatist Euripides, and set before the start of the Trojan War. King Agamemnon gathered the Greek armies at the port of Aulis, but the goddess Diane sent unfavorable winds to prevent the Greeks from sailing. Her oracle set a condition for Agamemnon: to earn the right to sail forth and destroy an innocent country, he would have to sacrifice his own daughter. The King accepted these terms and killed his young daughter Iphigénie on the altar. In his play, however, Euripides has Iphigénie rescued from the altar by Diane and brought to her temple in Tauride. She serves as Diane's high priestess, but her family believes that she is dead. Fifteen years go by, and Iphigénie has a nightmare that her home was destroyed and that her mother, Clytemnestre, killed her father. Her brother Oreste, in turn, ends up killing her mother and Iphigénie ends up stabbing her brother. The chorus introduces the arrival of two strangers to the island, who turn out to be Oreste and his friend Pylade. Both are imprisoned and slated to be executed at the altar.
Christoph Willibald Gluck: Iphigénie en Tauride – Act II Scene 1: Quel silence effrayant! quelle douleur funeste! (Franco Bonisolli, tenor; Walton Groenroos, tenor; Munich Radio Orchestra; Lamberto Gardelli, cond.)
Christoph Willibald Gluck: Iphigénie en Tauride – Act II Scene 6: Ô ciel ! de mes tourments la cause et le témoin (Pilar Lorengar, soprano; Bavarian Radio Chorus; Munich Radio Orchestra; Lamberto Gardelli, cond.)

Oreste, pursued by the Furies, lives on the edge of madness and he eventually falls asleep. When he wakes up, Iphigénie is standing before him, but they do not recognize each other. Oreste tells her of Agamemnon's murder, and Iphigénie is drawn to the stranger. She tells him that she can save one of them from the sacrifice, and Oreste is chosen to survive. However, Oreste agrees to switch places with Pylade, and reluctantly Iphigénie agrees to spare Pylade by helping him to escape. Iphigénie repeatedly tries to perform the sacrifice, but she cannot bring herself to harm the stranger. Finally, sister and brother recognize each other, but her plot has been discovered. The local King orders Oreste to be killed immediately, but Pylade returns with Greek soldiers to save his friend. Amongst much fighting, the goddess Diane appears and pardons Oreste. Brother and sister return home to Mycène, and to the first happiness they have known since before the Greeks set sail for Troy.
Christoph Willibald Gluck: Iphigénie en Tauride – Act III: Recitative and Air: Je cede a vos desirs – D'une image, helas! (Christine Goerke, soprano; Boston Baroque; Martin Pearlman, cond.)
Christoph Willibald Gluck: Iphigénie en Tauride – Act III: Ah! mon ami, j'implore ta pitie! (Rod Gilfry, vocals; Christine Goerke, soprano; Baroque Boston; Martin Pearlman, cond.)
Christoph Willibald Gluck: Iphigénie en Tauride – Act III: Air: Divinite des grandes ames (Vinson Cole, tenor; Boston Baroque; Martin Pearlman, cond.)
The Crowning Achievement of Gluck's Career
Iphigénie en Tauride was the crowning achievement of Gluck's career, "a result of the combination of his lifelong experience as an opera composer and a libretto which is arguably the best he ever set. The opera is one of Gluck's most tightly constructed, and although the action moves quickly and the tension is seldom relaxed for long, there was still room for dramatic and lyrical expansion."
With Gluck summing up his artistic ideals, it is hardly surprising that the opera also contains countless borrowings. Gluck was well aware that his earlier Italian-language operas would likely never be played again, and "recycling was thus a way of saving some of his most outstanding musical ideas." The majority of borrowings come from Gluck himself, except for the aria Aria "Je t'implore et je tremble," which seems to originate with the "Gigue" from Partita No. 1 by Bach. As a scholar writes, "Of all Gluck's operas, Iphigénie en Tauride is the one in which he was most successful in bringing his theories of operatic reform to life in a memorable combination of music and drama in which every detail is subordinate to the whole."
For more of the best in classical music, sign up to our E-Newsletter
Gluck: Iphigénie en Tauride, "Je t'implore et je tremble"