L'Elisir d'amore (The Elixir of Love) is one of the most beloved of all Donizetti's operas. It combines touching romance and hilarious comedy with beautiful music. Donizetti composed the opera in a six-week period, and it went into rehearsal around 1 May 1832. "That the work was evolving up to the last minute we know, as the censors came to the dress rehearsal to give their final approval." The opera premiered at the Teatro Canobbiana in Milan on 12 May 1832, and it was a resounding success. In fact, it secured Donizetti's place as one of the leading Italian opera composers of his day. It was staged in Naples in the spring of 1834, and first appeared at La Scala with Malibran on 27 September 1835. L'Elisir d'amore was "the most frequently performed opera between 1838 and 1848, a time when one out of every four productions in the country was a work by Donizetti."
Donizetti: L'Elisir d'amore "Quanto è bella"
Basically, it is an endearing male Cinderella story and features the young villager Nemorini who is unhappily in love with the beautiful farm owner Adina. Adina tells the gathered peasants about the book she is reading, the story of how Tristan won the heart of Isolde by drinking a magic love potion. When a regiment of soldiers arrives, the pompous Sergeant Belcore immediately asks Adina to marry him. Adina declares that she is in no hurry to make up her mind but promises to think over the offer. When Adina is alone with Nemorino, she tells him that his time would be better spent in town, looking after his sick uncle, than hoping to win her love.
Donizetti: L'Elisir d'amore "Delle crudele Isotta"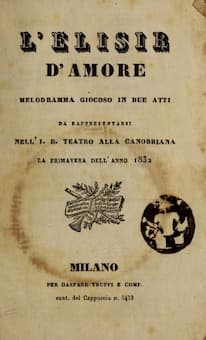 A traveling salesman of medical potions, Dr. Dulcamara arrives in the village advertising his miracle cures. Nemorino asks him if he also sells an elixir of love. Dulcamara claims he does, slyly proffering a bottle of simple Bordeaux. He explains that Nemorino will have to wait until the next day, when the doctor will be gone, to see the results. Nemorino buys and immediately drinks it. Nemorino begins to feel the effect of the potion and, convinced he will be irresistible to Adina the next day, feigns cheerful indifference towards her. Surprised and hurt, Adina flirts with Belcore and agrees to marry him. Nemorino is shocked and begs her to wait one more day, but she dismisses him and invites the entire village to her wedding. Nemorino desperately calls for the doctor's help.
Donizetti: L'Elisir d'amore "Udite, udite o rustici"
At the pre-wedding festivities, Adina and Dulcamara entertain the guests with a song. Adina is looking for Nemorino, as she doesn't want to sign the marriage contract until he is found. Meanwhile, Nemorino begs Dulcamara for another bottle of the elixir. Since he doesn't have any money left, he is persuaded by Belcore to join the army and receive a volunteer bonus. Nemorino buys more elixir and suddenly finds himself besieged by a group of women. Unaware of the news that his uncle has died and left him a fortune, he believes the elixir is finally taking effect.
Donizetti: L'Elisir d'amore "Io son ricco e tu sei bella"
Adina feels responsible for Nemorino's enlistment, but her concern turns to jealousy when she sees him with the other women. Dulcamara boasts about the power of his elixir and offers to sell Adina some, but she is determined to win Nemorino all on her own. Nemorino now feels sure that Adina cares for him: He noticed a tear on her cheek when she saw him with the other women. Adina returns to tell Nemorino that she has bought back his enlistment papers. When he again feigns indifference, she finally confesses that she loves him. Belcore appears to find the two embracing and redirects his affections to Giannetta, declaring that thousands of women await him elsewhere. Dulcamara brags to the crowd that his miraculous potion can make people fall in love and even turn poor peasants into millionaires.
Donizetti: L'Elisir d'amore "Una Furtiva Lagrima"
Donizetti brings his characters alive with a sparkling score. Nemorino's love for Adina is expressed through lyrical arias; Adina's animated, flamboyant style softens as her feelings towards Nemorino begin to change, and all the while Dulcamara, irrepressible showman that he is, endlessly chatters away. Donizetti's score is filled with shrewd contrasts, and "an apparently effortless outpouring of melody… It is never melodiousness for its own sake but always describes some aspect of character." There are moments of genuine pathos as well, that keep this comedy from seeming heartless or cruel. As a scholar writes, "Ultimately, the continuing appeal of L'Elisir lies in the appropriateness of Donizetti's music to this bucolic variant of the 'male Cinderella' myth. Nemorino's good-heartedness and his singleness of purpose win out in spite of potions and unforeseen inheritances."
For more of the best in classical music, sign up to our E-Newsletter
Donizetti: L'Elisir d'amore "Prendi, per me sei libero"