Combining phenomenal technical brilliance and dramatic outfits, Yuja Wang is one of the hottest tickets on the classical music stage. Born in Beijing, China, on 10 February 1987, Yuja Wang comes from an artistic family. Her mother, Zhai Jieming, is a dancer and her father, Wang Jianguo, is a percussionist who made his living transcribing taped recordings into musical scores.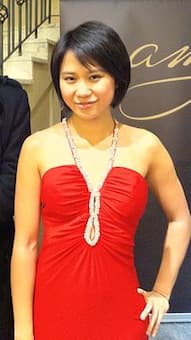 Yuja Wang is deliberately vague about her emergence as a prodigy. She likes to tell interviewers that her mother wanted her to be a dancer, but that she was lazy and chose the piano because she could sit down. The piano was their wedding gift, "and it was kind of sitting there at home. I like music and the piano was like a toy, I would just play around." However, her father was a bit of a disciplinarian. "He was adamant about rhythms," she recalls, "and I was always scared if he was around. I had to play super clean, rhythm-wise, note-wise, as he has a good ear."
Debussy: Arabesque No. 1 (Yuja Wang)
Yuja always loved music, and her mother brought her to rehearsals of Swan Lake and other productions. "I don't know if it was the music or feelings the music invokes," Yuja explained. "I was quite young. The Romantic feelings… I remember I listened to it over and over again, and then I had the Chopin Études by Pollini and Chopin Nocturnes by Rubinstein, so lots of Romantic stuff. And after that, Furtwängler conducting Beethoven Symphonies. I immersed myself in the music. I can't describe what exactly it was, I just wanted to listen to it over and over."
Everybody immediately recognized that Yuja had a phenomenal aptitude for playing the piano, and by the age of six, she first appeared publically. In fact, she easily took away first prize in any competition she entered. They called her a wunderkind, and when she entered the Beijing conservatory at age nine, "all the other kids were looking at me like I was another species in a zoo." She entered the Morningside Music Bridge International Music Festival as the festival's youngest student, which served as the prelude to her studying English in Calgary, Canada.
Chopin: Piano Concerto No. 2 (Yuja Wang)
Yuja Wang continued her studies at the Curtis Institute of Music in Philadelphia. She had always wanted to study with the eminent pedagogue Claude Frank, but when Yuja arrived for her audition, it was Gary Graffman who took her under his wing. Graffman recalls, "Wang's technique was impressive, but it was the intelligence and good taste of her interpretations that distinguished her. She was remarkable among remarkable students. She didn't play like a prodigy. She played like a finished artist at the age of 14." In turn, Yuja was greatly impressed by Graffman's knowledge of Chinese culture. "He loves Chinese culture, and he is a big collector of Chinese art. He taught me a lot about Chinese history and culture. Even though he belongs to a very different generation, we had this wonderful relationship." And she particularly enjoyed his style of teaching. "Artistically he would leave me lots of freedom and just loved it when I found something unexpected in the music. His face would light up and I loved getting that reaction. I 'worked' that out, and it inspired me to surprise him again." Yuja is not shy in asserting, "Without him, my career would be nothing. He inspired me deeply and through him I was connected to the whole of the European classical music culture."
Beethoven: Piano Sonata No. 29 "Hammerklavier" (Yuja Wang)
The rest, as they say, is history. Yuja Wang won one piano competition after another, and made her breakthrough appearance in 2007 in Boston, stepping in for Martha Argerich.
Yuja is keenly aware that she is being looked at as well as listened to. She approaches a recital "like director for a movie or an opera, and wants to tell a story." As she once explained, "I want to bring people on a journey, and at the same time there's a balance between what actually interests me and what would be interesting for the audience… Everything is a new creation when you bring it on stage for the first time… I like performing. It's like living in a different state of being when I'm onstage. I have to keep doing that to feel alive." This cinematographic approach accords with Wang's constant experimentations of how to dress when she is performing. A critic wrote, "Her alluring, surprising clothes don't just echo the allure and surprise of her musicianship, though they certainly do that. More crucial, the tiny dresses and spiky heels draw your focus to how petite Ms. Wang is, how stark the contrast between her body and the forcefulness she achieves at her instrument. That contrast creates drama. It turns a recital into a performance." Without doubt, Yuja Wang is "one of the most talented, enthralling, and even mesmerizing performers on the world scene."
For more of the best in classical music, sign up to our E-Newsletter
Prokofiev: Toccata (Yuja Wang)