Did I say sports competition? Today, we certainly associate the Games with athletic activities, ranging from golf to synchronized swimming! However, to capture the complete essence of the Ancient Olympic Games, Pierre de Coubertin originally also included competitions in the arts. Considered an integral part of the Olympic movement, art competitions were part of the Olympic Games from 1912 until 1948. Initially, art competitions were grouped into five broad categories, including architecture, literature, music, painting, and sculpture. Various subcategories were added and eliminated over time, and in all, the IOC awarded 146 medals. Judges were not required to award first, second, or third places for every category, and participants were allowed multiple submissions. Denmark's Josef Petersen won second prize three times in literature, and Alex Diggelmann of Switzerland won silver and bronze in 1948. Under the pseudonyms Georges Hohrod and Martin Eschbach, de Coubertin also participated and won the gold medal in the literature category at the 1912 Summer Olympics. The Finish author Aale Tynni was the only woman gold medalist when she took the top prize in 1948 with her lyric work
Laurel of Hellas
. And here is one more for your local quiz evening at the pub; only two individuals, Walter W. Winans and Alfréd Hajós, won medals in both athletic and art competitions!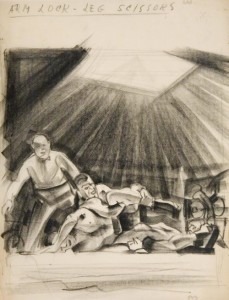 In terms of music, subcategories encompassed mixed music, compositions for orchestra, solo and chorus compositions, instrument and chamber works, and vocal compositions. Riccardo Barthelemy of Italy won gold with his
Triumphal March
in the 1912 Stockholm Olympics mixed music category, as did Georges Monier of Belgium in 1920 Antwerp. One of the most notable composers to attain Olympic glory was the Czech composer and violinist Josef Suk. A student and son in law of Antonín Dvořák, Suk made his international reputation as a composer of instrumental music. As one of the leading composers of Czech Modernism, he was well respected by Gustav Mahler and Alban Berg. And towards the end of his professional musical career he submitted his
Into a New Life
to the International Olympic Committee organizing the 1932 Los Angeles Games. The judges were convinced and awarded him the silver medal. Since neither the gold nor bronze medal was awarded that year, Suk took the top honors!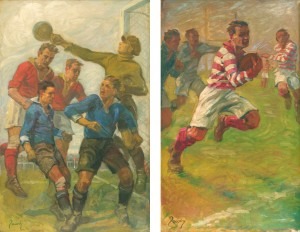 Art competitions at the Olympic Games ceased after the 1948 games because only amateurs were supposedly allowed to participate. However, artists had been permitted to sell their submissions during the course of the Games since 1928, and this was deemed to violate the Olympic spirit. As we all now, professional lobbying eventually allowed professional athletes to participate but art competitions never returned. Maybe it's time to reinstate these events, what do you think? That is, if you get bored watching synchronized swimming or beach volleyball!

Josef Suk: Into a New Life

When the young French baron Pierre de Coubertin first proposed a major international competition to revive the ancient Greek Olympic Games, reaction was decidedly mixed. Yet he stubbornly persisted and the International Olympic Committee (IOC) organized the first modern Olympic Games in Athens, in 1896. King Georgius I of Greece and 60,000 spectators welcomed 280 athletes from 13 nations competing in 43 events. Disciplines included track and field, swimming, gymnastics, cycling, wrestling, weightlifting, fencing, shooting, and tennis. These games were an exclusively male affair, and a few participants were tourist and spectators who were allowed to sign up on the spot. By 1924 and the Paris Games, the Olympics counted more than 3,000 athletes, including well over 100 women, from 44 participating nations. 1924 also saw the first Winter Olympic Games, and ever since the Olympic Games have come to be regarded as the foremost international sports competition.