In the Baroque era, the Concerto grosso, the big concerto, was the workhorse genre. Unlike a regular concerto where one soloist contrasted with the orchestra, in a concerto grosso a small group of soloists, known as the concertino alternates with the full orchestra, called the ripieno, tutti or concerto grosso.
George Frideric Handel (1685-1759) wrote his set of 12 Opus 6 in London, and they were published in 1739 under the title of Grand Concertos. His concertino was a trip of 2 violins and cello and the ripieno was a 4-part string orchestra with a harpsichord playing continuo. Their model was the concertos by Archangelo Corelli, with multiple movements, rather than the Venetian concertos of Antonio Vivaldi, which only had 3 movements. Across the six movements of the concerti grossi, Handel incorporated all the musical styles at his command: trio sonatas, operatic arias, French overtures, Italian sinfonias, airs, fugues, themes and variations and a variety of dances.
The 8th concerto grosso in the set, Concerto Grosso in C Minor, Op. 6, No. 8, HWV 326, becomes a suite of dances. It includes an Allemande, a Siciliana, and an early form of a Polonaise, all using music and themes from his own operas and other works.
The opening movement is an Allemande, a German dance, that often is the first movement of works such as concerti grossi. It was in duple time at a moderate tempo. In the 16th century, the dancing master books described the allemande as a dance 'in which dancers formed a line of couples who took hands and walked the length of the room, walking three steps then balancing on one foot.' Later versions replaced this with 3 springing steps and a hop. Other dance movements were added over time.
The source for Handel's Allemande is his own harpsichord suite in G minor, HWV 452, but now slowed down to a dance tempo.
George Friedrich Handel: Concerto Grosso in C Minor, Op. 6, No. 8, HWV 326 – I. Allemande

This recording by the Chamber Orchestra of Saar, was recorded in 1955 in Saarlouis, Germany, under the direction of Karl Ristenpart. Karl Ristenpart (1900-1967) was a German conductor who created three different orchestras, one of them being the Chamber Orchestra of Saar. With them, he created a body of work that included one of the earliest recorded collections of Bach's orchestral music, of which this recording is part.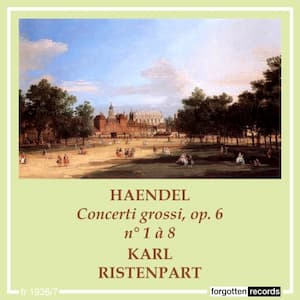 Performed by

Karl Ristenpart
Chamber Orchestra of Saar

Recorded in 1955

Official Website
For more of the best in classical music, sign up to our E-Newsletter